School Update | Travelling Storyteller Photographer
School
In principle school is school. In reading all the horrible things that happen in the world we are immensely grateful that we get to send our children to a school where they are accepted, nurtured and educated. We are thankful that our girls get to be in a world where they are can access public education and move through the world to one day be confident women. And we are grateful that despite the fact that our girls sometimes think we are the worst humans ever for taking them away from what they know, one day they will look back and thank us - in fact I think I caught a glimpse of it this morning - but let's first get up to speed.
new world, new school phases
Having procured all the correct paperwork and the fact that the kids read, write and speak French, it was a privilege to be able to integrate ourselves into the local school system. In essence, we simply needed to flash that fancy red passport and despite my grammatically erroneous French that seems to have people laughing at me wherever I go, we had the girls signed into public school in Monthey. To bring you up to speed, there are 11 school buildings in Monthey. The children are split into their age groups and an appropriate mix of skill level and girl:boy ratio is held. You can request all you want where you would like to have your kids attend school and that it would be best if they could be in the same building, they will likely make that note - but don't be fooled…the final decision is out of your hands. You will be Told where they go. In our town there is no private school, no charters/science/art or girls'/boys' schools and in case you are wondering, kids can't be home schooled (it's against the law). Despite all this, we also heard that the Swiss school system was excellent and would challenge the kids and T and A were psyched to be with peers their own age - mom and dad can be boring after all. With all that we signed them up and crossed our fingers for the rest.
August rolled around and names were put onto class lists and despite the reassurance that "Oui Madame, je note qu'on met les filles dans la même école", they were not. Separated by a road that connects the school T and A are in different buildings. In fact, their schooling uses a total of 5-6 of the 11 school buildings in the town. We needed a spread sheet.
School had us move through some interesting phases.
"New kid" phase saw us line up with what looked like the right height classmates and crossing our fingers we made it to the right building. It enabled our right to get things wrong right out of the gate and provided some free passes as we figured things out. It also taught us that scootering on cobble stone was a bad idea, that coming home for lunch for 2 hours every day is good, that market Wednesdays and puppy dog eyes makes mom give us money for cheap toys, Wednesdays afternoon no school days are AWESOME and that all schools should include swimming, skating and downhill skiing to their scholastic repertoire.
"Not so new anymore" phase was greeted by tests, challenges and grumpy mornings where the delight of getting away with 'being new here mom!' didn't fly with the teachers anymore and mom and dad were catching on to what choices were or were not being made. It also meant routine, learning more about what happens here, getting things wrong and managing consequences as well as continuing to struggle with integration as we tried to make friends.
"This totally sucks" phase was when things really hit home. It was the moment where we realized we were in this for the long haul, that we were missing friends BIG time back home and that the tests here in Switzerland SUCK if you aren't familiar with European geography, history or math quizzes that are timed and you aren't used to it! Making friends here is ok, but with fluency of language it made it hard to get into those uber important pre-teen conversations that take you from 'hey I know you" to "I totally get you". This phase is the ICK phase in our house and nobody was particularly happy.
It was also the time where as a parent you start to see that your kids are unhappy, you wonder if it is all worth it, you challenge your thoughts on why you did this and go buy them whatever impractical shoes they want because their sneakers are worn through with all that 'amazing walking' you are doing yet you aren't sure on the job situation but to hell with it you'll do it anyway and yes you can have an ice cream because that will make it all better and let's go sit on the swings and talk feelings ok…?! As a mom and dad, you worry about the tummy aches and whether it's stress or something more sinister and whether you are doing too much or just need to slow down. The. Questions. Never. End…. It's that moment when the morning routine exists through discomfort, the glares of "I hate you" send our own stomachs into turmoil and then you feel sick trying to navigate a healthcare system you don't understand while simultaneously praying that it isn't raining on the day you have to ask your sick kiddo to walk to the doctor's office. Those days really suck.
Then finally when you think it can't get worse…it doesn't and you look up with a renewed sense of optimism.
"We are getting this" phase is kind of where we are now…punctuated at any time with the previous phases sprinkled in as flavouring because no one likes a status quo! Personally I call it a win that I know where and when to both drop off and pick up our kids, they have their backpacks ready with what they need 95% of the time on the good days and now that we all have functioning bikes the other 5% of the time we can race back home to fix the wrong and set them straight because the mom guilt is large enough that consequences of poorly packed backpacks are something I can fix and darn it if I am not going to do everything I can to make the start of the day a good one. They do their homework independently knowing now what is expected of them by their teachers and us and that nobody is throwing up at the thought of going to school..mostly. The work that initially confused us and the exams that left us feeling deflated have been replaced but marks that have now started to soar and with it an enormous send of pride that our kids have not only risen to the challenge but are now starting to exceed our expectations.
It isn't always a perfect place. This in-between "we think we have it but it is only 4 months" precipitously standing on an edge where things can slide down either side at any time. We know and see that things can change and can do so quickly. But for now, the tension has eased, the new is now our normal and we are more confident with putting one foot in front of the other! In fact…and I say this with trepidation…we are doing really well!
Want something..apply for it
It is no doubt that seeing my kids stressed with the HUGE changes that we had undertaken as a family sent me into mama bear mode and contact with the educational mother ship was in order. Contrary to schools in Canada, there is a decidedly hands off approach here in Switzerland when it comes to parent involvement. More to the point, the line between school and parent is decidedly thicker and broader than what we are used to and typically what the teacher and administration says = goes. Period. You want something..? You apply for it. Time off for an appointment - you ask, don't tell. Need or want a holiday with the family? Sure. Fill out a form, write your best work on the merits of travel and child development and then wait…the answer will likely be no. Go anyway?…expect a fine. Anywhere from 50-1000CHF. Hope to dodge it..? Remember you have a mailbox with a name on it and they know where you live. Dammit those emoji stickers on our mailbox have GOT to come off!
Fortunately, we lucked out with some pretty great educators - one of which we feel that we won the lottery for having this year - and demonstrating that our goals were all on the same page and how could we support everyone was met with enthusiastic texts from both teachers (because that is how things are done here) and we not only had a game plan, but extra support just for us. BONUS!
This then led me to the drawing board with my crayola window markers - because hello FUN - and the first 100% exam for T in Swiss Geography of all things. Hello Confidence booster (especially when she smoked some of her fellow classmates and garnered herself two extra recesses for the day!).
Changing countries, schools and being immersed in a new scholastic system is no joke.
school schedules are a suggestion
I like to think of myself as a pretty easy going person when it comes to most things. Again…my husband would vehemently disagree but I digress, we all have our opinions of ourselves. The schools had their yearly scholastic schedule set out on day one - holidays are non negotiable - and the schools lay out when your kids will partake in swimming and skating and art class for the first 1/2 of the year. Beyond what is written, the rest is somewhat of a 'wait and see' type of schedule. Where I was used to the detailed and likely time consuming emails back home from teachers who work exceptionally hard to keep parents abreast of everything, I was surprised here when going to pick up my kids at what I thought was the right place I realized that gym had somehow been cancelled but no one was told…oookkkk! When the pool session wasn't a go, we figured it out when no one showed up with swimming stuff - did I miss the memo? It isn't unheard of the kids coming home and letting us know that the 'thing' they were supposed to do isn't a go but that instead they went on a field trip! Oh my…how fun! …wait…what?! Now all of a sudden the fact that A was able to swiftly navigate the grocery story and tell me that her new favourite fruit was on sale made all the sense given that her teacher had taken the whole class to the grocery store for a teachable moment. At first what felt odd and out of place now has us understanding and revealing that being able to expand the walls of the classroom to include their everyday is really pretty incredible! The town we live in is small and YAY A's class went to the library today for a tour…thankfully she remembered as that was where we found her missing umbrella silly girl. Needless to say we now dress our kids for any eventuality - who knows what adventure they will go on today?! Think there might be a form to fill out ..? nope. None of that happens here - once your kids are in school, they are under the dutiful eyes and care of our dear teachers…where they will end up is anyone's guess.
Independence is incredible!
Kids here are generally more independent in their day to day. This is evident in so many ways. From the kids who walk back and forth to school on their own or in a pose of friends, to the kids who fight to get up and down the slide first nary a parent who intervenes and may the strongest kiddo win, to seeing how masses of school aged kids manage scooters, bikes and out of school enthusiasm along the 'chemin des écoliers', it is evident that culturally kids are expected to take care of themselves in a way in which we aren't used to back home.
So true is this and ingrained in the people here that I could do nothing but laugh when I received the first term newsletter for the annual fall outdoor walk for T's school. Sent more as a pleasantry rather than a formality, we were informed that the school teachers had decided that a day out with the classes of this particular school building was a good idea and that Friday was the day - the note was received on Monday. In summary, it went on to say - and I quote -
'that the classes would travel to a particular region in the area by way of varying paths and that though there would 'likely' be supervisors and teachers, it was intended that the 'older' kids (11/12 year olds) would take care of the 'younger' kids (5/6year olds) so as to enable furthering of the friendships within the school'.
We were informed that the kids would not be home for lunch, that they needed water and a pic Nic lunch and that they would decide what games they would do once they got to wherever they were going. Kids would walk back to the school by 1600.
In typical mom fashion, while reading the notice, I headed to get a pen to sign the permission slip at the bottom only to be met with a large smiley face and stick figures of kids doing cartwheels across the bottom of the page.
OooooK… No signature page. No request for volunteers. No 3:4 ratio of parents to students otherwise this 'sortie' is out. Nope…just a nice stick figured happy faced kiddo notice sent home to parents to let them know "what's up!" and remind me to tell my kiddo to 'Have Fun and profiter!". Well then - let's do this! The bonus on "sortie" day is that I don't have to make lunch at home that day!
kids get around…on their own!
We currently live in a town of 17,000 people, though we ourselves live in the heart of the village - downtown as it were. The geography of that which is important to us - grocery store, doctor office, pharmacy, skating rink and the horse stables are geographically within a 2 Calgary community distance from one another. It isn't far. But when you speak of walking across town, psychologically it changes everything. It is 'across town' for peats sake! Everything is within walking distance though many people have cars to get in and out of town. Recently in an effort to wedge my way into my kids' scholastic activities I offered to walk with As class to the skating rink and back once a week for a month of requisite skating lessons - nope…they don't ask, this is part of what we do thank you very much! No small feet the kids cross several busy roads and need to walk roughly 15+ minutes to where they need to go. After skating they are either picked up by the cool parents who actually DO have a car (I am officially the "un-cool" mom who bikes…my kids never let me forget it), or they shlep back to the school with the rest of us where their parents pick them up from there.
Everything was all neat and orderly until we started coming home with a group of about 10 kiddos at which point they started peeling off like skins of a banana. Kids aged 6-7yrs old would abruptly shake hands with their teacher and wave as they headed off in various directions as we neared the school. What was most interesting was both the way in which it happened and the "oh ok!" from the teacher as it was obvious that she couldn't possibly know where they all need to go but was obviously ok with it all. "Bye - my house is this way" waved one as she peeled off one way. "This my brother I am going to go with him" signalled another to which the teacher replied "well nice to meet you brother! See you later student!". "I am going here with my friend" hollered another and by the time we got to the school my head was spinning with trying to keep details of all the kids and all the directions in case something was to go sideways all while trying to keep track of the amazing lesson in Italian castle history by the very generous teacher who was keen on keeping our extracurricular travel schedule full and making sure that the rest of the kids stayed put all while she waved graciously as her brood left her one by one! Heavens…that 15 minutes had me sweating and drenched by the time we got back and I could safely transfer the chain of custody to the waiting parents or locked up scooters that the remaining kids would take to get back home! Someone get my a glass of wine! How do they do this here without experiencing a coronary of worry??
…and then it happened. We started to join the fray. Asking around, watching more closely, I started to take note on what and where and how we could accept that our kids could do this too. That this was normal, that I didn't need to be deathly afraid of my kid's supposed inability to cross a street and know how to do it safely and that…heaven forbid it might even help their independence. It was the village that starting teaching us!
Reading, writing, arithmetic
I know that the studies here are all encompassing. We talk about science, the arts, geography and history. But most predominantly the emphasis is placed on reading, writing and arithmetic in the classes of our children. Writing is in cursive and the art is forever emphasized despite the fact that by T's age everyone is printing leading me to wonder what all the fuss was about in the first place. T needs to write in pen in class - but the erasable kind and I have had to manage the stash of highly expensive yet coveted pens that we have had to ration as they are not for colouring IN of anything but rather just for homework. Recently we went for our parent/teacher interview. Not knowing quite what would happen or what we would cover, we arrived trepidatiously and once again our kids managed to hit it out of the park. As a parent you want to know that your child is succeeding, doing well, enjoying what they are doing and reaching their potential.
Honestly, there were times I was just hoping they would get out of bed and successfully make it to school let alone anything else, but my worries could now be stymied with the fact that the teachers extolled their virtues and honestly - I think we all needed to hear it. Report cards are kind of a thing - but not really. Everything is out of 6, with 3 being 'just getting by' and 6 being 100% and the only two grades we saw had to do with Math and Grammar with a side of a thumbs up for the rest. Okidok then. Mental math is a very large focus on what they do here and to be fair we are thrilled, memorization of multiplication tables and long hand division go much much faster when you have some of those basics rapid fire ready.
la politesse - les salutations
Just this past week, I managed to find another opportunity where I was able to spend the whole day with T during the school day. Friday had the kids involved in a religion day offered by the church in the town and sanctioned by the school. In Switzerland, State and Religion are separate and as such, despite its deep roots in Catholicism, there is minimal talk of religion at school. Long story short, we spent the day together talking about working together and loving one another - peacefully. It was really nice and the group led discussions, crafts and activities were a great way to both meet Ts classmates and see how she was among her peers. I must say that I have a great respect for the peers in her class who have enveloped her into their fold. It isn't easy being new and having a strange accent that lights up an arrow over your head when you speak, so seeing friends call her over to chat, play and giggle was heart warming. Equally so was the end of the day when all the students were asked to thank the volunteers who came to attend and help throughout the day. Certainly this is nothing new - but happy was I with the individual handshake that I was offered by each student, and seeing them look me in the eye as they said thank you. Made me take note to be certain that I emphasize the whole hand shaking business with the kids as the year progresses! In talking about this at the dinner table and mentioning to Tony how happy I had been to see and meet all the kids, both him and T pipped up to say - well if you think handshakes are great, imagine a whole class standing up at attention when I enter the room! Woah! huh? Apparently Tony has a way of commanding attention, on bringing forgotten paperwork to the classroom one morning, as he knocked on the door and stepped inside, Ts whole class stood up. I guess this is a thing..
Upon arriving here we moved as either one or a paired unit. Ratio of 1 big person to 1 little person. Until…we couldn't because said big person was somewhere else and there were too many places that the little people needed to be. We figured it would take much longer, but after 1 month, we realized that we would need to rely on the 'hopefully' good sense that our kids had thus developed and they would have to help us out if we were going to get things done. It was that or we were all going to go through grade 2 again - and I was getting the succinct feeling that big people we not welcomed into the classrooms like back home so THAT was NOT an option. Nothing like hugging your 10 year old and wishing them well with instructions on how to navigate their after school activities and what to do once they get there in a village that was totally new to then. Even more so when she looks you in the eye and says 'well mama…I think you better stay with A because she needs you more right now' - sucker punch.
Seeing our kids manage their environment in a way that they are responsible for getting themselves from A to B that requires decision making and attention to their surroundings makes me incredibly proud. Our bikes have been the best decision we ever made since getting to and from school with or without rain is actually doable and seems to qualm the morning tummy aches, the sinister eye rolls and the mom guilt enough to help mitigate the endless wallet trick equalling market trinkets and need for new shoes to make us all feel better about the crazy that we decided to take on.
That and the crushed rock field right beside T's school that hosts various outdoor events on random Friday afternoons. Ya…that helps too. I mean…a kingdom of bouncy castles to swoop us into the weekend. That kind of rocks thank you very much….I don't care how much it costs…it is likely less than a new pair of shoes and will bring infinite happiness for the next 3 hours that the little wrist bad allows. Thank you travelling road show goodness. I love you!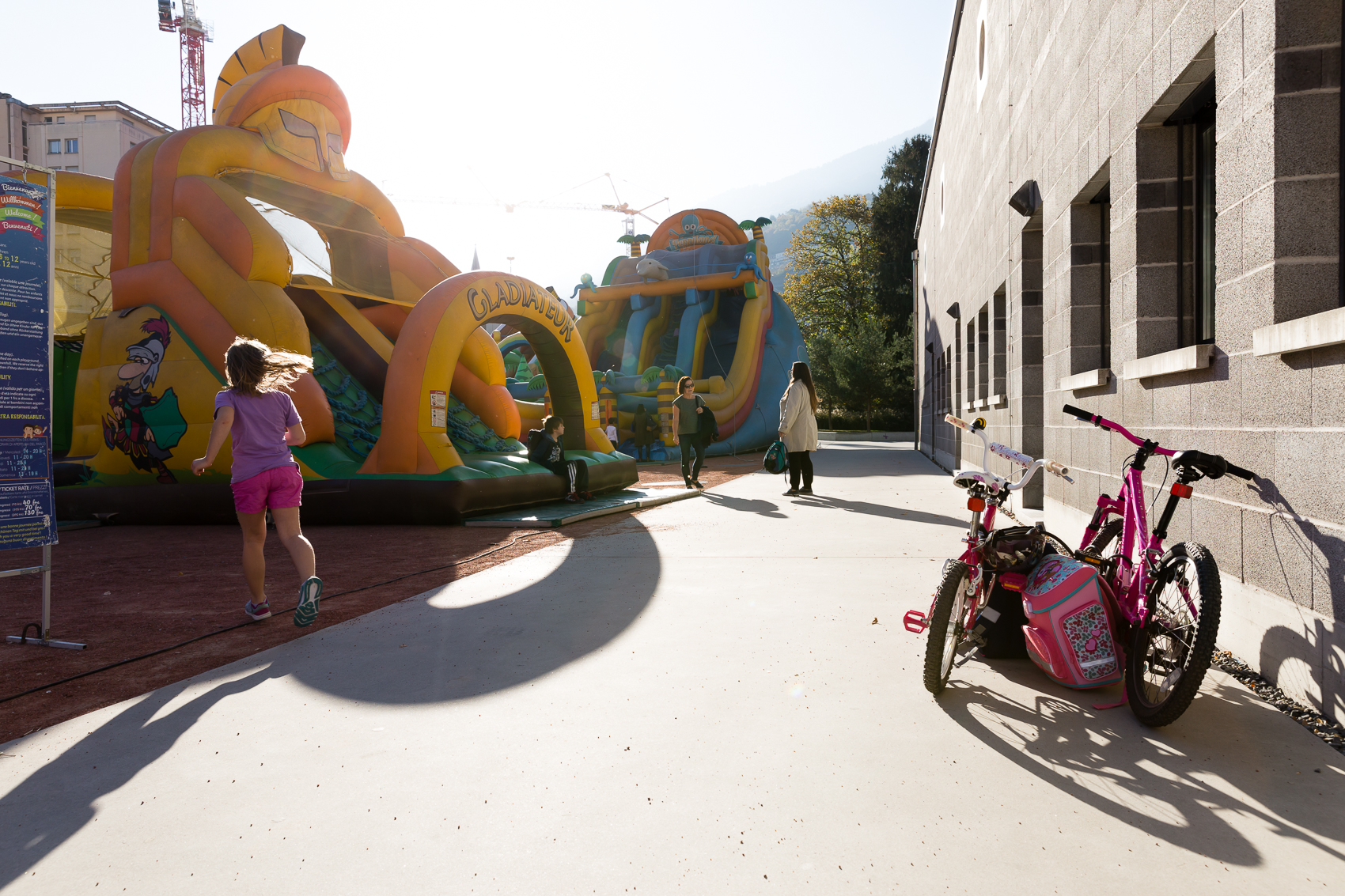 School is now screaming into the last 2 weeks before the Christmas holidays. We feel cautiously confident with our everyday, knowing that with the highs come the lows, but we seem to tackle them with a know how we didn't realize we had before. The leaps are getting a little scarier and the experiences better encouraging us to make it to Friday knowing that English Class, Sport Class and all afternoon Art Class is the reward for the rest of the week's hard work.
We've got this.