The majesty of Christmas in Scotland | Travelling Storyteller Photographer
Christmas is coming….we are totally unprepared…and nervous
Tradition has a way of holding onto us. The sameness of it all, the comfort of knowing what comes next, the decisions practically made for us as we just do what we did the last time. And so much of the time it brings us the greatest amount of pleasure. Nothing smacks you firmer in the face of reality than children who demand this sameness in a space that decries anything but and has you winging at every turn because you Have. No. Idea. How you are gonna make this work and keep everyone together let along happy. And omg…what did we do to ourselves keeps you from falling asleep at night…not least of which the elf that decided to show up and is now spying on your every move..All. Day. Long.
Despite my pre-teen almost convincing me that she probably would if she could buy her own plane ticket back home to see friends and family, we managed to convince her that we were still cool, that planes are indeed fun and how about we go to another country where we can experience all that is good, English AND live with 3 cats, a dog and an aunt who was bound to spoil us rotten AND experience no jet lag! Yes..? pretty please..
enter huge sigh
By some miracle we managed to play our cards right and that which tempts us most and keeps us happiest - another trip to somewhere cool helped to seal the deal. We'd continue to stay together as a family for the holidays - ONLY - if we boarded a plane and checked out some new scenery. Done.
cue the packing…we are off to another country
…warning…photo heavy…
The promise we made to the little people in their coming to Europe was that we would travel - planes, trains and automobiles…boats, gondolas, chairlifts, bicycle rides and horses….oh my! A bucket list was started at the beginning of our great adventure and we have been diligently crossing things off as we go. Travel and another plane trip was on the top of the list, who doesn't love flying to a new exciting country?
how does a family of 4 in your home sound for the holidays?
I love the fact that the building blocks to my life are comprised of 3 different countries and family spattered a little everywhere in the world. Dreaming of countryside, feet curled up on a couch with a fire in the fireplace was gnawing at me and when my Aunt in Scotland said YES to my ask of coming to see them my heart instantly grew 6 times bigger and the wish list of things to see and do grew exponentially. Growing up and getting onto a plane to go somewhere really 'good' meant that we boarded a huge aircraft with TWO aisles. Pyjamas were typically part of the flying attire at some point throughout the long journeys and going through security was a breeze…that is…until you fly with our family the circus. This was to be no different…pyjamas aside.
Geneva airport 3 day before xmas
It is some of the busiest flying days of the year. You want things to be organized, flow well and get you through to your plane as fast as possible. No problem. We stood in line for 45 minutes, corralled our way through to the front, followed the prompts from the screens, posters and generally lovely security staff and we marched our shoeless and beltless selves through the security check point to wait on the other side for all our things to arrive.
we waited…and waited…and waited.
Now not to be too concerned, but when you see the machine that currently holds all your worldly belongings grind to a halt and see people scramble around with wrenches and hammers and even giving the machine the good ol' farmer fix 'whack' to make it start you start to wonder…kids are annoyed already, your husband cracks some a** joke about it being your fault and everyone starts to feel.
all good - until
One machine of two down and that meant that all our tubs were transferred to the other machine to be scanned. Which they did! Relief washed over us as we put ourselves back together again until I realized…My scarf! That one item that makes me more Swiss than anything - that gorgeous white scarf gifted to me by sister 2 years ago that I have finally been able to wrestle into an outfit heightening accesory and…it's not there.
then..
Running over to the other side - remember we are now down a machine and only one left…a line up the length of I dunno what behind us and I go scrambling for a decorative piece of fabric that I cannot go on without! And then I see it…my scarf in the hands of a security person ….walking with a mission to a counter and despite my excited "Ah madame!! c'est mon foulard!" … somewhat ignored until she walks right up to me and we instantly realize what has happened…
my gorgeous scarf the cause of so much concern…is…no longer in one piece.
I am forever cursed in my attempt of pushing forward my fashion step, and so with a deep sigh and a promise of another, I walked dragging my new shabby chic 'cut 4 ways to Sunday to get it out of the machine' scarf around my neck only to have T remind me that "all the onions turn into orchids Mama! This is just one more story in the book of adventures". Dammit she does listen. Her cajoling me apparently rubbed off on the security personnel and after signing some paper that I hope allows me to go shopping for another fashion accessory, I was told that I was 'very zen'. Well what do you know. Thankful am I that it was zen that they got and not the "omg…I just shut down one of the security machines…on chrismat travel days…quick - get me to the duty free liquor stat…!" …I can play it cool like that.
Would you like to see the cockpit!?
With the massive changes in flight travel, I figured the days of being in the cockpit were done and over…until…walking onto the easy jet plane and upon getting a glimpse inside the cabin we were pulled from the line, this time for the treat of a lifetime for the kids - Who's ready to learn how to fly a plane? I have never been so happy to be last to board.
another country…no jet lag
We have been privileged to travel so much with our children. Normally, however it typically involves jet lag being so far away in Canada. Happy were we that we arrived safe and sound - despite a little shredded - in Scotland.
christmas with family and friends
Being with family at Christmas was my wish and laughs, animals and fun surrounded us at every turn. Truly it was a magical holiday.
From the begged for drone, Scottish monopoly and fancy new sewing machine - Santa delivered knowing exactly where we could be found.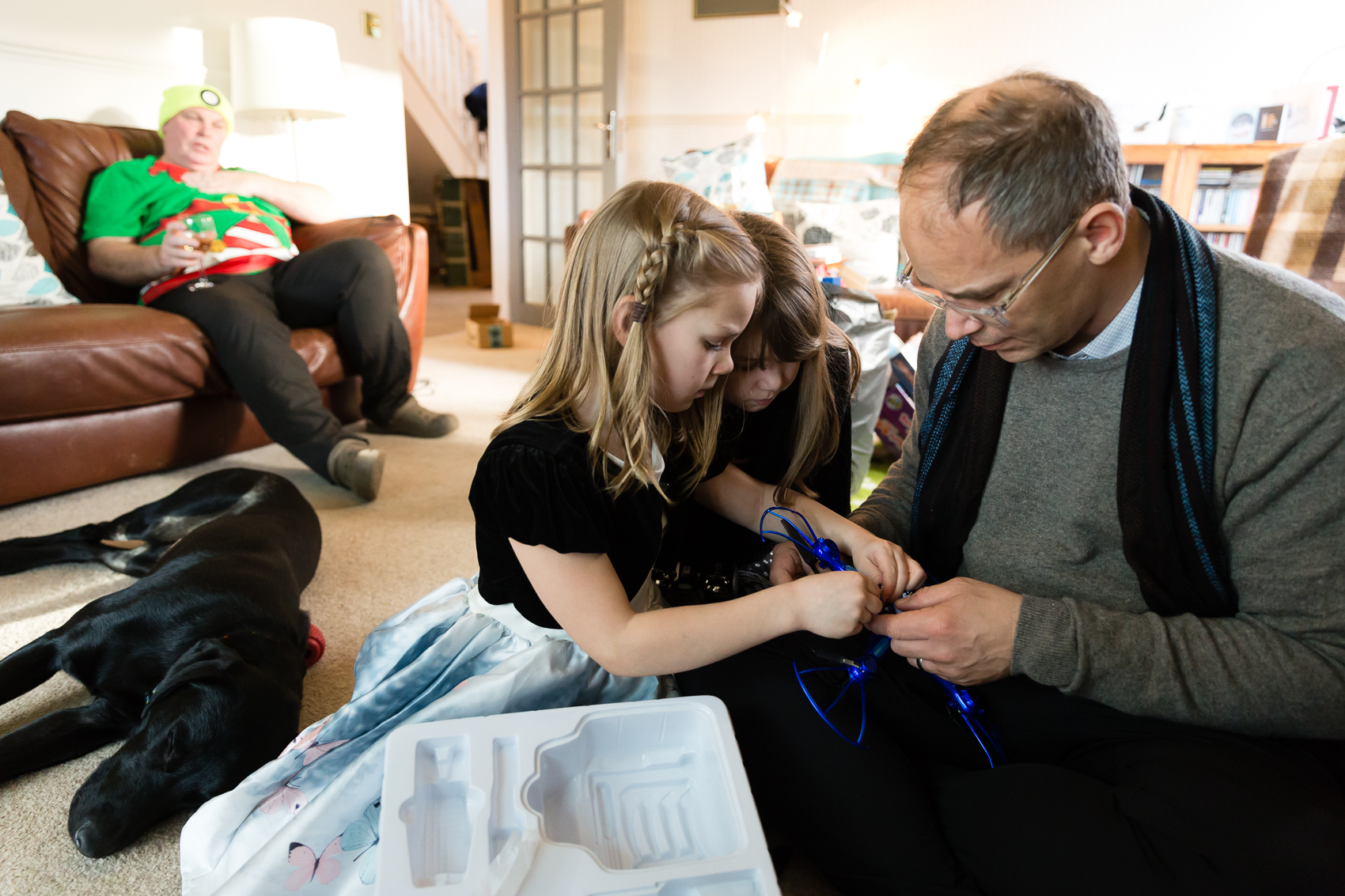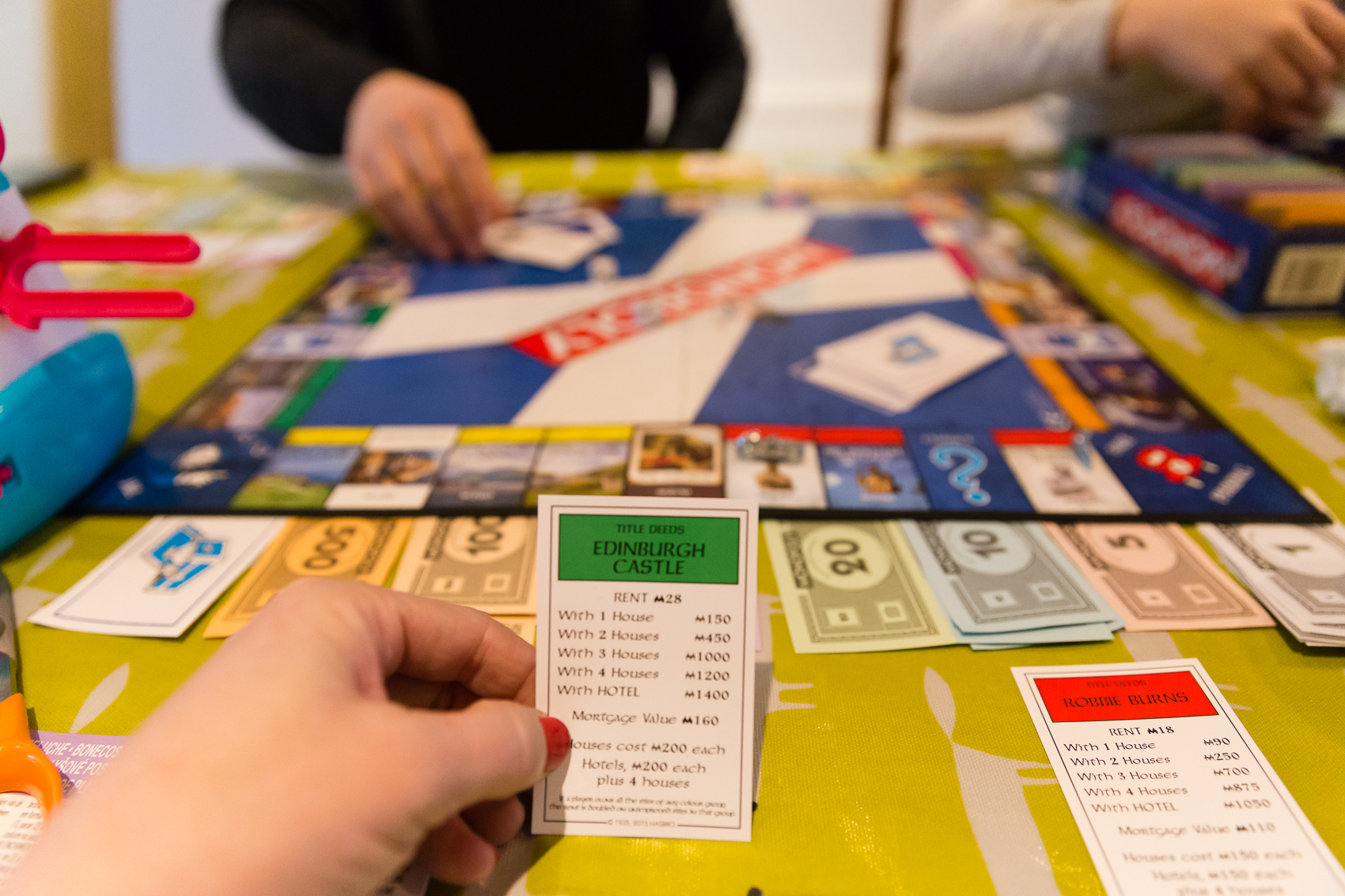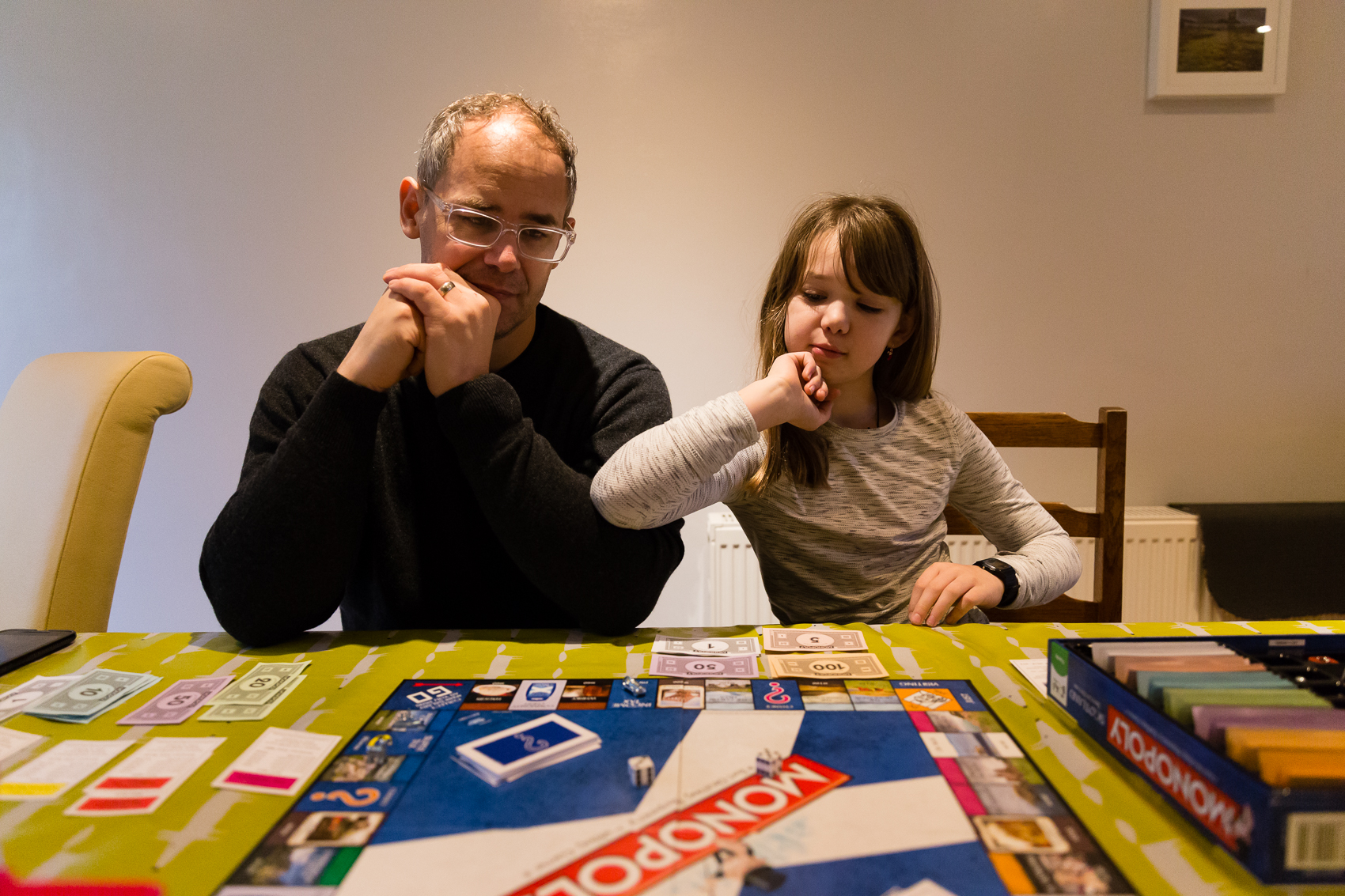 we want a dog/cat/snake/hamster…we'll settle for a spider - with fur!
My kids have been begging for an animal since they left the womb. I am pretty sure they were either baby goats in another life or (man eating crocodiles depending on the day). A huge draw with going to Scotland for those under 5 feet where the animals we were about to be guardians to. Note - the things we do for our girls, I am deathly allergic to cats - like swell eyes shut and asthma can't breath allergies - but I was going to persevere (and sleep in the backyard if I had to - I had no plan really…but a whole lotta allergy pills). Thankfully after my scarf fiasco I was relieved to see my carry on full with a drugstore's worth of meds to get me through. My incredible aunt took it seriously, airing out a room cat free for 6 weeks before we got there and new pillows. I am so so grateful between the lesson of pharmaceuticals and her care of me and understanding as it made me realize I can indeed be near our furry feline friends and enjoy. Hallelujah, I just might become the next Swiss cat lady.
Scottish beaches…who knew?
I have so much to learn. Our assumptions about places, I have come to realize, often hold us back. By letting go and seeing everything that is around us do we start to get a glimpse into what the country we are in has to offer! Nero - our friendly and dotting black Labrador that stole all of our hearts Needs. To. Run. As do my children - which makes for a perfect match really. What better place than the expanse of a beach?
Scottish beaches are not what I would have expected. With the sun low on the horizon, nightfall at 1600hrs at night already due to it's northern latitude, the wind and gorgeous light coupled with the grasses and mild temperatures it was heavenly. And Pot a Doodle Do beach was not one to disappoint!
We had the pleasure of staying about 50minutes outside of Edinburgh. The city itself is Scotland's compact and hilly capital. It has a medieval Old Town and elegant Georgian New Town complete with neoclassical buildings and gardens. Despite the trees not having any leaves this time of year, the gardens are all green and the winter foliage is a plenty. We trekked our way through - stopped mostly for the warm apple cider, a must when mozeying around and checking out the sites.
Looming over the city is Edinburgh Castle - home to the Crown Jewels - worn by the monarch at the time of coronation are held here as is the stone of Destiny - an oblong block of sandstone also used during coronation ceremonies. We didn't see it - next visit!
Arthur's Seat is an imposing peak in Holyrood Park with sweeping views, and Calton Hill is topped with monuments and memorials.
We chose to visit Palace of Holyrood - The Queen's official residence when in Scotland. No photographs allowed inside to both respect the artifacts as well as to preserve them from any unnecessary flash. Fascinating and beguiling.
The scenes in the old chapel did not disappoint, the majesty that is the palace and the gardens - coupled with an active imagination and too many Scottish movies to count - help to animate the grandeur and excitement of this place that once was. Amazing.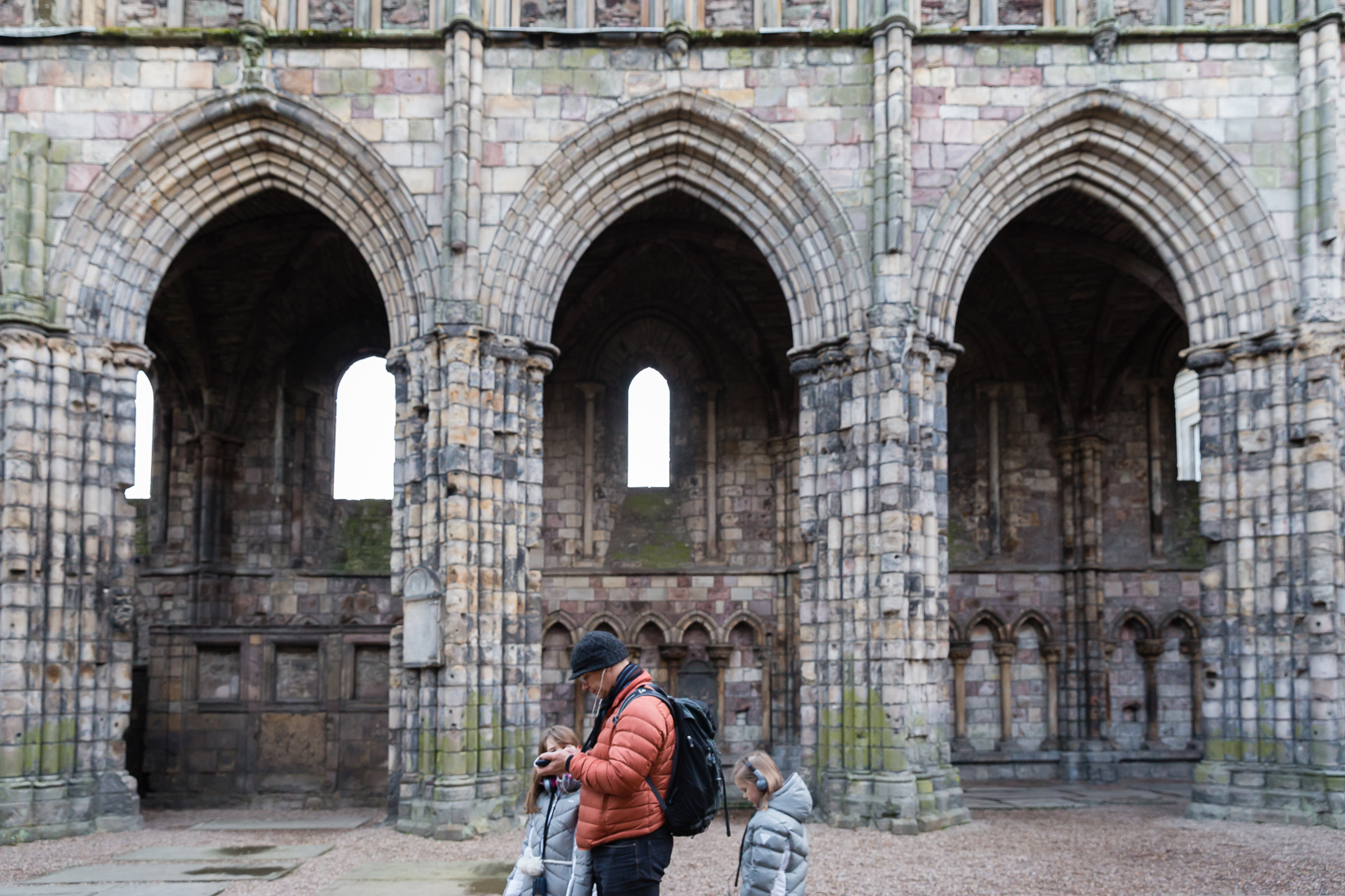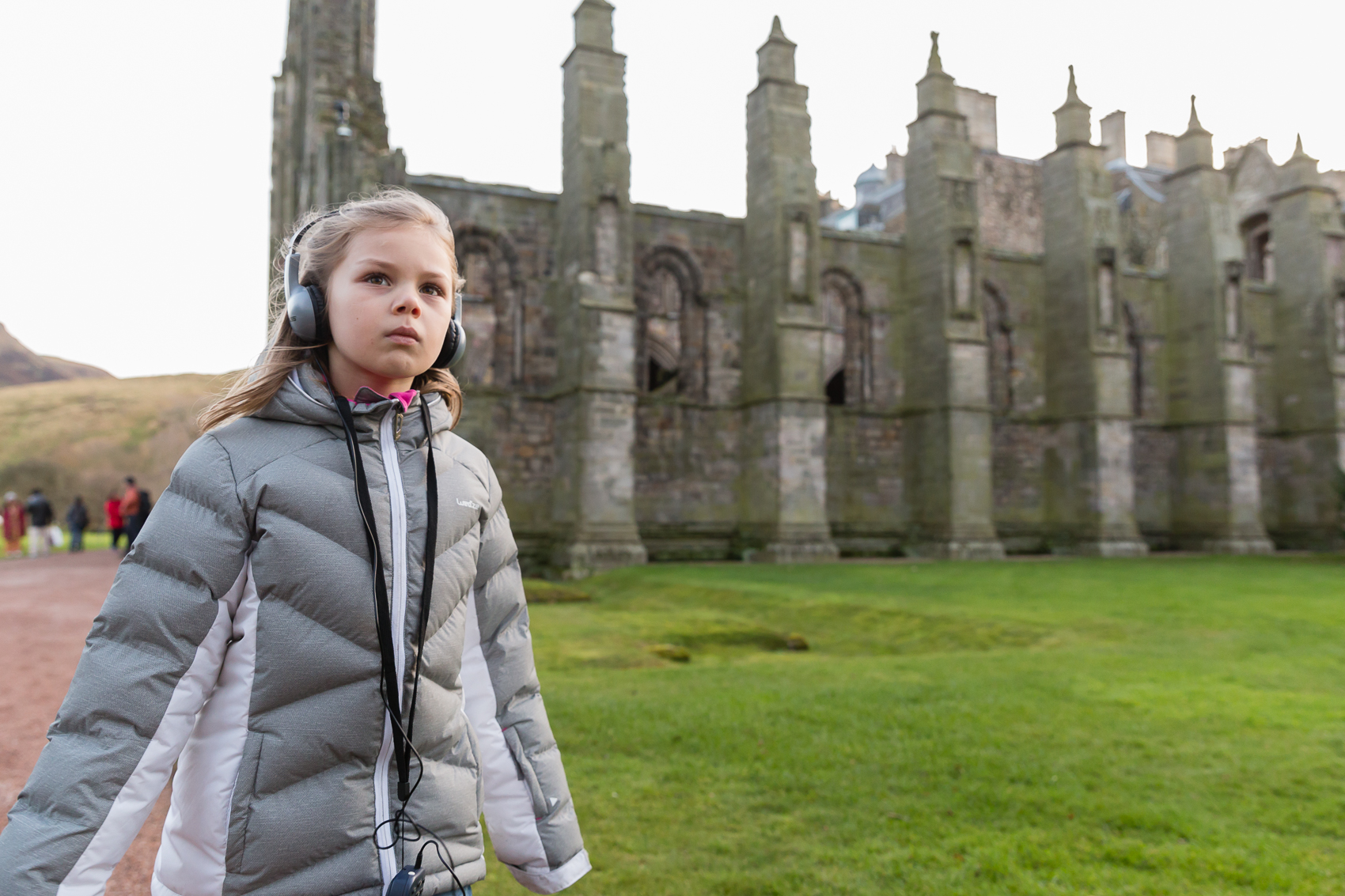 What did I love about it here? I can not tell you any one thing in particular. All of it was so amazing. Being able to travel somewhere foreign yet be so close. Being there with family. Exposing the kids to new sights and sounds. Eating haggis - it is really good! The greenery of the rolling hills that begged wellington boots and hours and hours of walking…which we have to leave for a time where the kids realize that their legs will not fall off after 10 minutes and the promise of gummy bears. - so yes…the sunset walks holding hands with my honey was more like maneuvering a game of mission impossible with the kids - mind you our ace in the hole….kid jokes on the internet. Nothing gets our kids walking faster and longer than a screen full of jokes they can read out loud - that and minute mysteries.
Thankfully, there were some sights that weren't too far off the beaten path allowing the inner artist and photographer to snap excitedly all over the place. To say that my camera got a workout would be an understatement.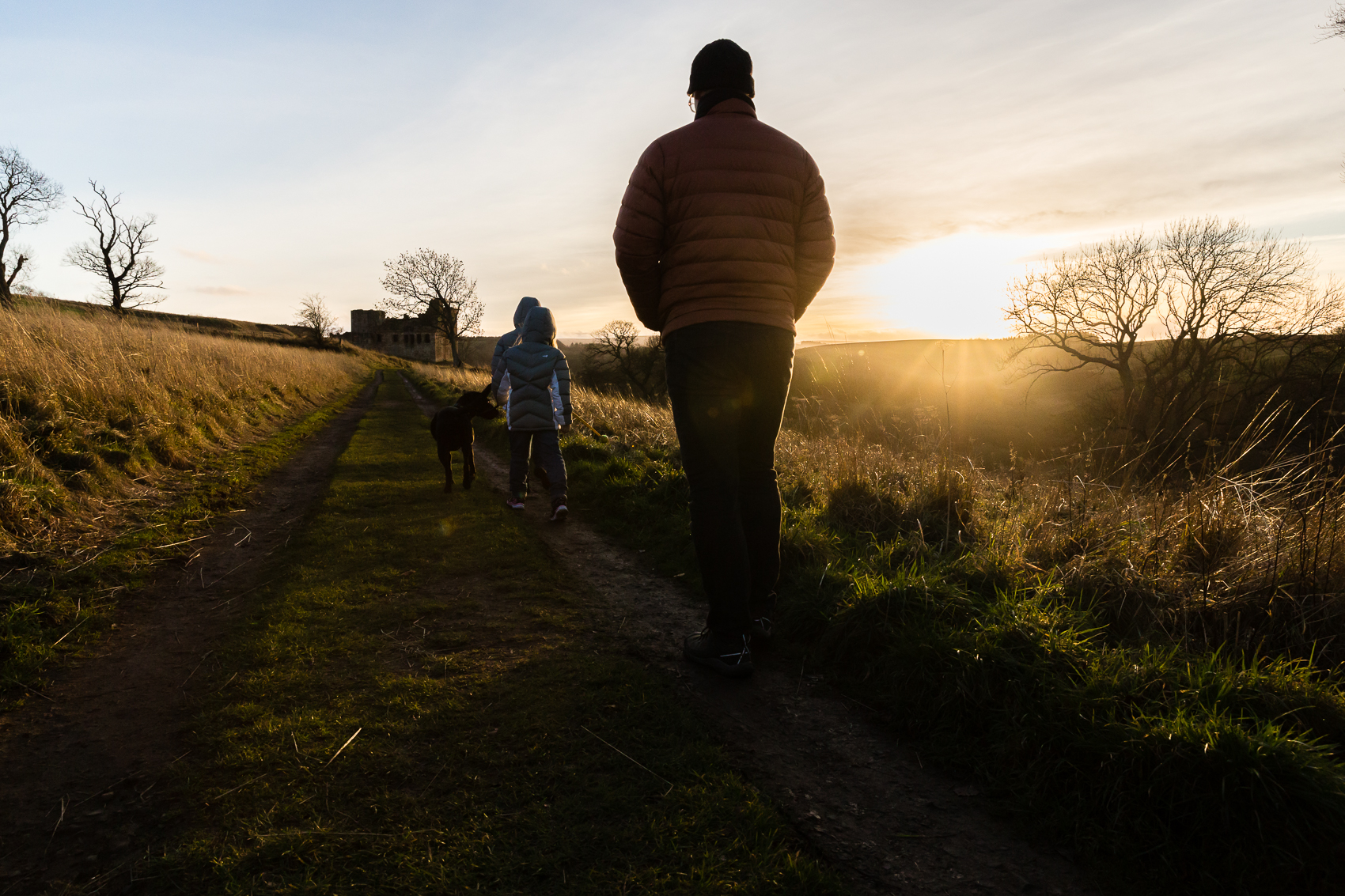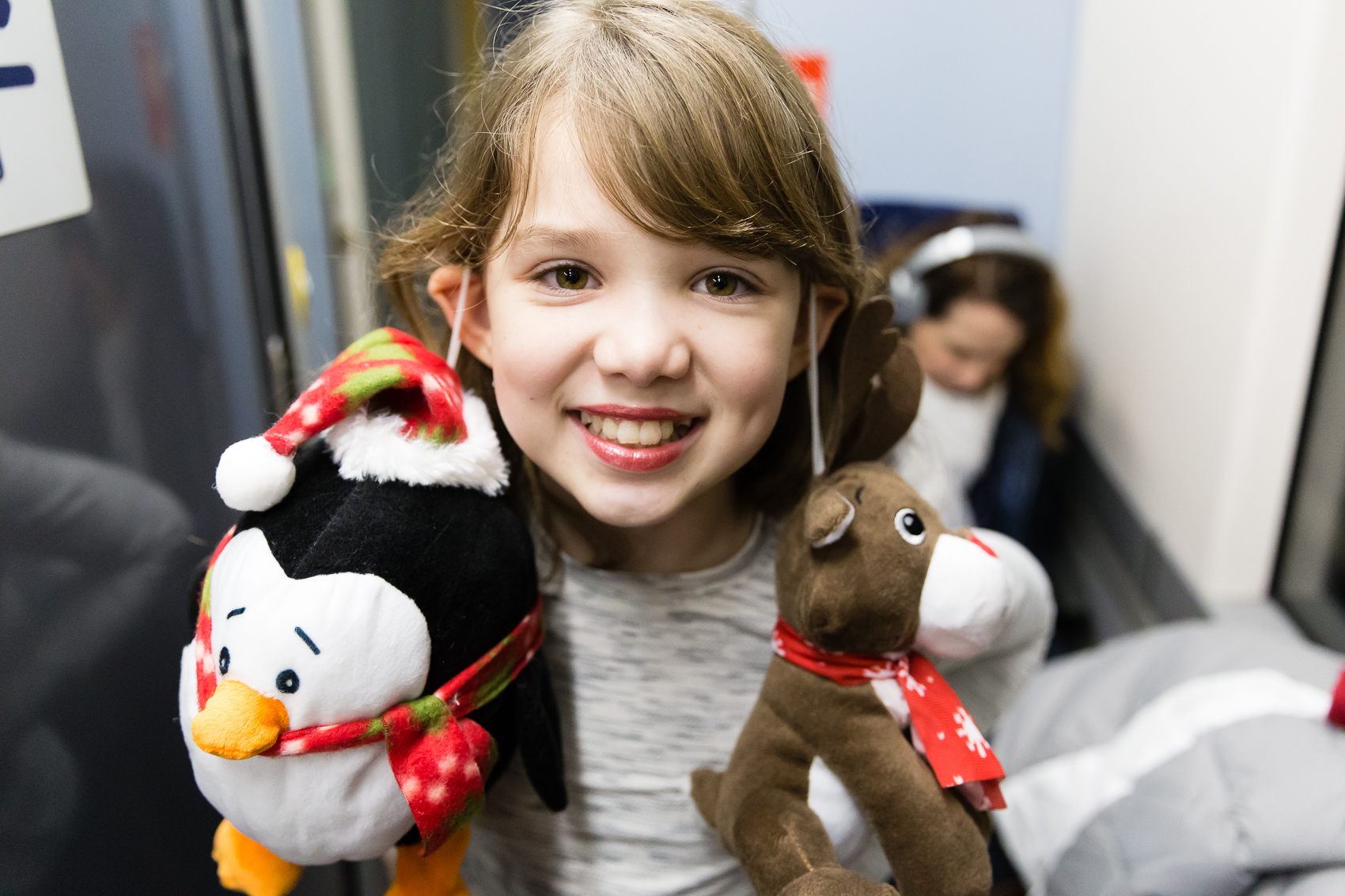 But we didn't just get to travel - we also connected. Taking time to slow down is typically what the holidays are all about. The frenetic pace before we left didn't leave us this holiday season. We just had to do what we normally did, but with less snow and on our bikes. Being with family and those closest to them made it that much richer of an experience. A table filled with people laughing over a serious game of whot whot can make anyone wanna reach for the whisky and take another swig!
Christmas in Scotland will undoubtedly go down as a huge highlight of this past year. Being able to relax, have fun, laugh and simply not worry about the day to day made putting the focus on Christmas itself an absolute joy. Gill and Stewart, we can't thank you enough.