The city of lights and amazing bike tours | Travelling Storyteller Photographer
Bucket List Creation - easy for some, not so for others…
Since we moved here, our quest for adventure seems to have only grown with each passing day. This is mostly fuelled by our need to explore that which surrounds us and the fact that it is all so close by makes us giddy with the possibilities.
When we moved, we explained to the girls that we would create a bucket list of places to visit, things to do. To my husband and I it was a recipe for nirvana. All the European countries, the food, the culture and all the things to see and do. Despite our frenzied pen to paper state…scribble, castles, chardonnay, bike rides…scribble…., our kids just couldn't grasp the idea that anything could possibly be better than their bedroom and that ripping them away from all that they knew was akin to making us the worst people ever….scribble, scribble, plane rides, sunsets in the mountains..scribble scribble…. I am pretty sure that despite our description of what that list could entail, Avaia was still struggling with the idea that a bucket and a laundry list of places she had never heard of could be any more fun that the oodles of beanie boos she had left behind.
Slowly….but surely… with a lot of talking later, showing sights, explaining what they were seeing, encouraging books, podcasts, blogs and youtube videos showing other families kind of like ours exploring the world our kids moved slowly towards putting their own lists together. Sleep in a hut, see a circus, watch a live theatre outside, go on a plane, eat something new, enjoy gelato, bike in a city, get to school and back on their own….their list grew.
When we asked the girls back in the fall what they might like to see Talia's memory flashed back to photographs of her as a baby under the Eiffel tower. Boom. Done.
Avaia blurted out "the Leaning tower of Pisa!". Anything that involves my getting on a train and going to where they speak the language of love and I. am. in.
The winter has had us thriving in the mountains and skiing our hearts out, come the winter holidays at the end of February and the pull of a train ride moved us towards adventure and Talia was quick to remind us that the Eiffel Tower was tugging at her heart. With 8 weeks of school schedule under our belts since Christmas holidays, the beginning of March had us marching towards adventure once more and Talia's bucket list wish list moved us into action.
Despite the ease of plane travel, there is something to be said about train travel and a trip to Paris from Switzerland would simply not be complete without a ride on the TGV - le Train a Grand Vitesse.
Taking one for the team, I headed out of town first with the kids. Tony would join us a few short nights behind us after getting in a few last days at work. The night before we put out speed packing skills to the test and in 20 minutes were ready for our next day's adventure.
…note..determined am I that I have a record of my being there, the images are a combo of my amazing Canon DSLR and iPhone selfies. Warning…photo heavy…but…PARIS!!
TGV platform…Paris here we come!
Pokemon games, jewelry designs, books, colouring, we happily whiled away our time until we got to Geneva where the next train was waiting for us!
The TGV was a delight - hint - book ahead, note you can decide to sit all together, or not, and even face the direction of travel - which this mama most definitely recommends if you have a choice.
Birthdays celebrations should last a week
Given that my birthday had only just happened and since I am a firm believer that one should celebrate for at least a week, if not a month, then it only made sense that Paris become an extension of time spent celebrating a life well lived. To me this was birthday extended. To Talia…bucket list check.
To say that we are splurgy people would be not quite accurate…scrimp and save is definitely more like it. One thing I have learned through all these experiences is that when an opportunity presents itself, spending more on oneself can make for a truly unforgettable experience. Couple that with some major city upheaval and you get a not so bad deal - thank you gillets jaunes….our hotel discount was amazing!
Staying 2 blocks away from the Louvre, a boutique hotel that was worth every single euro. Despite my still feeling like my youthful backpacker with two kids in tow as we trudged through the rain from the metro a block and a 1/2 away, wearing my trusty backpack I told myself we belonged in these amazing trips. I kept telling myself this while dually navigating the streets of Paris and explaining to my kids that there were rules of etiquette that they needed follow lest they figure us out and ask us to leave!
Maison Albair Celine in Paris is boutique hotel decadence. Thank you Anna and Manolo for the tip!
The views out the window, the pint sized bathrobe perfect for little, the cute as a button stuffed animals, not least of which the welcome candies on the Rez-chausee level that I had to remind the children to take…One. At. A. Time….!! The gorgeous white linens, the need for a tour when we arrived, the gorgeous views out the window. All of it…pure decadence. It way made up for the fact that my hands were peeling like nothing I had ever experienced - an extension of the virus that kept on giving - and bless the concierge who said nothing about my constant gloved hands lest I loose more skin by taking them off in the cool Paris winter. Bless my kids who quickly fell into line and "Bonjour Monsieur/Madame"ed their way through every greeting.
Despite the kids thinking that the hotel was the bomb and that they could just stay there all night, after having been on a train all day, there was nothing more my giddy self wanted to do than to show off a city that I absolutely adore.
LET'S GO!!!!! Candies on the way out, coffee for mama and we get to eat out tonight!!! I mean…it just all sounded like heaven right there.
Heaven on earth to me these days is sunshine on my face first thing in the morning, hotel light with willing photography subjects and a smidge of time spent thinking about what cafe we get to frequent for breakfast that morning.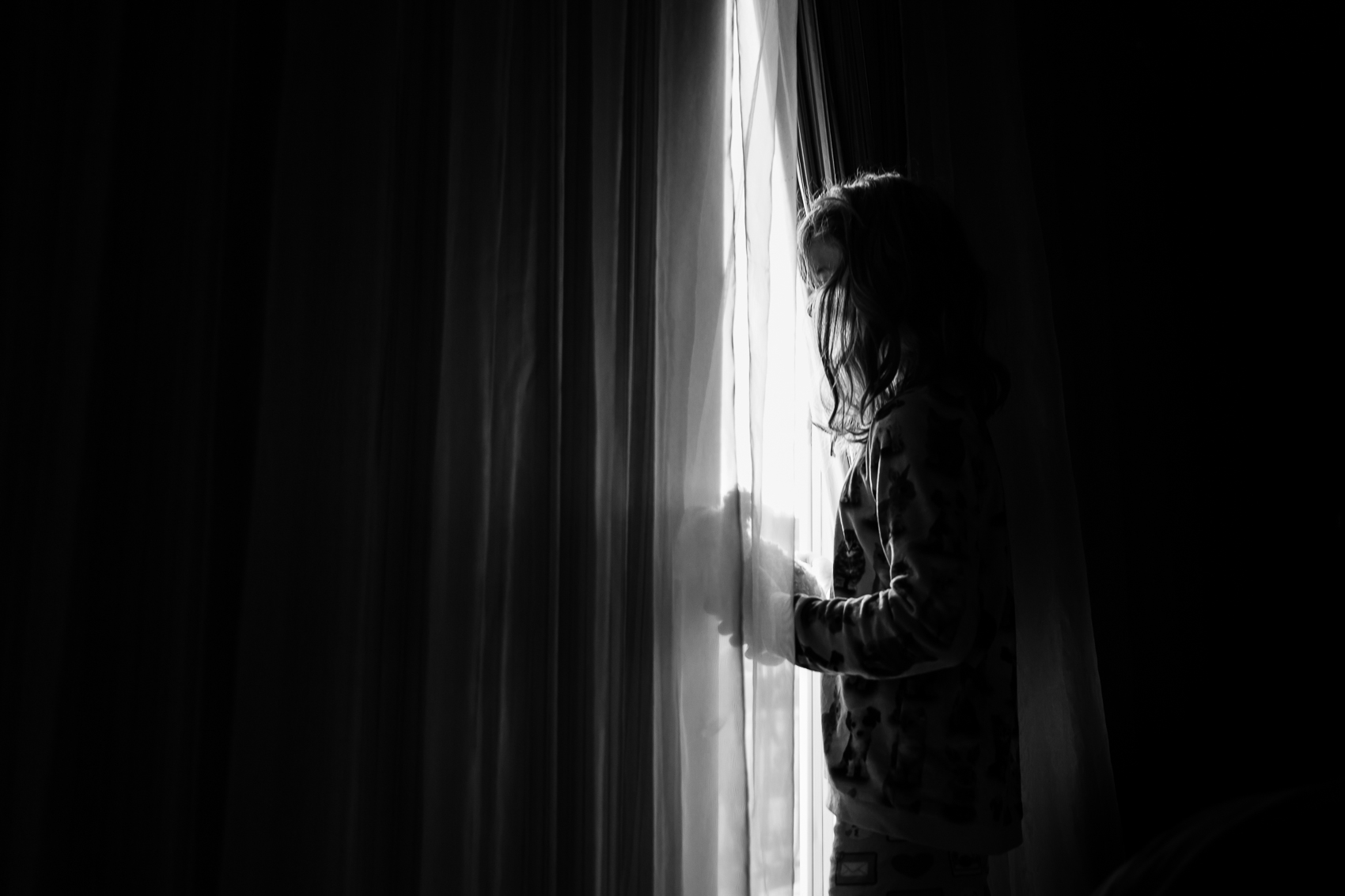 An amazing sleep had us ready to go and whispers of sunshine and no rain had us chomping at the bit ready to go. With every intention of showcasing this beautiful city to the kids, we booked a hop on/off double decker bus to give us a tour of the city and quickly made our way through the most amazing sights. But first….breakfast.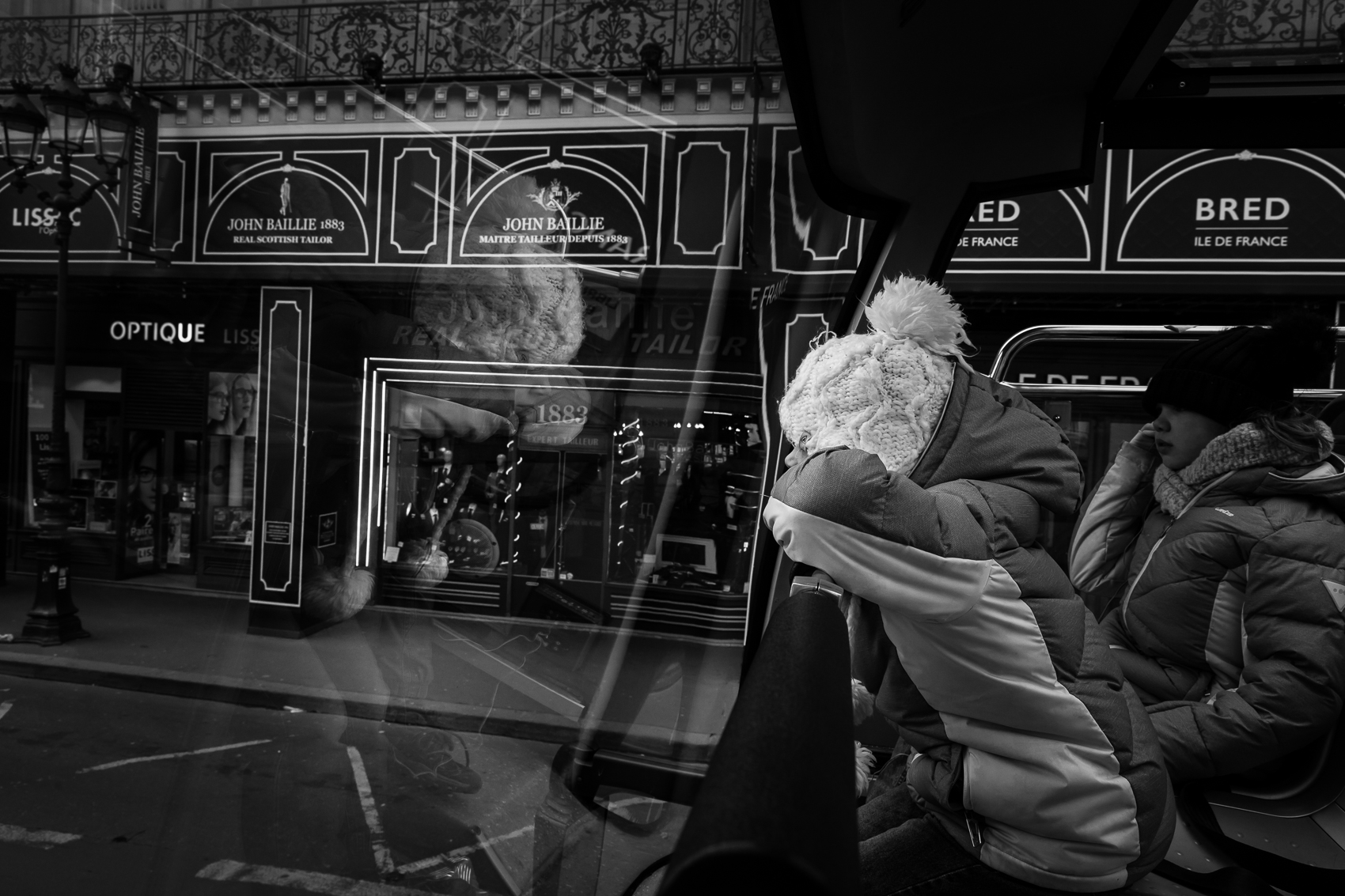 Aside from our kids bemoaning that we don't let them have aaannnnyyything, because Paris isn't enough apparently….we set out to give them some spending money on the trip so they might have something to take back with them from their experience here. Shiny trinkets abound…. Total disclosure, I am a super big fan of the pink Eiffel Tower that came home with us.
This was not our day to get to the top of the tower, that was saved for tomorrow!
No matter where we travel, the best parts of our adventures are hands down when we have the fortunate ability to meet and interact with others. I was craving Italian food. Kids were grumps and the thought of having to walk any further than 2 steps down to the beautiful restaurant downstairs was too much for one 7 year old to bear. I mustered all my mama courage and on a hope and a prayer we managed to get to Pizza Wawa and boy did our experience change for the better forever with that one decision!
Pizza Wawa is what it says, a boutique restaurant serving incredible gourmet pizzas in the 1st Arrondissement in Paris. Olivier welcomed us with open arms as we walked through the doors. "Bonsoir madame! Bonsoir les filles"…."Bonsoir Monsieur!" chimed my girls in chorus (good…they were listening!). We sat close to the bar tucked with all the other diners against the wall in a decidedly Paris fashion making the most of all the available space and we were instantly assuaged with our decision. It was from that moment where life, all those choices we made for years, all the hard work and bickering that your kids hate you for then suddenly meld themselves into the most amazing life experience.
Sitting at the table with my two girls, eagerly looking over the menu and discussion our options in a melding of French, English and Swiss German - we started to garner some looks from both a fellow diner and Olivier, our gracious host.
In perfect English, our incredible host regaled the girls with fancy kid drinks that made them feel oh so grown up, allowed me to speak to a fellow diner and before I knew it, Talia and Avaia had fallen head over heels in happiness with a restauranteur who obviously loves what he does. Olivier's passion for his job, the people he meets and the way in which he makes the restaurant experience an incredible one would not even come close to explaining how he treated us while in his restaurant. Exhausted from a day of exploration and full from a yummy dinner, we headed home with a promise to come back the next day. Girls, grinning ear to ear, we left Pizza Wawa having come in on a wave and a hello and leaving with hugs and bisous.
On a high, all of us, I was able to show the kids exactly what it means when travel meets experience. One for the record books and that we have written about to others, spoken to often, Pizza Wawa, nothing we planned when we left originally was everything and then some to the family experience in this amazing city that left us feeling oh so full.
Talia's bucket list was the Eiffel Tower so the next day we headed back via the metro to take a closer look and make it up "All the way to the top Mama!". That would then be followed up by a cruise along the Seine..because…the Seine!!!
Once we arrived, and not having been quick enough to secure early tickets, we were left with two options. Elevator yet Loooong line up. Stairs, quick line and energetic mosey on up two floors. Talia took one look at the absurdly long elevator line and made the prompt decision to take the stairs. That's my girl!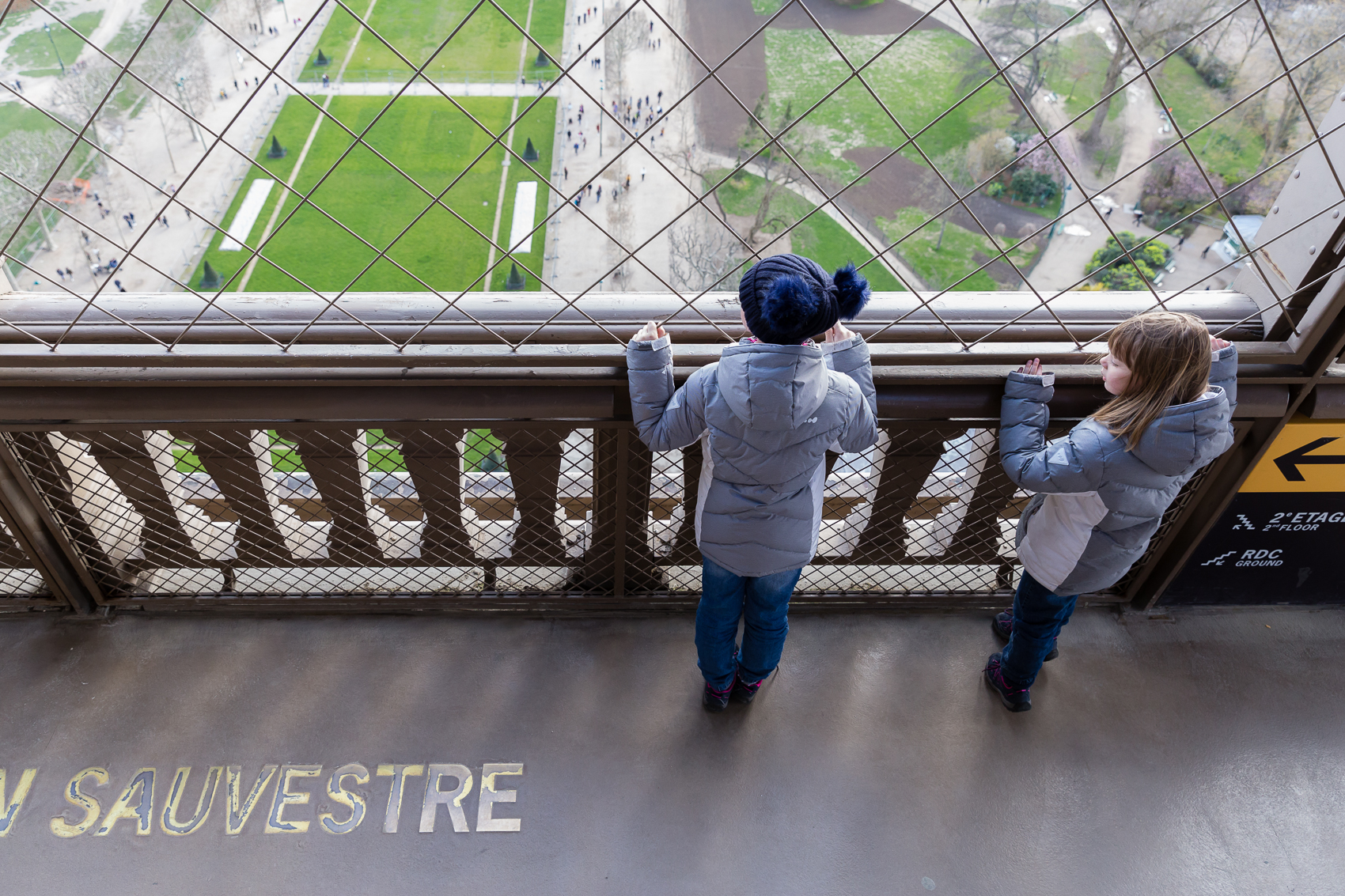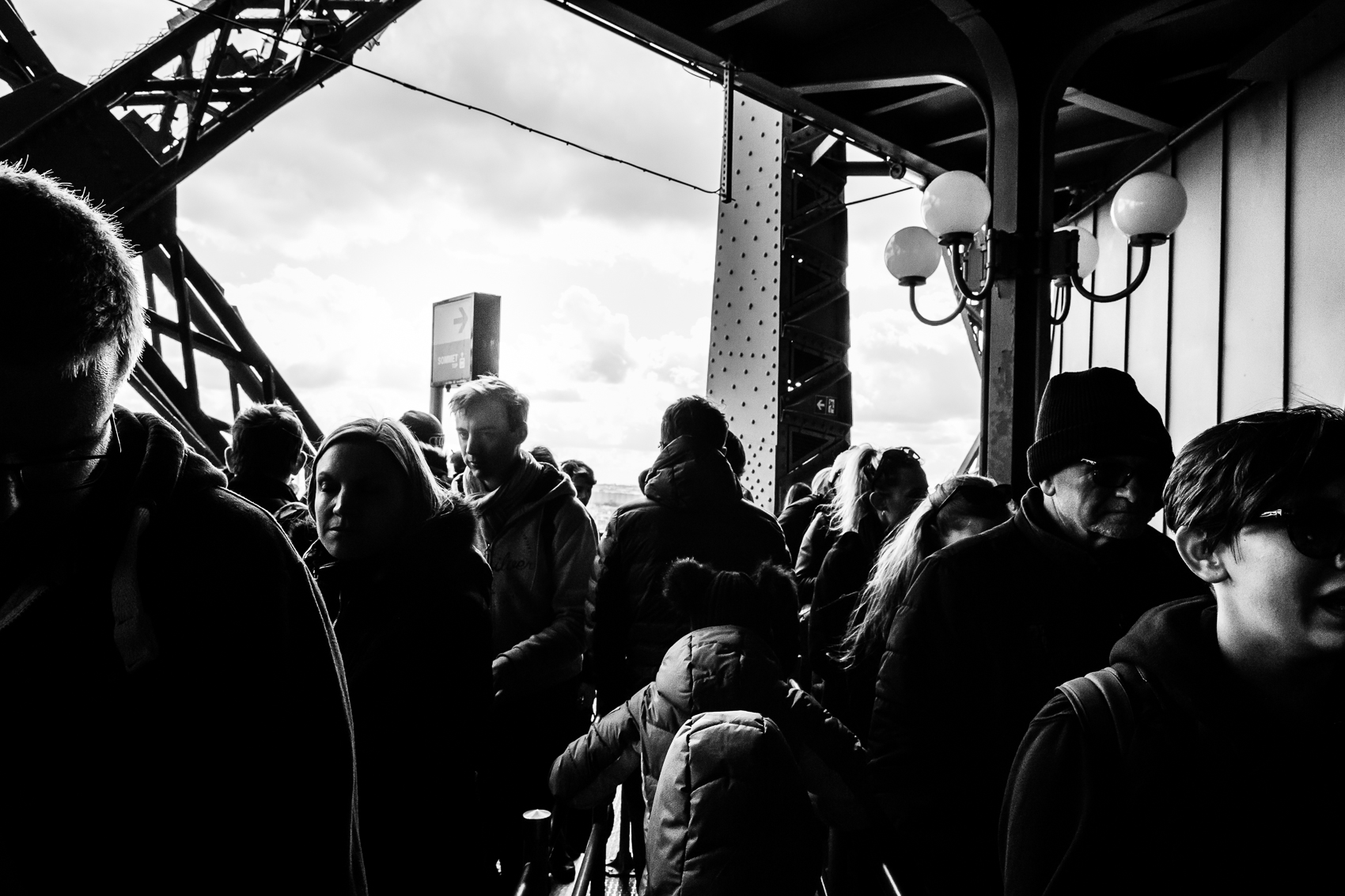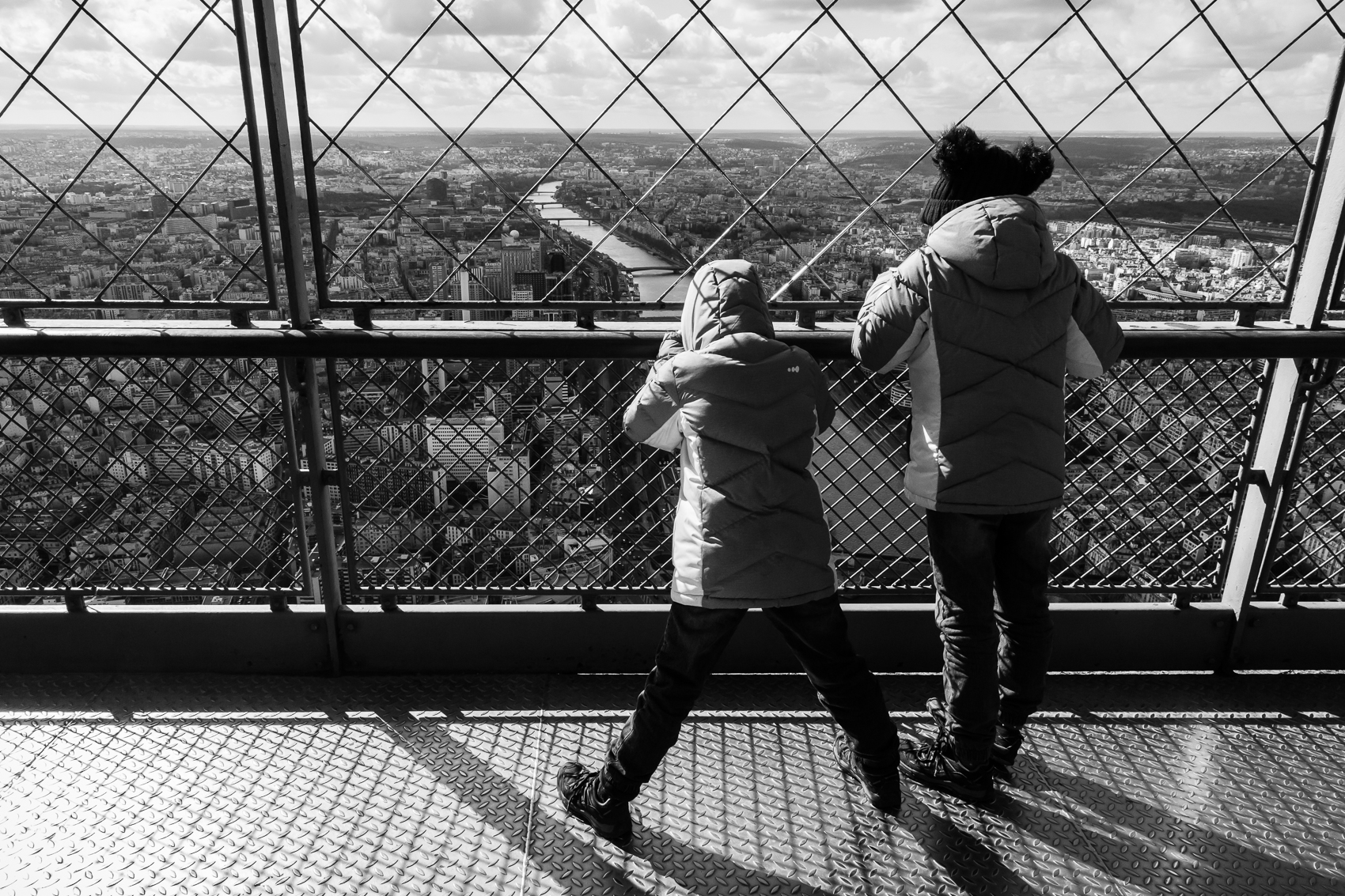 Nothing screams 'give me money' more than a telescope that won't work. 2 euros later and I know more about both what is on the ground as well as who is my budding meteorologist in the family.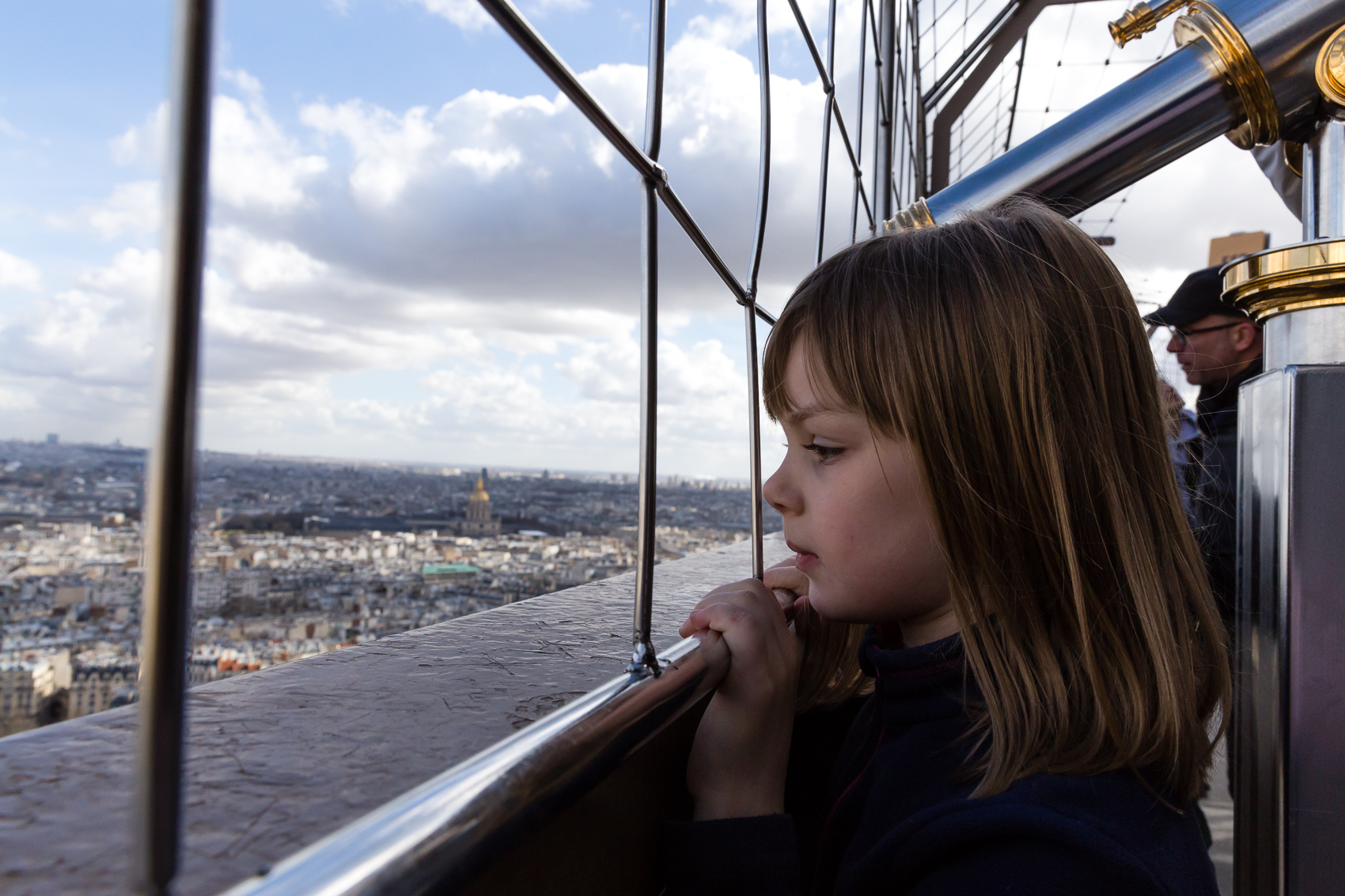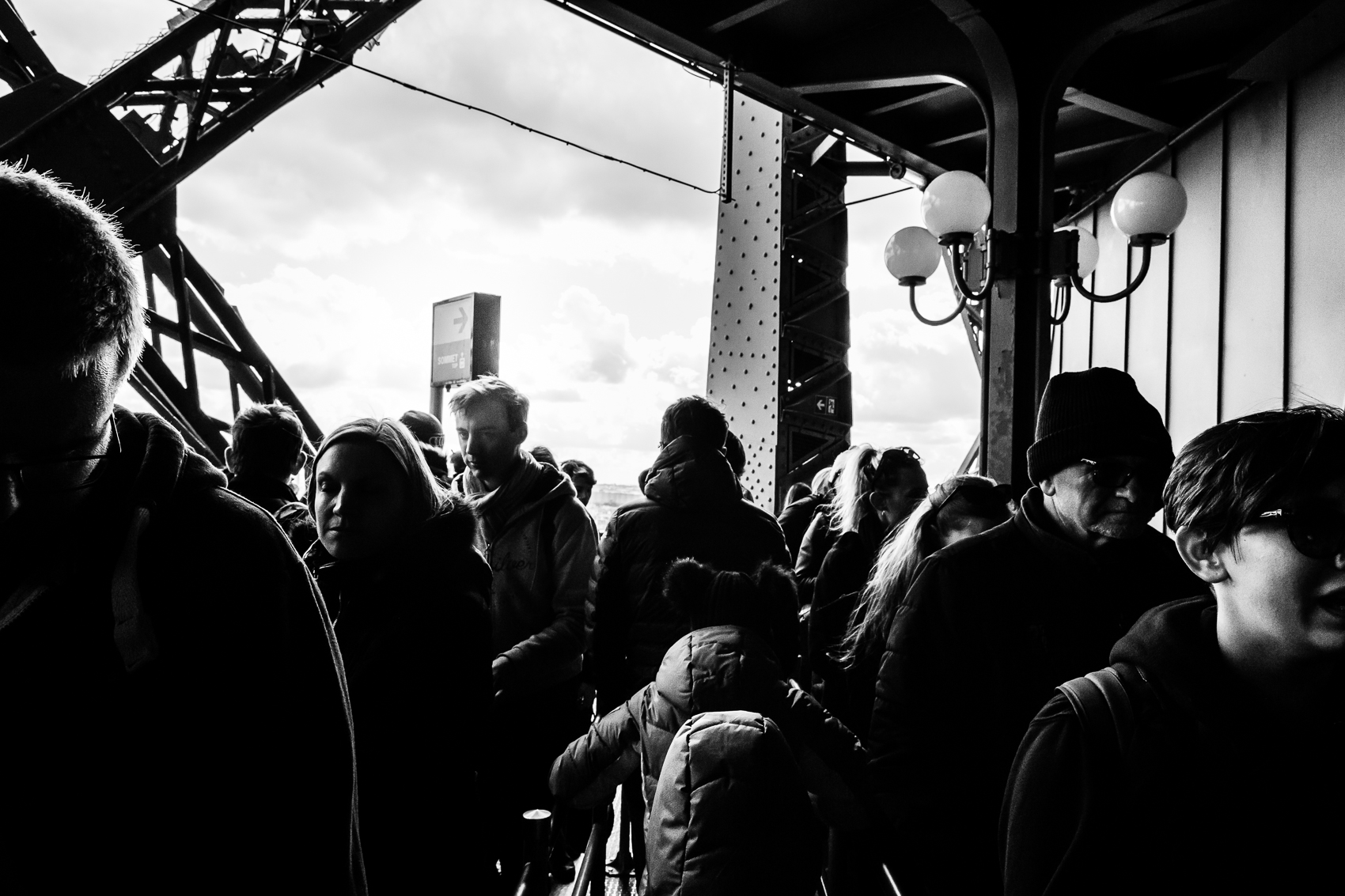 The Eiffel Tower did not disappoint, neither did the hotdogs at the base and off we were to our next tour of the day. Who doesn't love a river cruise. Especially a glass toped one that allowed the girls to stay inside with so many of our other tourist friends who like to get up close and all squishy and finish up postcards allowing me to revel in the outdoors while keeping an eye on what was happening below.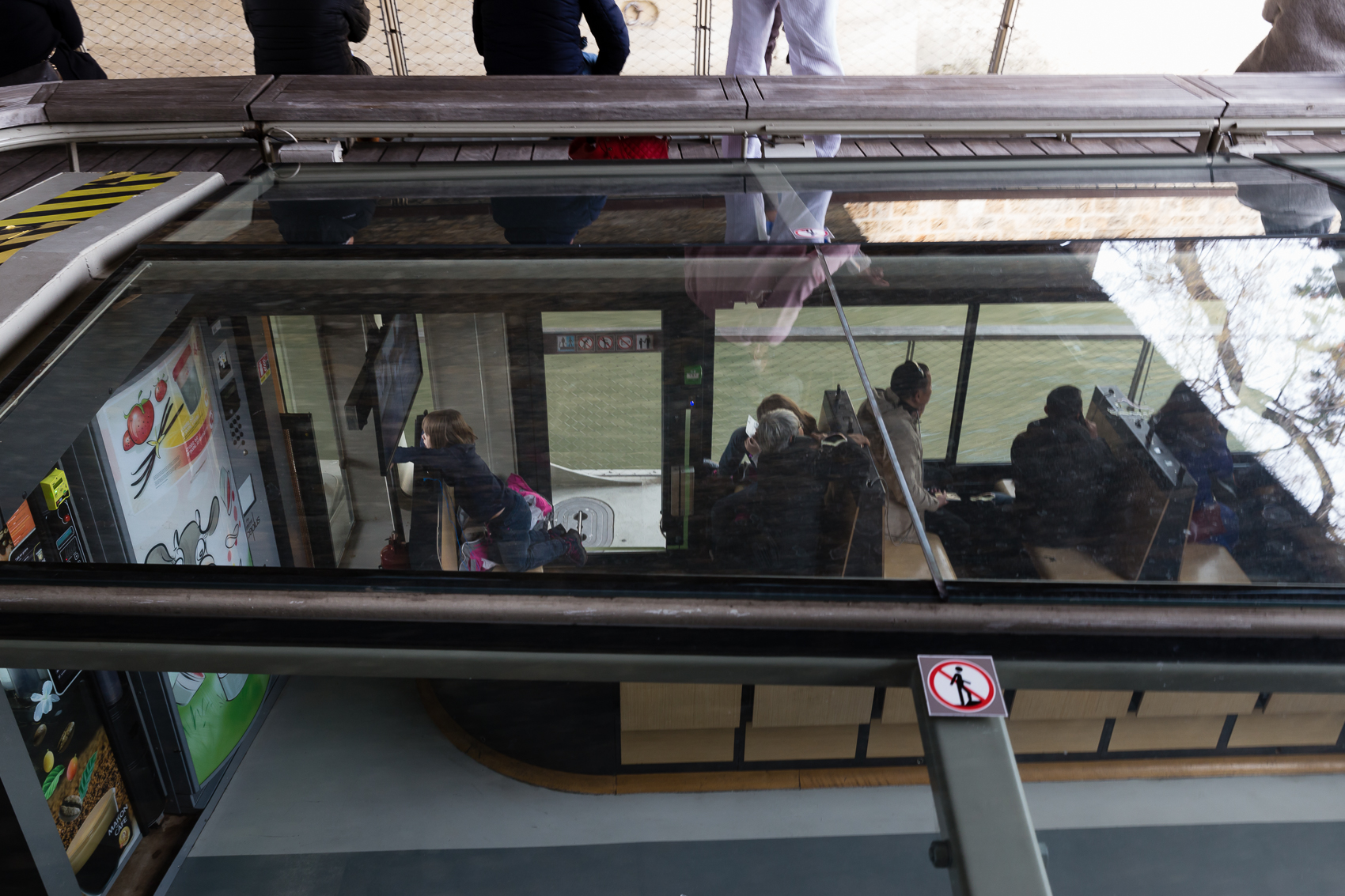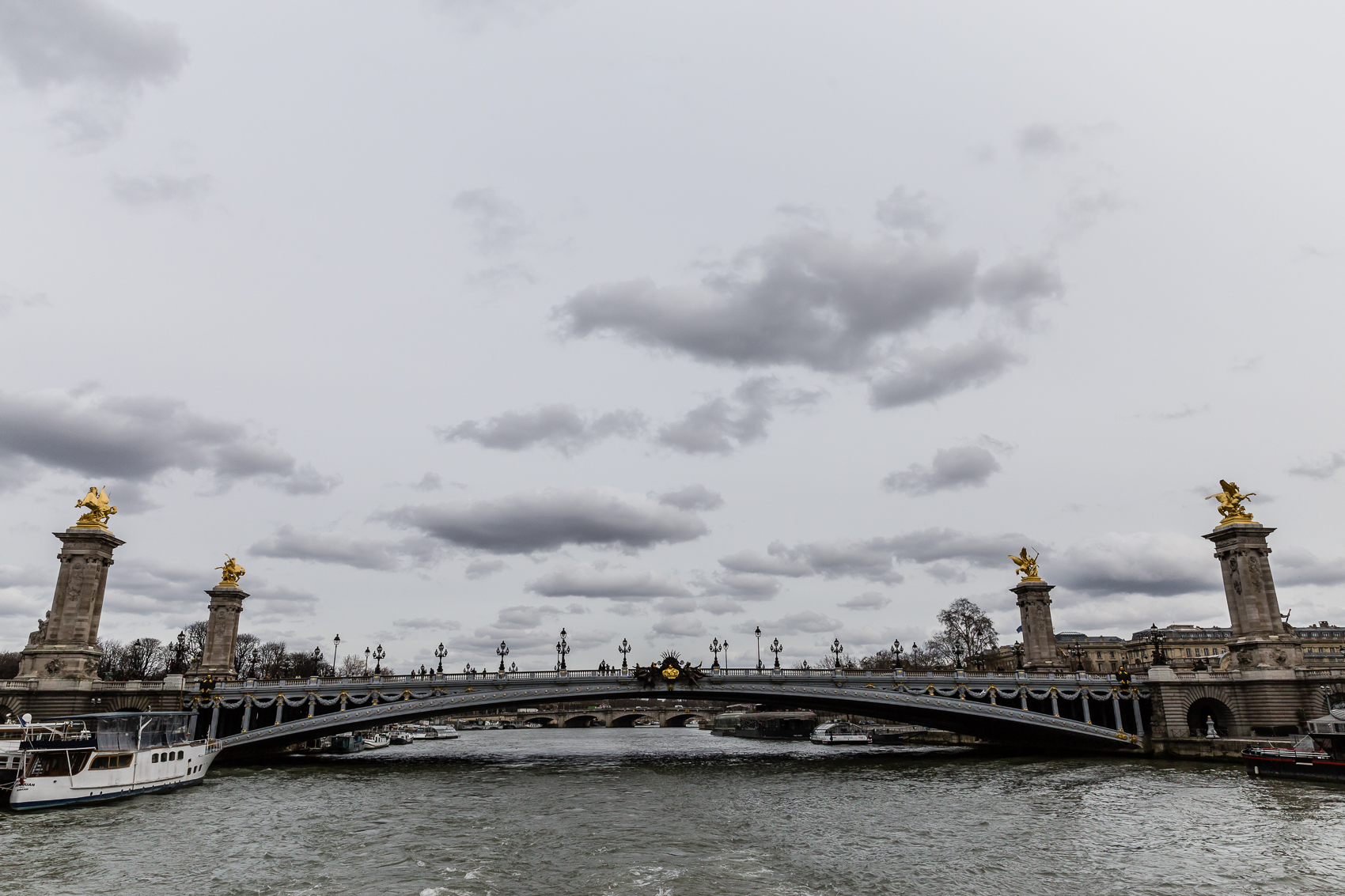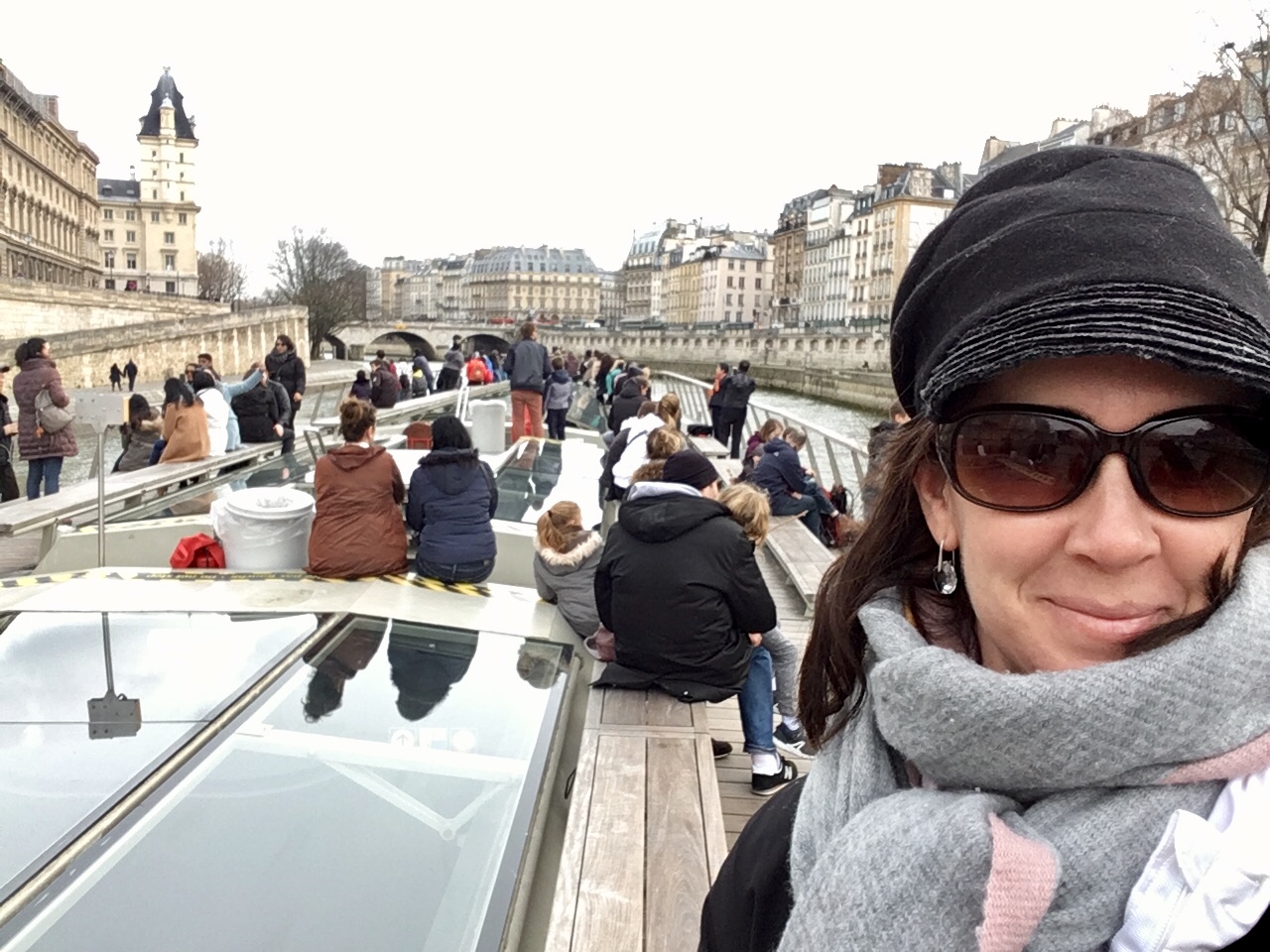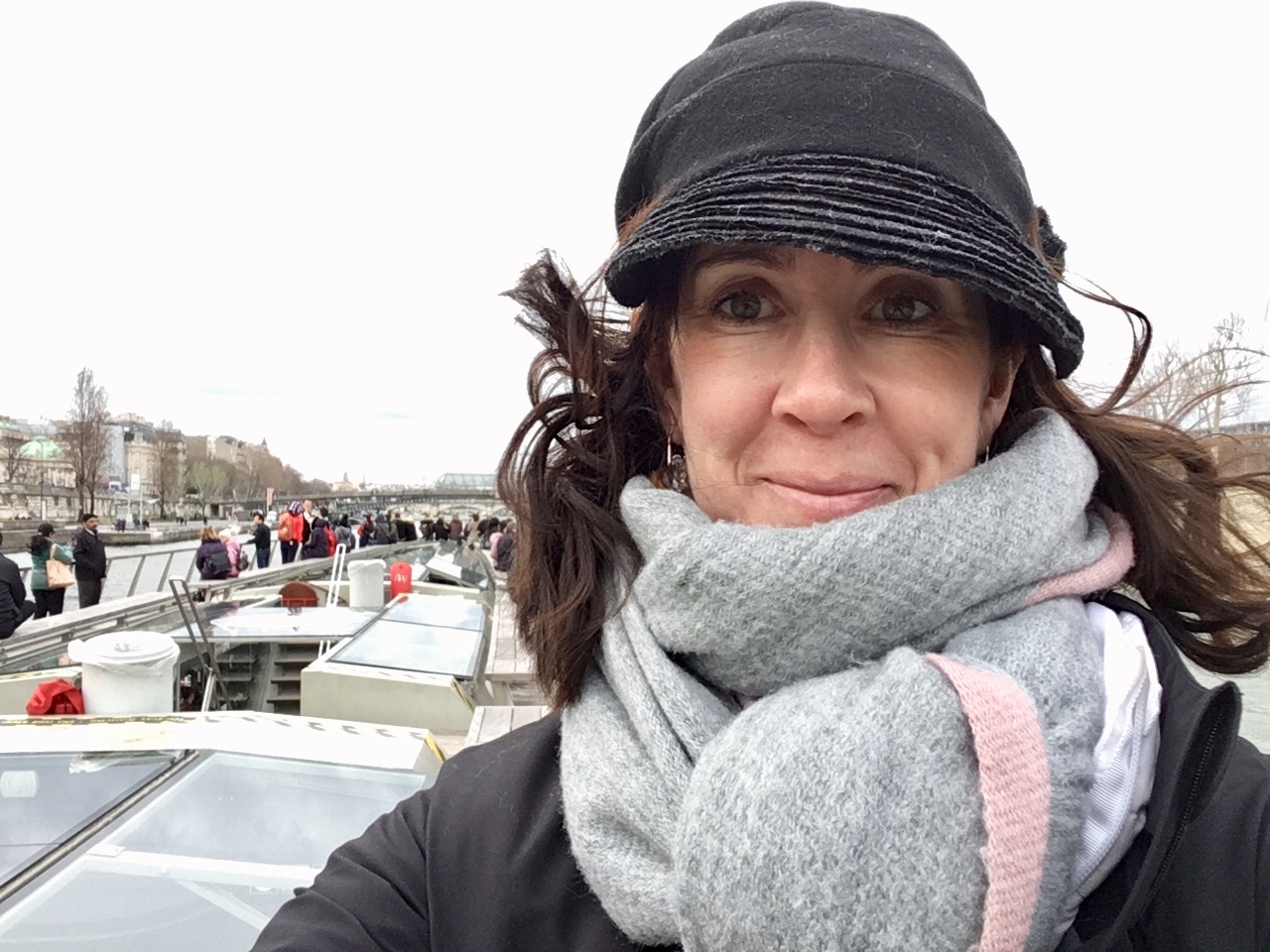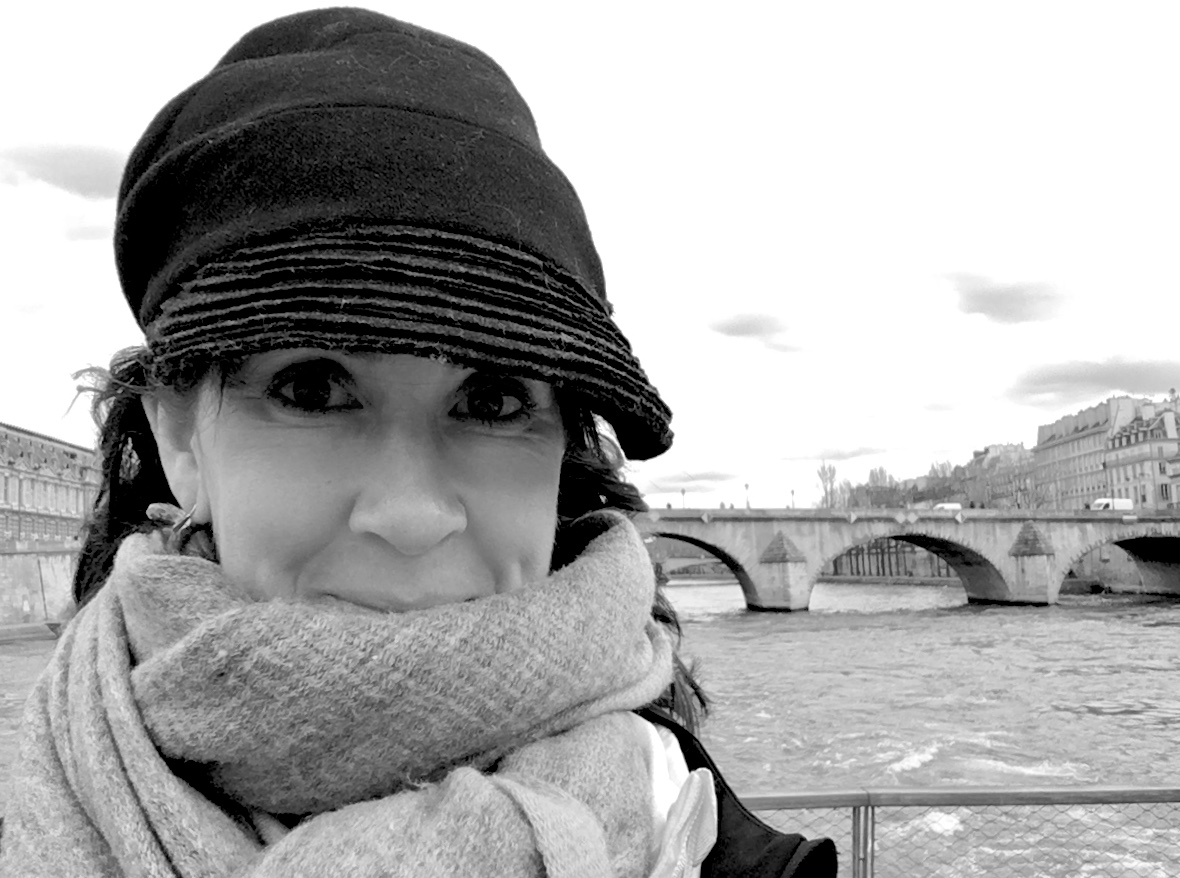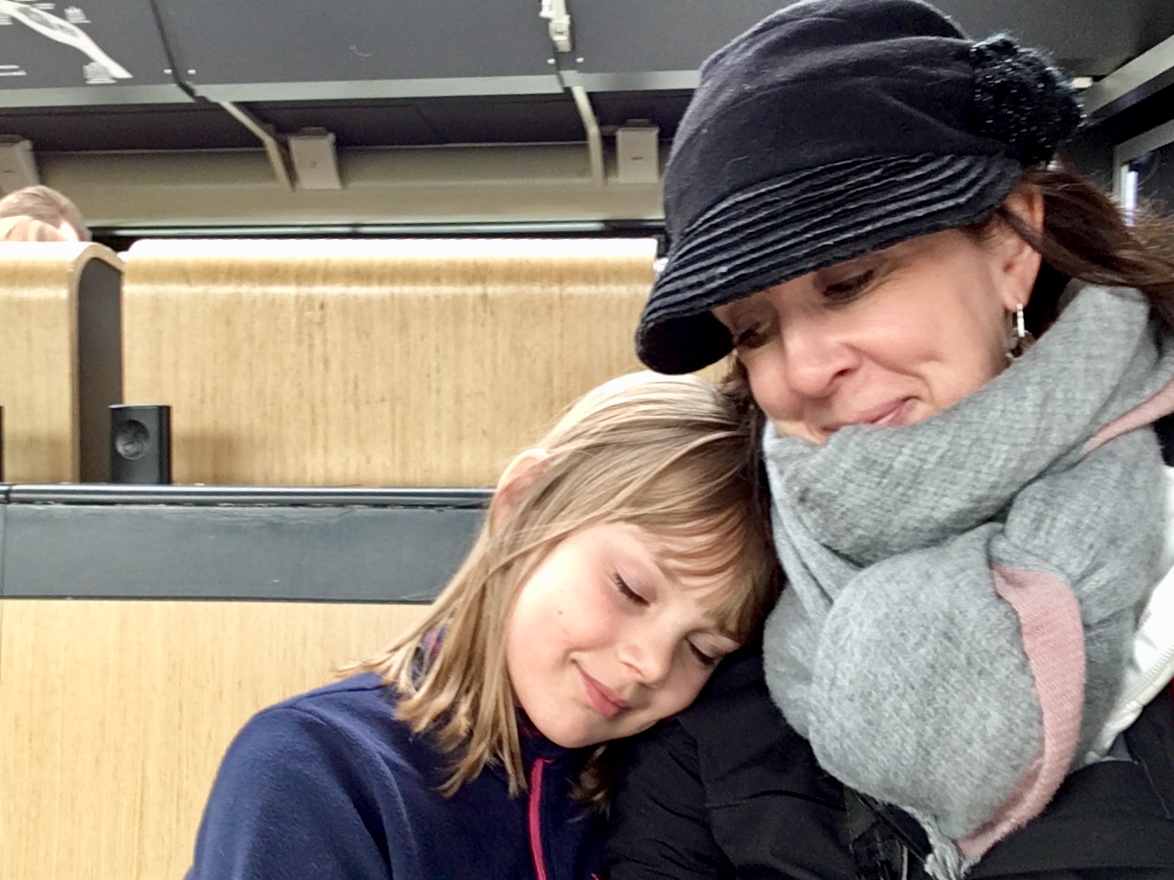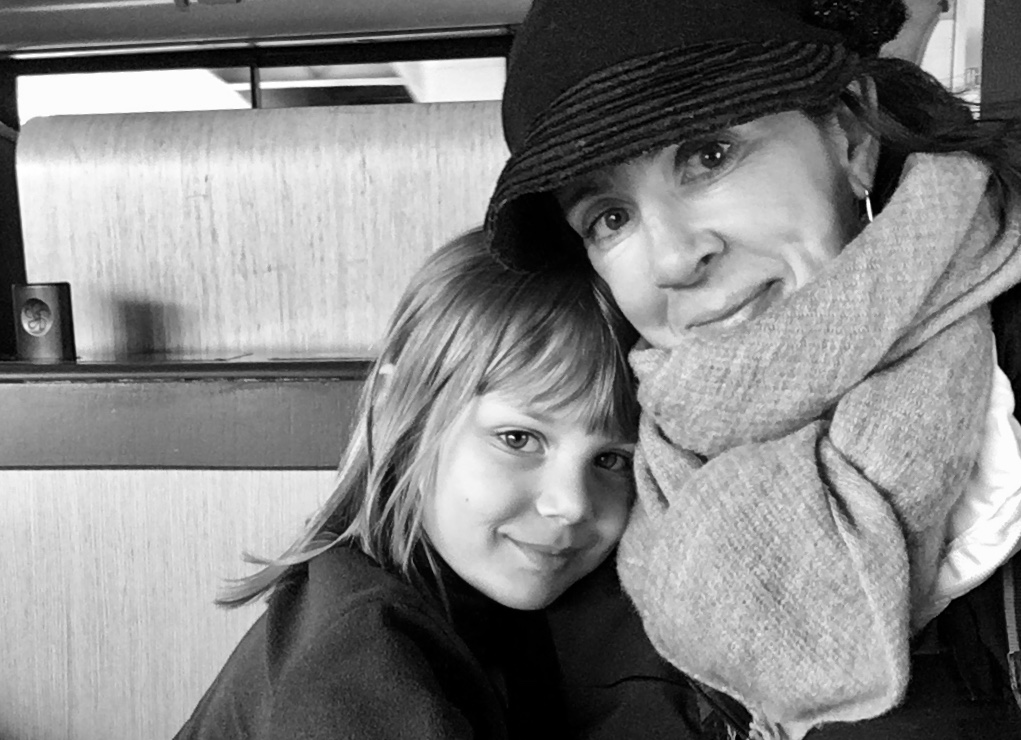 Two tours, 700 steps, metro rides mastered and a new iPhone app thanks to our new best friend Olivier and I would say that our third day in Paris was a total success!
The ease with which travel happens with everything so close by still has us giddy at the fact that after work tony hoped on the train to Paris to meet us a few hours later. Happy were we that the family was all together. Tomorrow was the day that I was so excited about. Living in Europe for the past year our bicycles are our best friends. What better way to explore a city that on bikes!?! Thankfully all my prayers were answered and the rain looked like it would hold off for our Parisian adventure. Not so for the Gillet Jaunes - protesters have gathered every Saturday for months in various parts of Paris and at times have clashed with police and innocent bystanders. Our amazing bike guides with Fat Bike Tours assured us that the tour would go as planned. And so…we went!
Helmets are the law for kiddos riding bikes in Paris..not so for parents. Took one look at those Paris streets and we went running for the melon lids. I am always behind the camera…so grateful to our guides who toured us around capturing us in the scenes.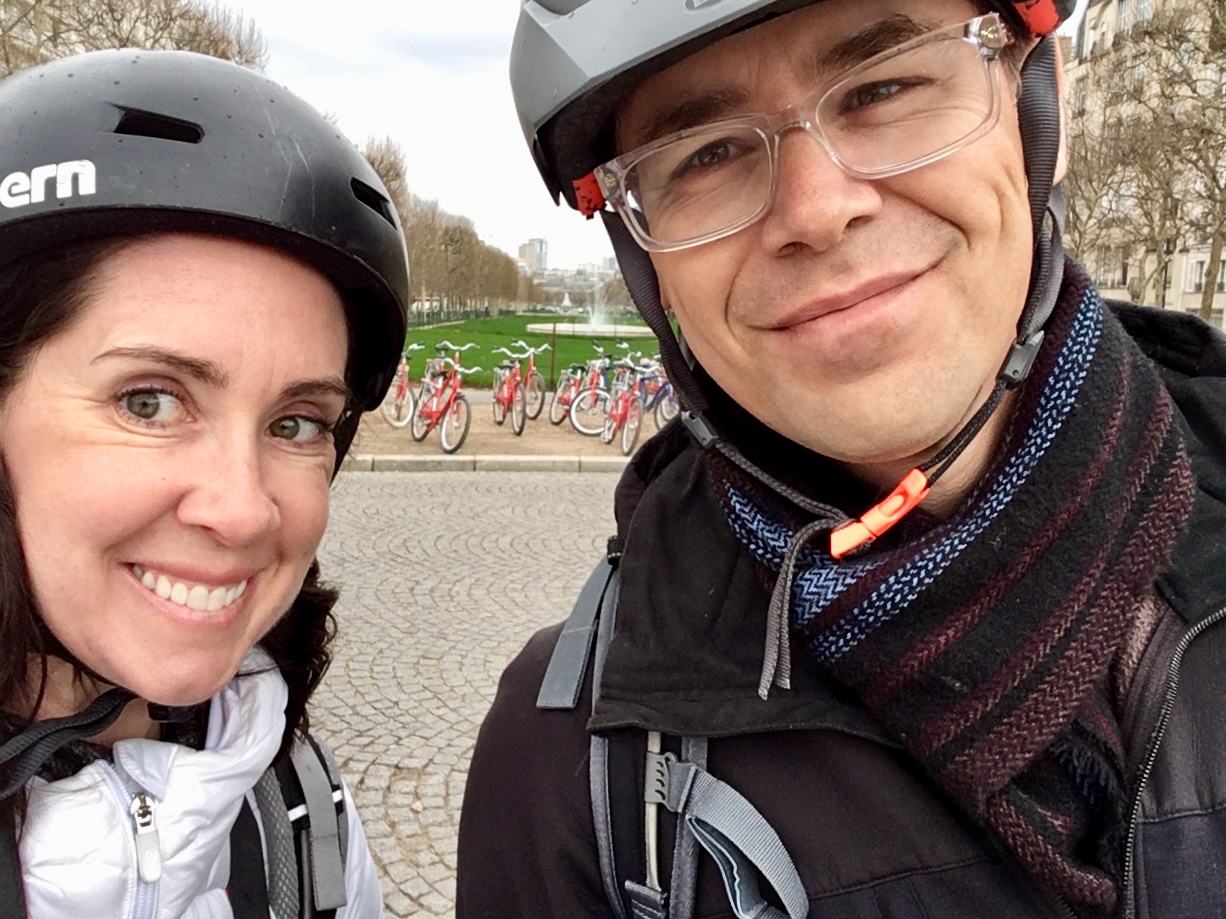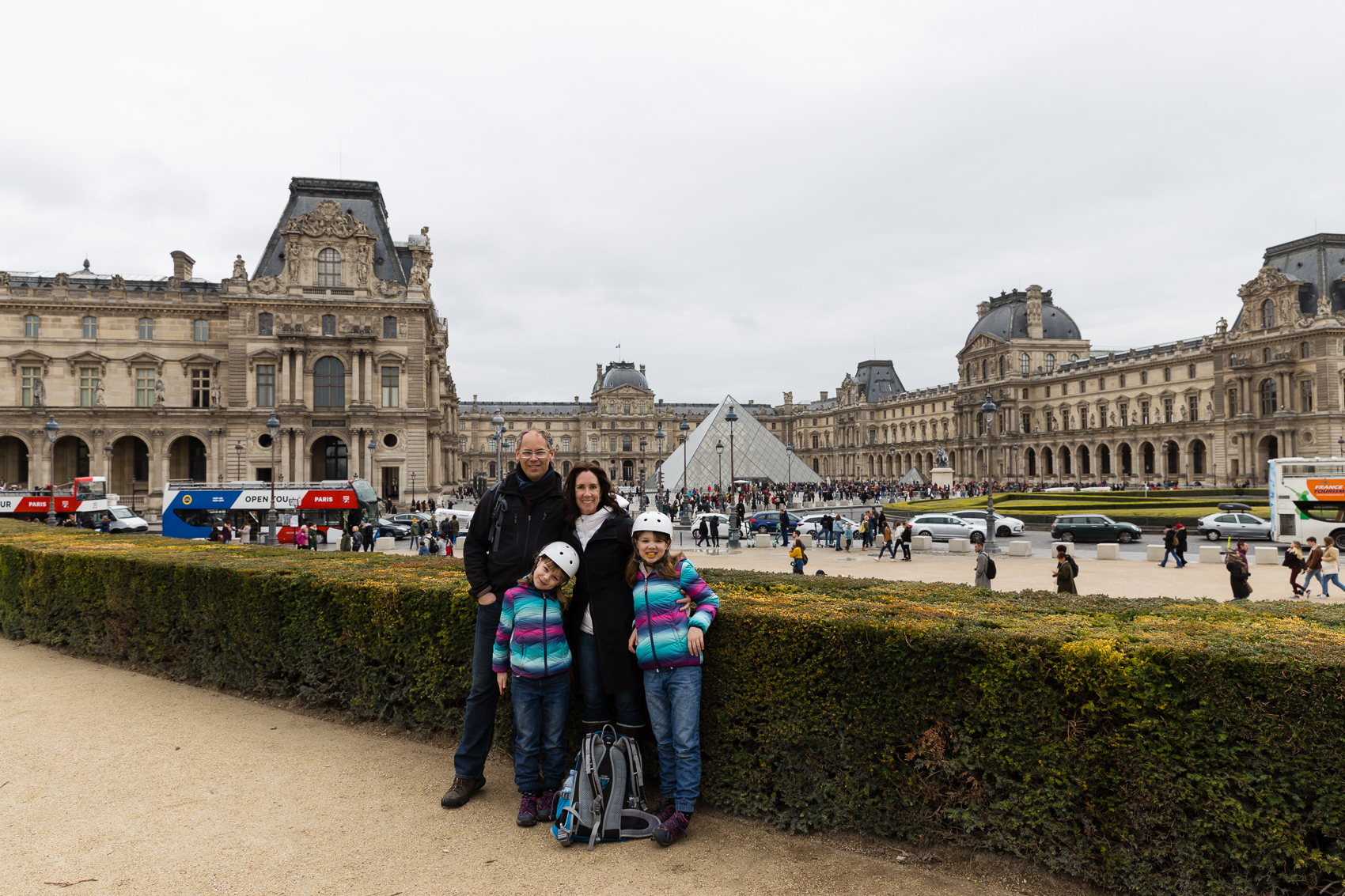 The Eiffel Tower was built as a competition and was never meant to last for more than 6 months. It is bolted together with over 2 000 000 bolts. The Louvre pyramid was reviled when it was first built. Pont Alexander III was named after Tsar Alexander III, commemorating the new diplomatic relationship between France and Russia. The bridge's stone foundation was laid in 1896. King Louis the XIV had a personal leg fetish. He did however commission l'Hôpital des Invalides which was originally built to house the many soldiers who came home from war injured. Today it holds the tomb of Napolean Bonapart. We learned we can navigate the streets of Paris, you DO have to listen to your guide and when he says "Dominate" you stick together like bikes on glue, and when a bus cuts you off, it had better hope it isn't Tony. If you are looking for a great experience, Fat Bike Tours are not to be missed.
Our last afternoon in Paris called my heart to sit still in a museum, sip white wine in a cafe or simply people watch. Little feet and tired bodies had other ideas. So while Tony and Talia headed off to the Catacombs, Talia's last Paris request, Avaia and I did what any 7 year old knows will recharge her batteries, we headed to the local park. Along with the rest of Paris.
Slowly but surely our time came racing to the end. Nothing sparks the end of a holiday better than an imminent eye injury - I'll leave that hanging lest you need an impetus to read further in our blogs. We are such a fun crew to hang out with…not even we know when the next medical adventure will occur!
Paris was and is a city that has always held my heart. The buzz of the city, the beautiful city fashion, the architecture, cafes, quintessential Parisian of it all, I could have stayed so much longer! For now, it was back to our amazing life in Switzerland with a promise of coming back to wander this way again.
With my dear husband taking nit picky instructions from his photography wife, we managed to create a photograph that to me sums up the trip in perfection. The dramatic clouds, the Parisian architecture, the sun every morning, the way in which the city; despite its hum and buzz; allowed me to relax and told me at once that I was both home and on the adventure of a lifetime in one breath. Paris…je t'aime.
Let the adventure that is life continue….