Life lessons 11 months in.... | Travelling Storyteller Photographer
Life lessons are starting to cement themselves
The hands of time are a funny thing. Looking forward at the start of our adventure our time here was spread out in front of us as an ocean of possibilities. The view was expansive and there wasn't anything we didn't feel we could do. Gleefully we gobbled up the months with activities, sight seeing, new experiences and various emotions coupled with highs and lows. Ever the expansive ocean, we equally stared out with trepidation about what lay ahead not sure if our life raft was enough. Looking backwards, the view is less that of an expansive ocean and has been replaced by us on a motor boat and the wake behind us showing us just how fast time passes. The last 11 moths are a total blur lending a huge grace to all the photographs I have taken that detail our story.
More importantly still, are the lessons that we have been learning. Truthfully our decision to come here was guided by a gut feeling of wanting to come and experience something that we had never done before but had always dreamed of. I can still remember myself at the airport the day we left with my heels blistering in the new shoes I had bought thinking they would be the perfect European answer to all my life's problems. I could have seen those blisters as foreshadowing. Thankfully I knew exactly where those favourite flip flops were packed and as soon as we landed in the UK they were out to save the day.
Never the less, we knew that this experience would affect us - I didn't realize just how much.
Let me rewind a bit. I was bullied as a kid. It sucked. Looking back on that different time, it was seen as a rite of passage, until it wasn't and I had no idea until now how I hung onto those horrible experiences. Homework tossed out of windows, my desk pushed to the back of the class and bus rides that I have permanently blocked out - I think there were pretty brutal so I appreciate my minds's inability to remember. We are only now realizing how this affects a person and its imprint can last a lifetime. There is a reason I am the way I am.
Why am I sharing this? Because these are the things that at one point had a significant impact on my self-perception. Being alone with yourself can be scary and my need to fill space was a highly accomplished skill back in Canada. Enter in too much time to yourself overseas, in a new country and facing an imminent phase of self reflection and self doubt and in walks the Manor Meltdown. Self evaluation…eeeeeeeek! Now that is a lens I'd rather avoid thank you very much.
We live in the canton of Valais is a very small town (I say village) compared to our city life in Calgary. 3/4 of our family speaks fluent French and 1/4 of our team "un peu". We make every effort to do all the things we can in the village in the way that culture suggests we do it and have - in our opinion - integrated very well. Despite this, we don't have the vast friendships we have back home, nor should we, and there are moments that we are just considered odd " (flip flops in March when it is 15 degrees, kids in crocs with socks – don't cringe). You can't compare what is done in your own environment in your mother tongue over years to something you have only lived for 11 months. My point? As an integrated/expat/citizen you will still be more alone that you are used to. Get ready for it.
The other bonus of being away from everything you know is that you can start to rewrite the code. Almost like dress up - you can try on a different way of being, because shhhhh…no one will know the difference! The trick, as I see it, is to not miss the lesson when it happens. I have been known to fumble the catch, or get smacked in the head trying.
So everyday as I go through the routine of the various parts of the day, coaxing two girls up to the 7 am church bell medley with a cup of warm hot cocoa, followed by fruit and breakfast, a talk about what to wear to make the mad dash to school and whether we walk, scooter or bike, I find myself leaning recently into life lesson learning. There is something about my having slowed down to a pace that I can't remember ever living that I seem to be able to see what I couldn't before and desperate not to let anything slip through my fingers, I am writing them down wherever I can.
Lessons come in all forms and at all times. Recently through watching my girls stretch their wings and both strive and struggle through their life flying lessons, I learned that much more about myself. Here then, are my lessons. Pardon the fumbling.
Yesterday evening the girls and I walked down from our apartment to T's school to take part in the school celebration. Put together by the staff and students, it was to celebrate the completion of the school yard and raise money for the year end 'promenade d'ecole'. The former being a day out with the class, often a hike/walk or local amusement centre, decided on by the teacher and a way to cement friendship through experience. I've learned that culturally these friendships cement early in life, the small community feel connect people through a thread that often lasts a lifetime - school reunions occurring every year via a dinner to celebrate the year they were born and the fact that they share a certain life path.
Where once we became nervous wrecks sending our kids to school not knowing if they would be going on yet another unsanctioned outing, we now revel in the stories of adventure that our kids come home with weekly and I look forward that their childhood now includes a 'Swiss fin d'école promenade"
To date, I am still not sure what exactly was new in the school yard that we were celebrating as it looks to me to be exactly the same, but I am never one to refuse a party so off we went. Raclette is my all-time favourite meal. A 1/2 wheel of cheese has it's top melted under a grill and then the melted portion scraped off onto your waiting plate = served as a puddle of cheese with a boiled potato, a gherkin and pickled cocktail onion, it is a little goop of heaven. I've learned that cheese and carbohydrates are an amazing combo - and need to be enjoyed in moderation.
T was helping out with the bake sale. To watch her interact with her peers outside of school reminds me that she has come both so so far and that when trying to break into groups of friends that have known each other since infancy, I've learned that the barriers are real and challenging. Taking me back to the days where I had been ostracized by my peers, I felt for my kiddo. More off to the side than in the middle of the action, she was where she needed to be when it was expected of her with her getting out of her shell asking for both what she wanted (baked goodies) and money (me money bags here). Her level of responsibility and organization has hit a high I never had at her age. And just when my mama heart ached for her to grin wide for a friend, out of nowhere, her new pal - tied together by a common language and English speaking lands of far off making them insider/outsiders she showed me that when you give it a go, friendship can indeed be found.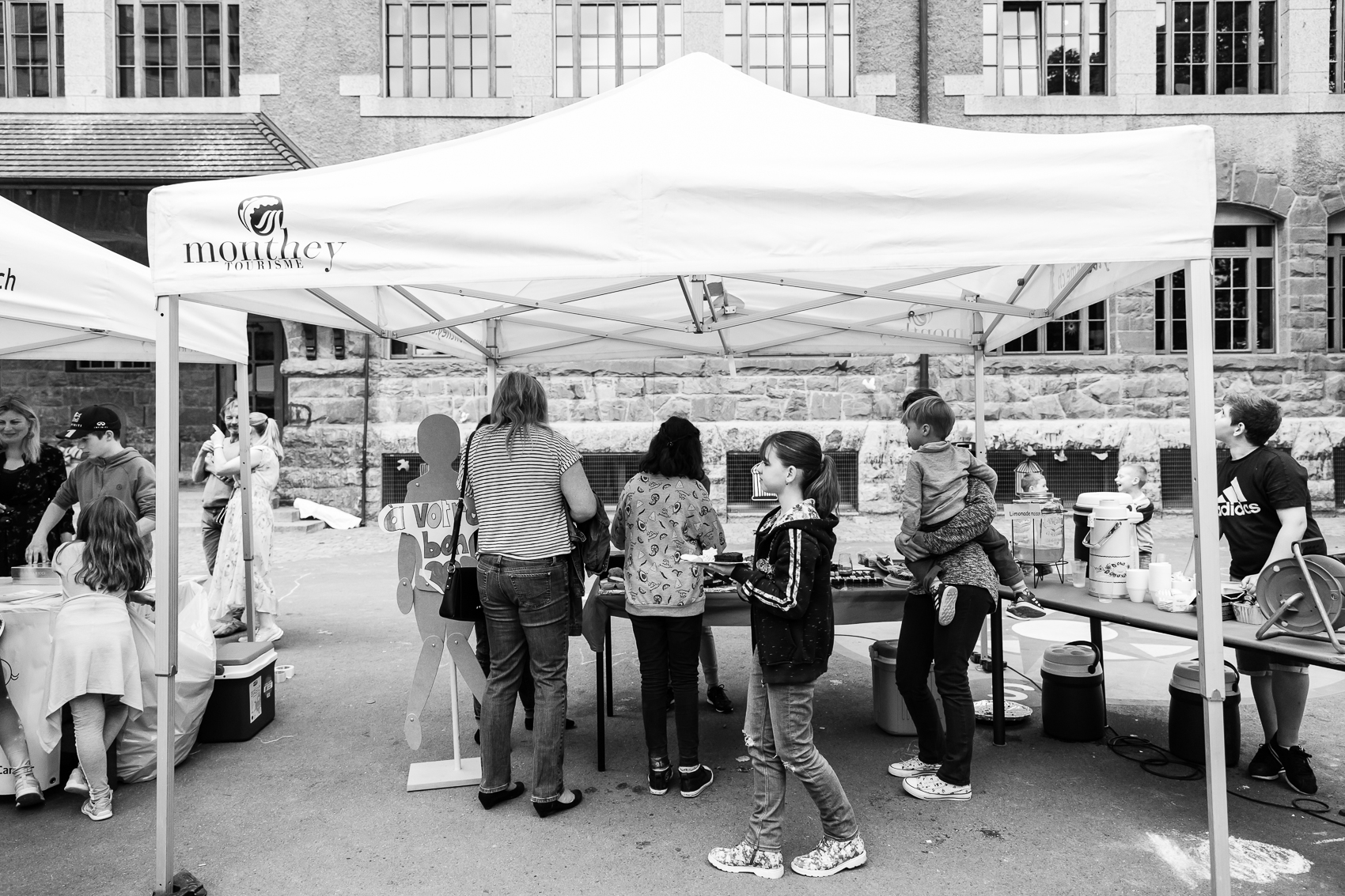 Lots of people were milling about the space and my 11 months ago self would have been nervous about letting the kids explore on their own for fear that they would wander off or get lost. Now, my kids navigate their village with an ease and comfort that I want them to be able to experience in their life. I've learned to trust them as I recognize their astute decision making (despite their penchance for the oh so convenient candy shop) and in so doing relaxing into allowing myself to reach out to those around me.
After seeing one of her best friends go home that evening and staring down imminent boredom of watching her parents consume wine and goopy cheese, she was approached by a mother of a girl her age to see if T would go play mini golf. Within seconds T was off. It was only later that I realized that the two girls had never met, lived in different villages and it was through a desire to play and an inquiring mom that the connection happened. I have learned you need to get out of your own way if you want to have fun. Or ask your mom to ask for you.
Remember that A and T are in different schools - we have now come to realize now that all the 'schools' are under the same 'proverbial roof' but that the school buildings are separate. So A arrived but with no classmates in sight she made quick work of getting involved in what pleased her. Not one to let boredom take too much of a stronghold, our kids have learned how to fill time more quickly than they did before. It's either because they or us are too tired of playing the 'no we won't give you our cell phone' game and so no one even tries anymore.
Bring us around to the end of the evening and the lessons are these. Live music anywhere is awesome. Goopey cheese and wine on a Friday night is a fabulous way to move into the weekend. Dad hugs are best enjoyed by leaping into his arms. And if it brings you joy - stop to enjoy it, the moment will pass all too quickly. Happiness is a state, it comes and goes fleetingly..
Joy, on the other hand is a way of life. Making an effort in seeing those things that provide a spark of happiness link themselves together into creating a life that could then be said is built one block of happiness at a time.
Two days previous, I had the luxury of going on a school field trip with As class. I got a personal invitation (happy dance). Either that or the teacher pitied me enough to finally let me in with all the help I had offered over the year despite her incredible capacity to do without parent volunteers.
It is no question that I love being involved in my kids' activities and being a parent volunteer is something I enjoy doing.
In true Swiss style, we boarded a train and headed to "Labyrinth Adventure" 20 minutes away. After having been put over from one of the rainiest days this spring we were greeted with blue bird conditions and relieved that the change in schedule was worth it.
Due to the timing we had almost the whole park to ourselves. This allowed the kids to enjoy the space in the way that they wanted with myself and the teacher providing supervision while being able to connect ourselves. This turned out to be such a privilege and reminded me of how everyone has a story. More importantly, that story has something to teach us if we are willing to listen.
A's teacher regaled me with stories of her teaching years and more importantly her passion - deep seated and engaging - for the arts. With a smile that matched her bright, colourful and coordinated outfit, she delighted in telling her story - one that so obviously provides her the spark that has her get in her car each and every weekend, zipping off to one museum, castle, event or another to revel in another chef d'oeuvre. I learned that staying curious is a large part of of why this woman oozes energy to match her bright scarves and to do away with my own misconceptions of what I think I know. Staying open is key.
It's her last year of teaching and somehow we won the teacher lottery yet again. A had the privilege of being in a class that focused on all the regular class material and highlighted this through doing away with traditional classroom rules. Instead the onus was placed on the children to find a way through a class counsel where everyone had a vote and everyone's voice mattered.
On this day, at the base of the alps, in a labyrinth park with children running in all the ways, I too got to tell my story.
"We moved as a dream, but equally needing a change from economic woes, challenges with kids and needing a new direction. We quit our jobs, rented our home and then had to hope for the best. We came with a rough plan and were both excited and beyond nervous. The experience has been more than anything we could have imagined. We have felt equally empowered and defeated, overwhelmed by gratitude and the most lonely we have ever felt. The pendulum swinging wildly from side to side sometimes leaving us rather breathless in it all. I have learned that we have a choice in our perspective and that everyone has one. It might not jive with ours and that is ok. We chose to see the bright side."
Then I waited for it. The anxiety of having shared our dreams and our plans, especially for what we were doing to our kids. I waited for the anxiety of what other's thought and how I would wonder if they were right and I was wrong. How even though I figured it was right that someone external to me would know better. You don't tell this story and get no reaction. People either have opinions or questions and even if they don't voice them - you can see it. I have been known to avoid judgement like the plague.
The feeling didn't come. Admitting anything being important to me in the past would have left me defeated.
In that moment, I learned that the peace we have achieved by slowing down has allowed me to focus on what we truly believe to be best for our family. It doesn't jive with everyone - actually it mostly either pisses people off, makes life difficult and challenging and /or allows for dreamers to come together with a common thread - curiosity for the adventure.
Fortunately for me, A's teacher is one who believes the same and in her generous way applauded us for what we were doing as a family. Remarking, amazingly, that the spirit of our family was infectious she had me wondering if she was talking about my little unit of 4 (remember our health care adventures? ). Enjoying the company of a woman I have come to admire and embrace so deeply because she has taken my little wild one and brought her to do what I had hoped - love school and her experience in Switzerland, I felt empowered and again…so grateful.
We feel beyond privileged to have had the experience and continue to learn every single day. Mostly, we are learning how to be grateful and that with our changing perspectives we feel happier, more fulfilled. Those years of being bullied when I was as old as my kids are now, ring in the back of my mind. Though at the time those moments were horrible and jarring, I truly believe they propelled me into creating connection where I can in an effort of bringing others together. Ironically, we are learning that that which we needed to change was within us the whole time, we just needed to tap into it. I would argue that cheese, wine and mountain air have made it that much clearer and love when I get to connect over it with others.
Bring on the rain, it makes the sun that much better.