Recipe for winter in the alps | Traveling Storyteller Photographer
I like to cook.
Cooking is my thing and despite the reduction in size of the kitchen I am normally used to, we have come to love what comes out of the easy bake oven in its according tiny dishes and petite pans. Darn it though..the calories seem to make up the difference as I still have a conversation with my pant's waist band that don't quite seem to agree with my chef's hat.
Never the less, cooking is typically my thing. So is skiing. Skiing in the alps then, to a foodie like me, is like turning hamburger into foie gras with a heaping of deliriously good whipped cream on top. Trust me - you just have to understand that it is good. Despite the fact that we are now basking in the sun and all that is spring, a good meal is always remembered as a highlight, one's taste buds salivating at the memory. Period. So with my perchance for mixing things in a bowl, I serve to you dear reader - the recipe of skiing success in the alps!
Turn up the heat
And begin with a soft yet heated month; September
Ok. You travel 1/2 way across the world. Plunk your kids unwittingly into cold water turning your back on them while hoping they can swim as you navigate shelter shopping, school supply figuring outing and generally trying to keep your S**T together. Have your husband do the milk run back to Calgary over and over and over at a pace that I find dizzying but grateful that highly anticipated bags are arriving on schedule, and you stare down your bank account number and the impending ski pass early bird price with equal anticipation and dread. Crank the temperature up to 30+ degrees for the most gorgeous fall and then have your best Swiss BFF tell you that it is the way to go…
"12 weeks of skiing. It doesn't last long - but sitting in a dark apartment with nothing to do on those same weekends could spell imminent depression"…
Add a splash of new friendship by way of an IG friend who now also becomes you new "BFF since October" who says "We are getting ski passes…you should too"
And with all that peer pressure you march your sweaty self to the wicket at the base of the biggest gondola you have seen in a while, clutching your village cards that states that you are a local and get a discount, and clench your eyes when the card reads "ACCEPTED" all while promising yourself that you can save money by milking cows in exchange for milk and fruit can be foraged for. It might even be fun! (the heat does strange things here).
Cream together anticipation and queries
I seem never to learn. Just when you think you know the answer, you don't. I keep reminding myself of such - but never the less, I trap myself quite convincingly (often with a pinch of smugness that often pollutes the soup).
Somewhat giddy over our clever decision to buy ski passes, and my dreaming of our kids becoming the next ski racers having learned on the Swiss alps, our next challenge was figuring out skis for the kids.
Enter in Swiss BFF "just rent them". Ya…I had thought of that, but knowing how my crew got ready for their daily school run, I was wondering how the heck we'd manage that on a weekly basis - running to get skis everytime we needed them.
Thankfully my perchance for thinking out loud was rewarded with the obvious correction "No..! You rent them for the season!" and I was left incredulous at the cleverness of it all while adding to the incessant list of 'don't think you know how it works until you ask!"
Add a pinch of extra bag
MEC - short for Mountain Equipment Coop - is the big kid toy store back home. Nothing makes my husband happier that coming home with another toy that allows him playtime in the mountains that are our backyard in Alberta.
Fortunately for us, Decathlon, the French version of our beloved outdoor store back home does not disappoint. Couple this with Tony's "I will make this skiing thing work by any means possible" and home he arrives having biked across town with an oversized ski bag complete with wheels. Tony was grinning ear to ear at both is clever organizing and the fact that he managed to once again get home in one piece with some unweilding box of something slung over, around, attached to, dragging behind while bike riding. He is nothing if not ingenious! According to him and the long wheely bag now taking up what looked like permanent residency in our hallway - our weekly trips up the mountain were going to be a cinch!
cover and Let excitement rise
Having left last Calgary's eternal winter of 2018, sweated through the European heat wave of July - September, we were brimming with excitement for the snow to arrive.
"When does it start?" I would ask casually in October.
"Ohh…that is anyone's guess" would be the villager's reply
"Is it coming soon then?" would be me being inquisitive mid October "It usually snows back home before halloween"
"mmmm…halloween.c'est quoi?"
"oooooh…." gut punch.
November and December arrived with the same questions and typical answers. While working at the physiotherapy clinic, I would gaze out of the windows to bright green fields convinced that Mother Nature had other ideas and the money that I had tossed aside for the ski passes we had dreamed of for years and years was now totally wasted and I would be thrust into the depths of cow milking for the rest of my life to make up for the money lost. These nightmares also had me strangling a certain husband with a ski wheely bag but I couldn't say that part out loud.
let the dough double in size
Just when we thought that all was not well with our warmed climate and the snow gods, we came back from Scotland having filled our buckets with family and love, and realized the best Christmas present was SNOW. Glorious SNOW. Not anywhere near us in the village. Nope..in fact all the way back from the airport we saw nothing but green grass and bare trees, but the internet said there was snow at the ski hill and surely the internet never lies…right?
And it didn't.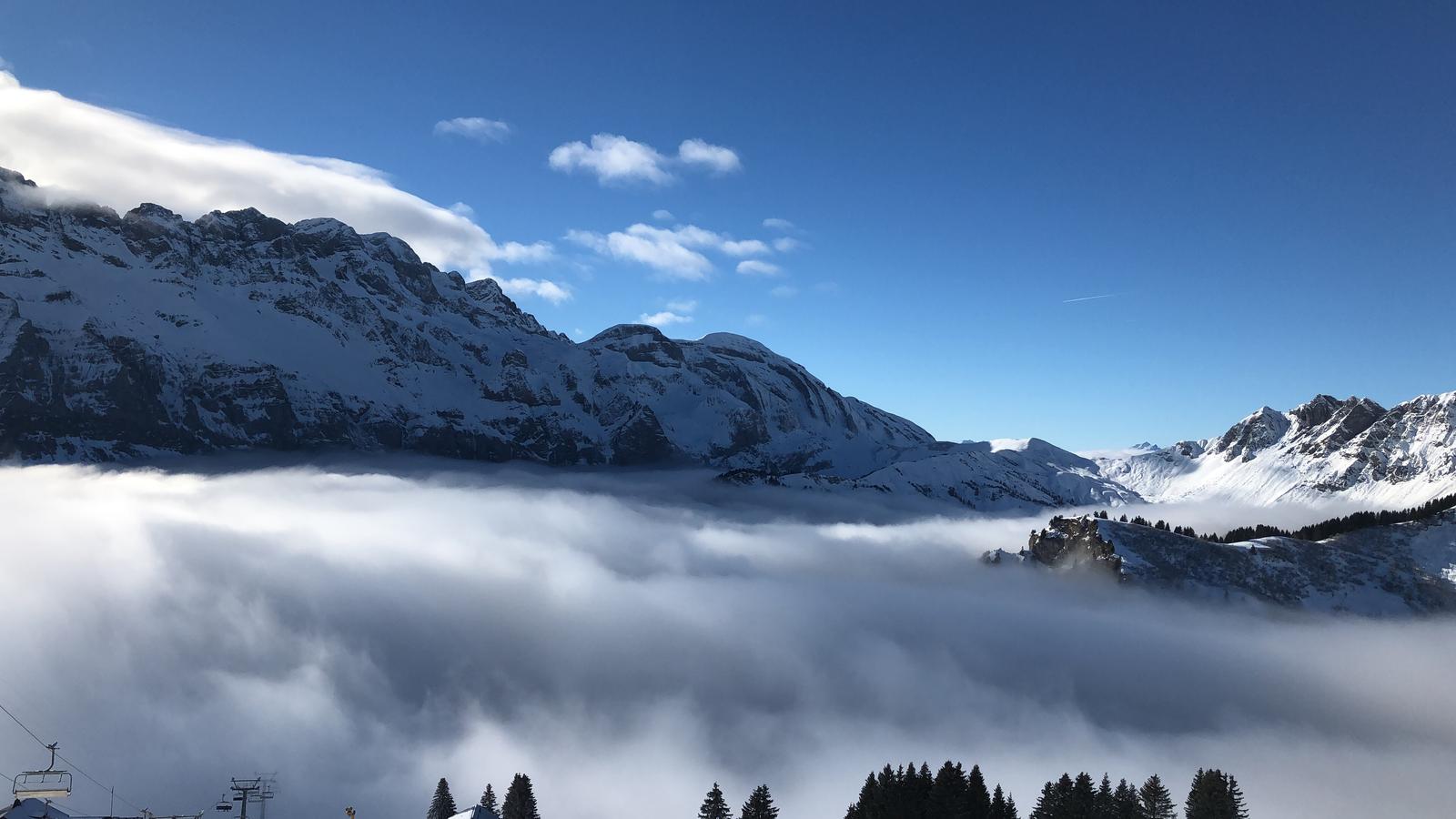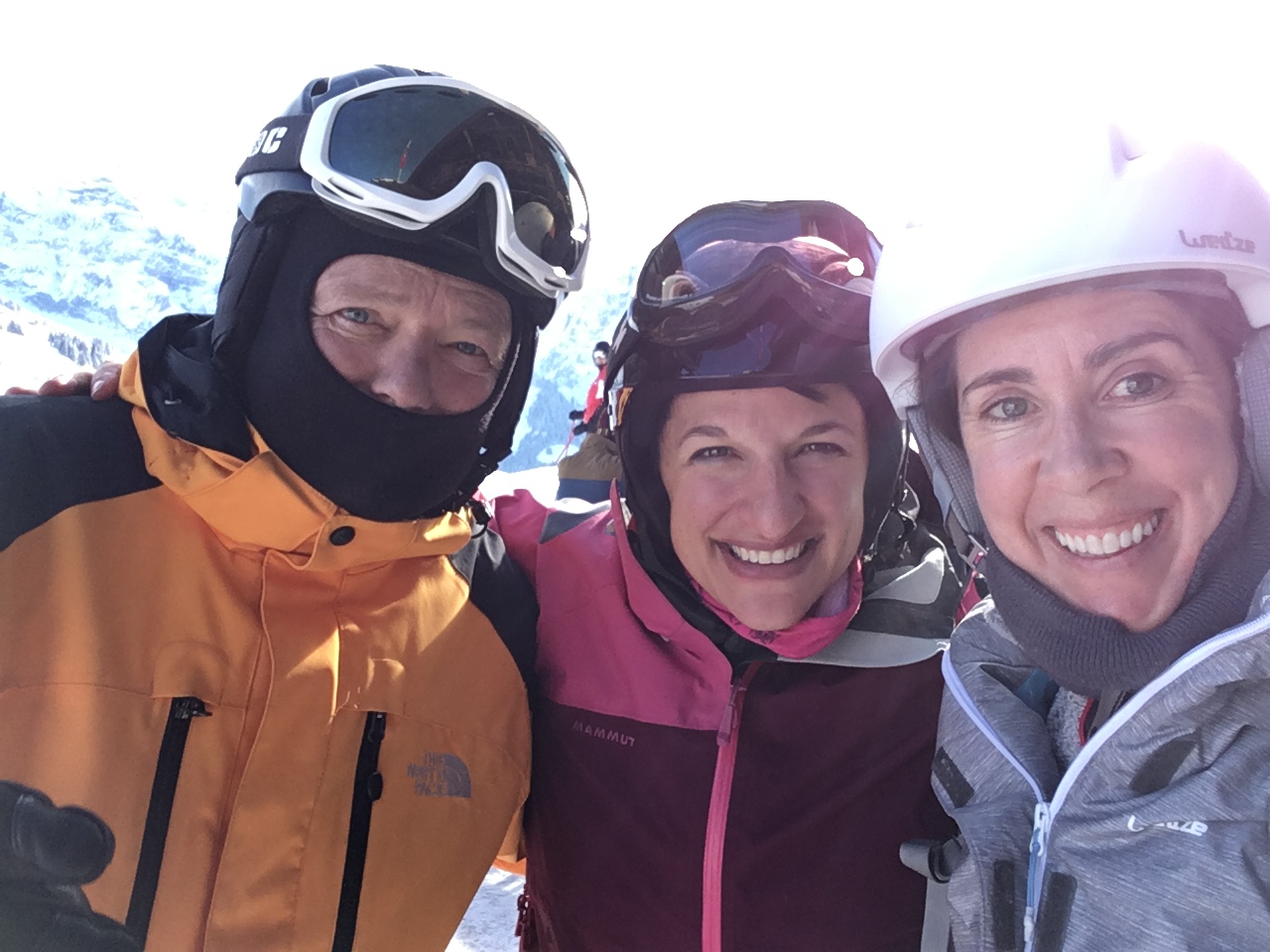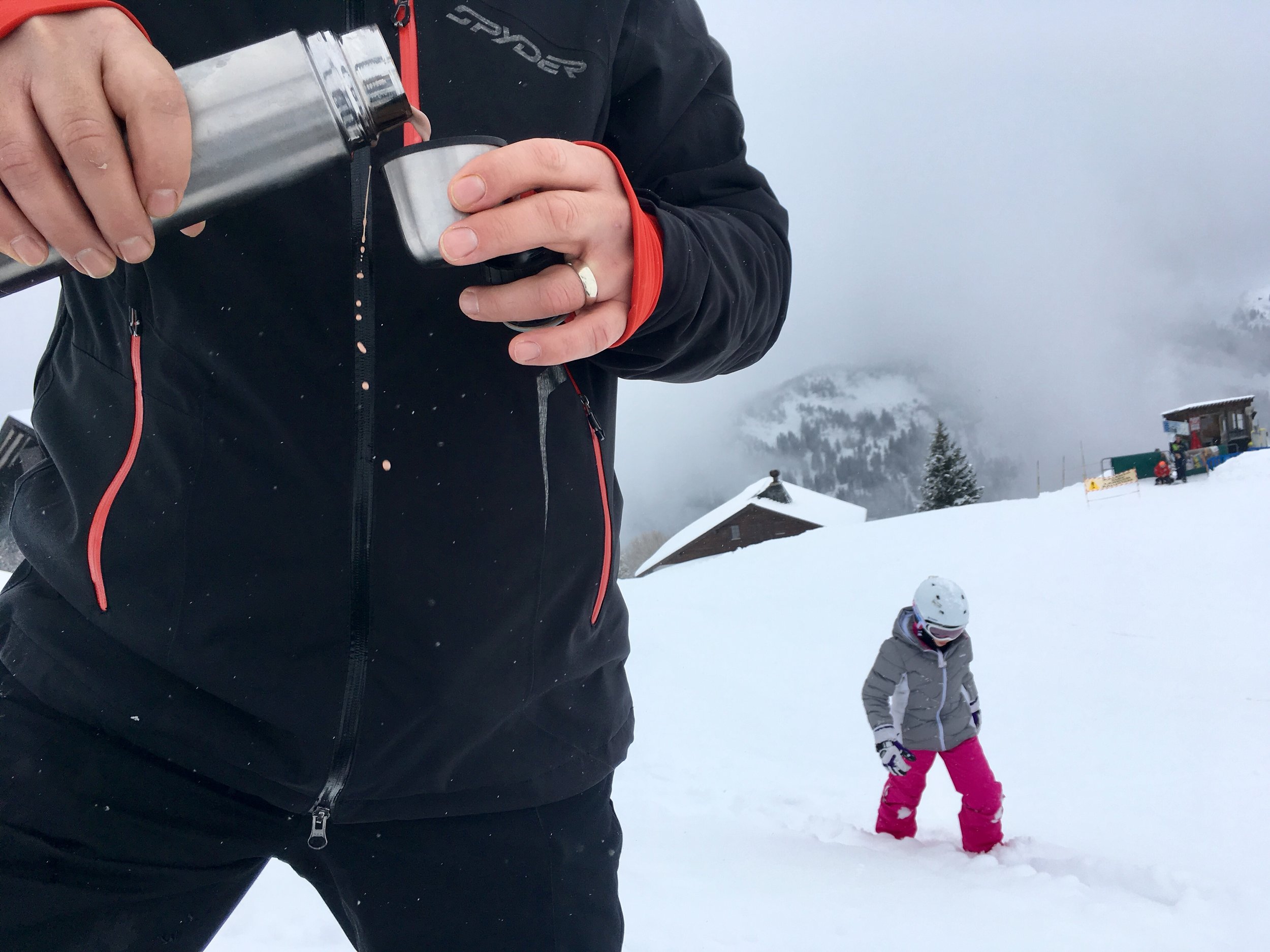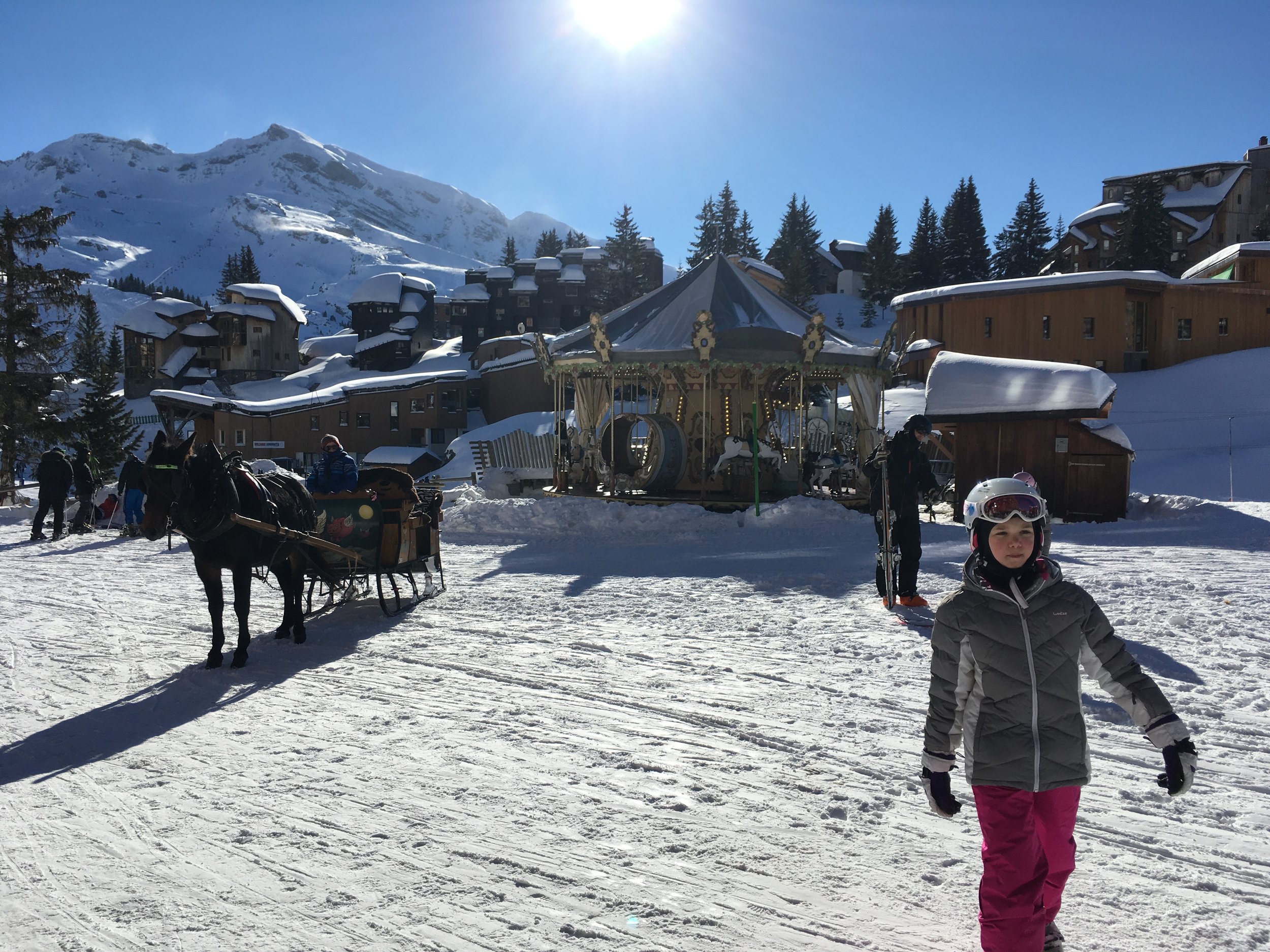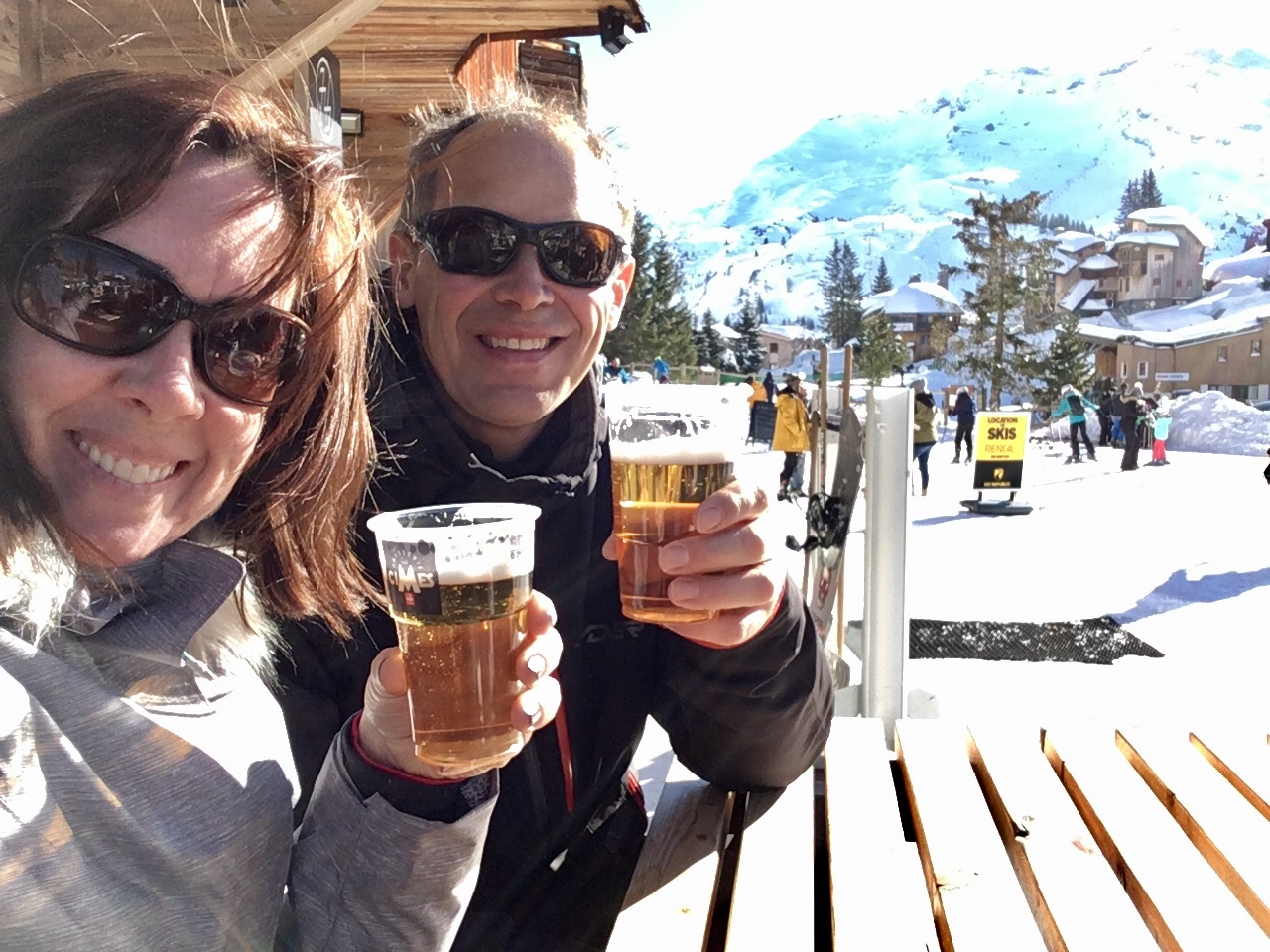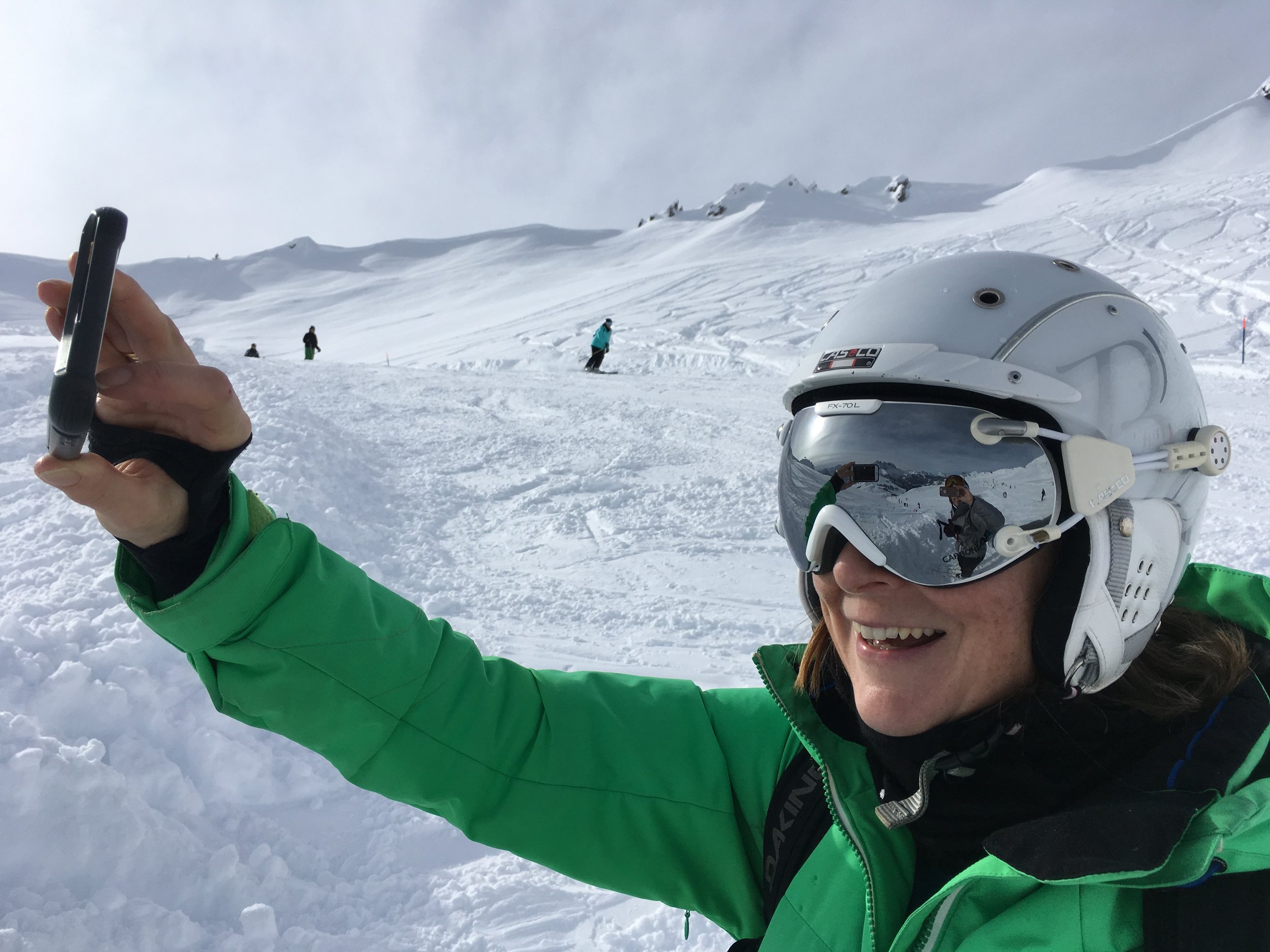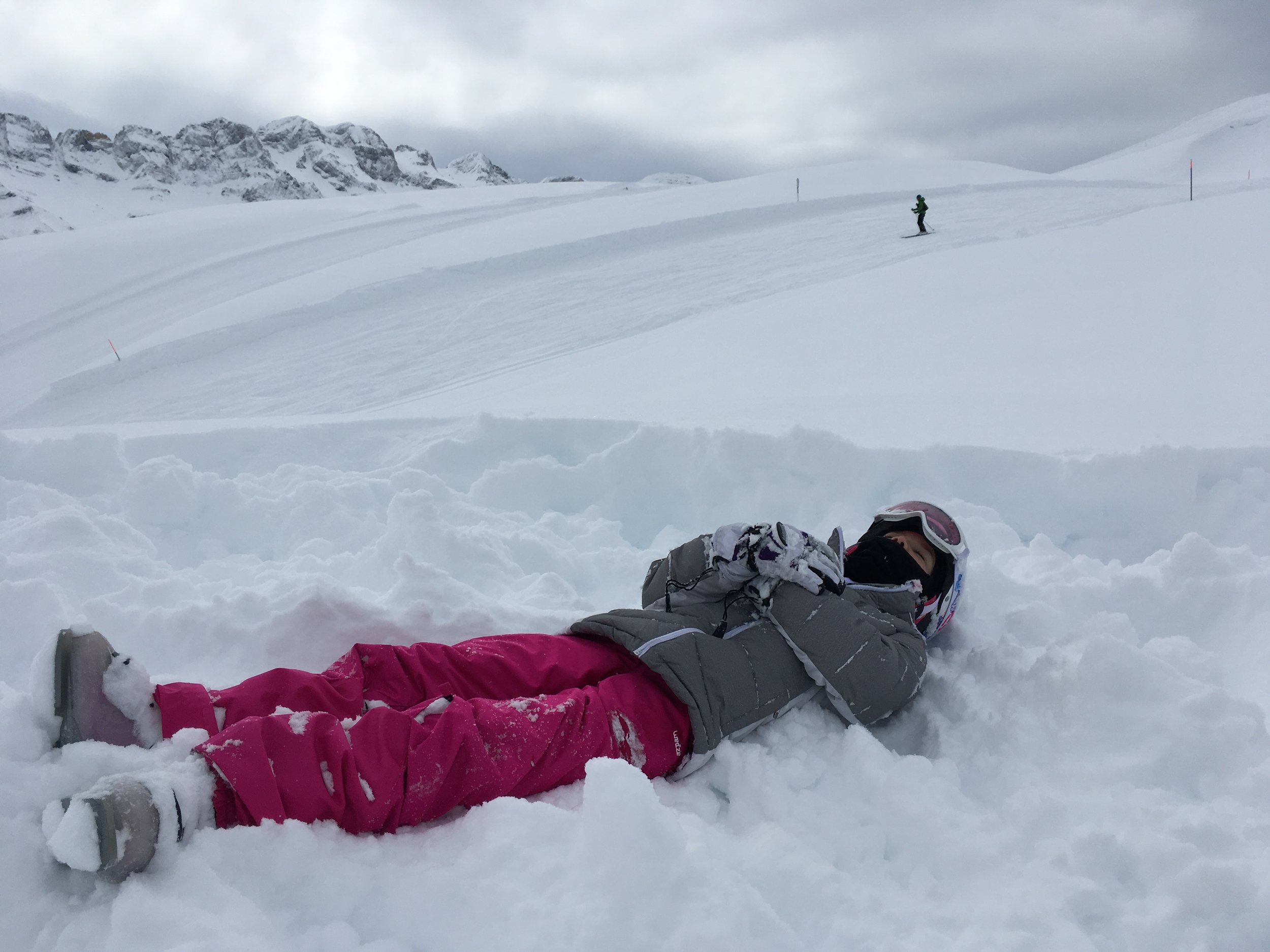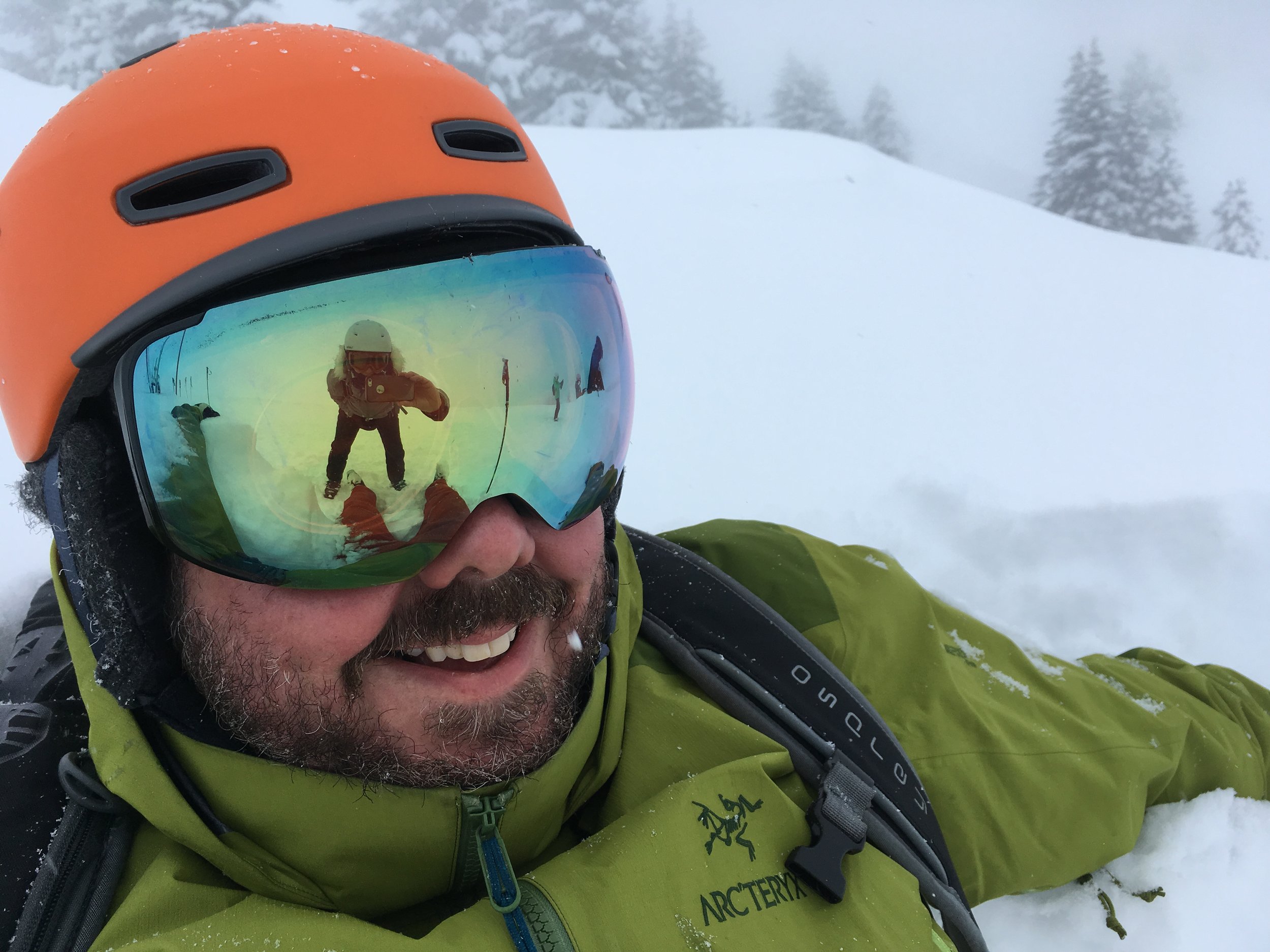 bake and enjoy
The ensuing ski season left us absolutely breathless. Seeing our first sights, putting on our skis, getting to a chalet for the most exquisite hot chocolate. It was nothing short of giggle inducing (I can see my kids cringing even now!). With fits of laughter, I couldn't stop the happiness wash over our good fortune. Years and years and years in the making, we had wished so hard to both see and experience this.
and to tweak the recipe
You see my dear friend, as with any recipe you can't just think that you can see the recipe, bake it once and have it be perfect - if you can then what world do you live in?? My attempts at…whatever…are typically frought with learning and this was no different.
"Let's do that run again!" was often met with "why…?"
"I have a snack where is the warming hut?" was typically met with glassy eyed stares
Skiing here is an event. Racing down the slopes as fast as you can is certainly part of the recipe, but equally so is "where" you want to 'get to'.
I am a very proud Albertan who touts the amazingness of our Rocky Mountains and the world class skiing that they have nestled into their folds. Lake Louis to me is HUGE. Equally so, I hold onto the fact that I can survive said skiing in 2 down jackets and a hot choclate thermos all while building a snow hut with my left hand as a minus 25 degree snow storm rages around me.
Here in Switzerland I came to learn that skiing is enjoyed in a whole different way.
First off, you check the weather, snow conditions meticulously and then go - (we went anyway, but like happy puppies in a puddle of puppieness we could care less what it was doing and just wanted to be anywhere our skis would take us). You then decide Where to go - but you see… the Lake Louise ski hill that I know is dwarfed by what I came to see in the alps. And by dwarfed, I mean to say that the ski hills here seemed never to end…ever. Over a ridge and over a ridge and over and ridge and over a ridge..you get the idea….and you are already in another country it is so big!
TRAVEL SKIING!! GENIUS!
So I came to learn that when the Swiss say "where would you like to go" I had to shift my thinking from vertical feet to add a certain amount of kilometres distance. We would literally ski to another country and the villages within it! And where there are villages there are chalets, restaurants which mean more hot chocolate stops than we can count, wine and horses!
We have been beyond fortunate to meet like minded travellers and families and sharing these experiences with them is a total highlight. The benefits of a seasons pass meant that we could explore another ski area - despite not even having been able to see the whole of ours we leapt at the chance, joined our friends in renting a chalet that could manage all our craziness and off we went to the Aletsch Glacier - a Unesco World Heritage Site to boot.
It did not disappoint. Blue bird day, the warmest of weather and the lounge chairs on top of the world. Dreams do come true.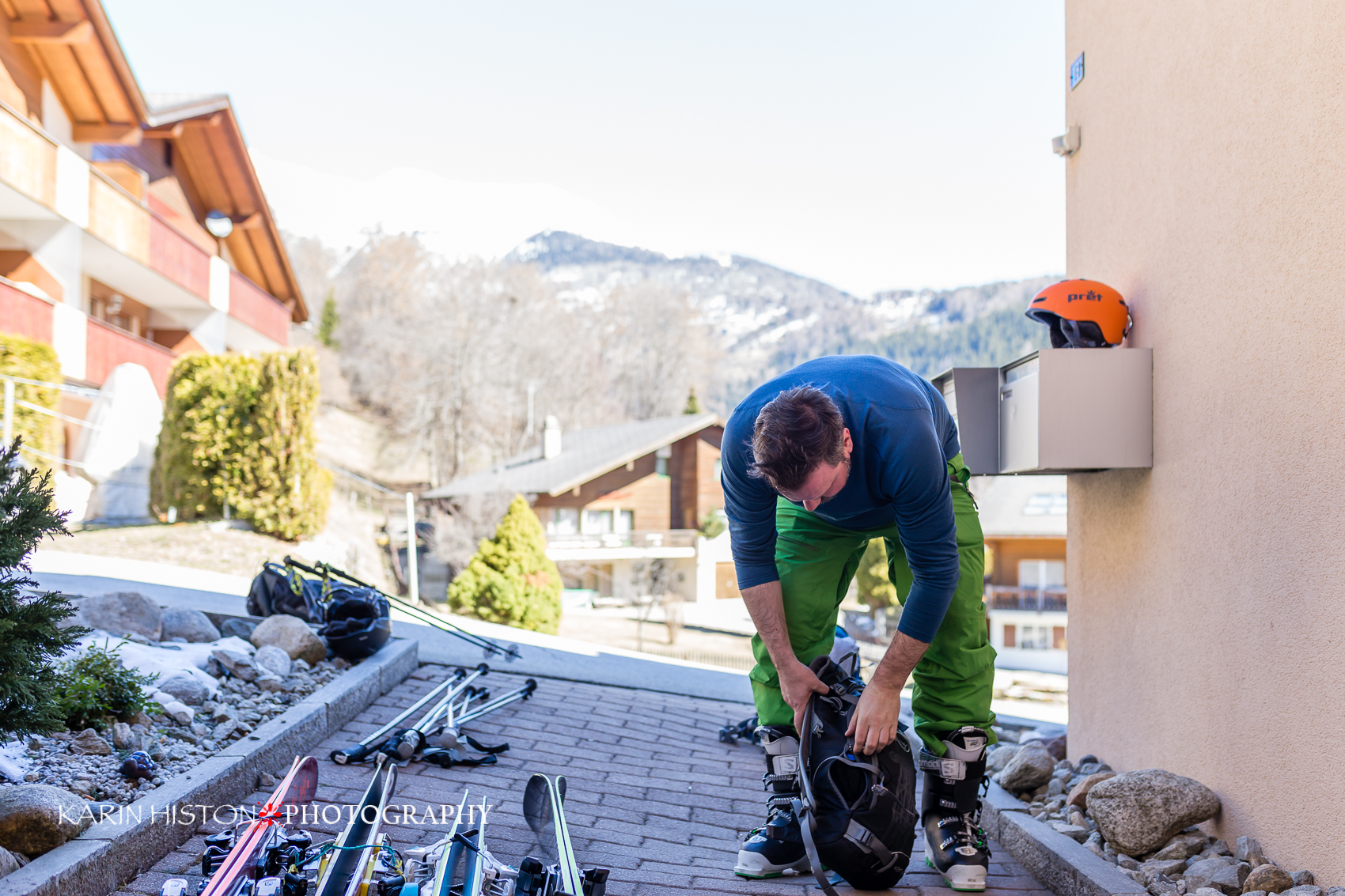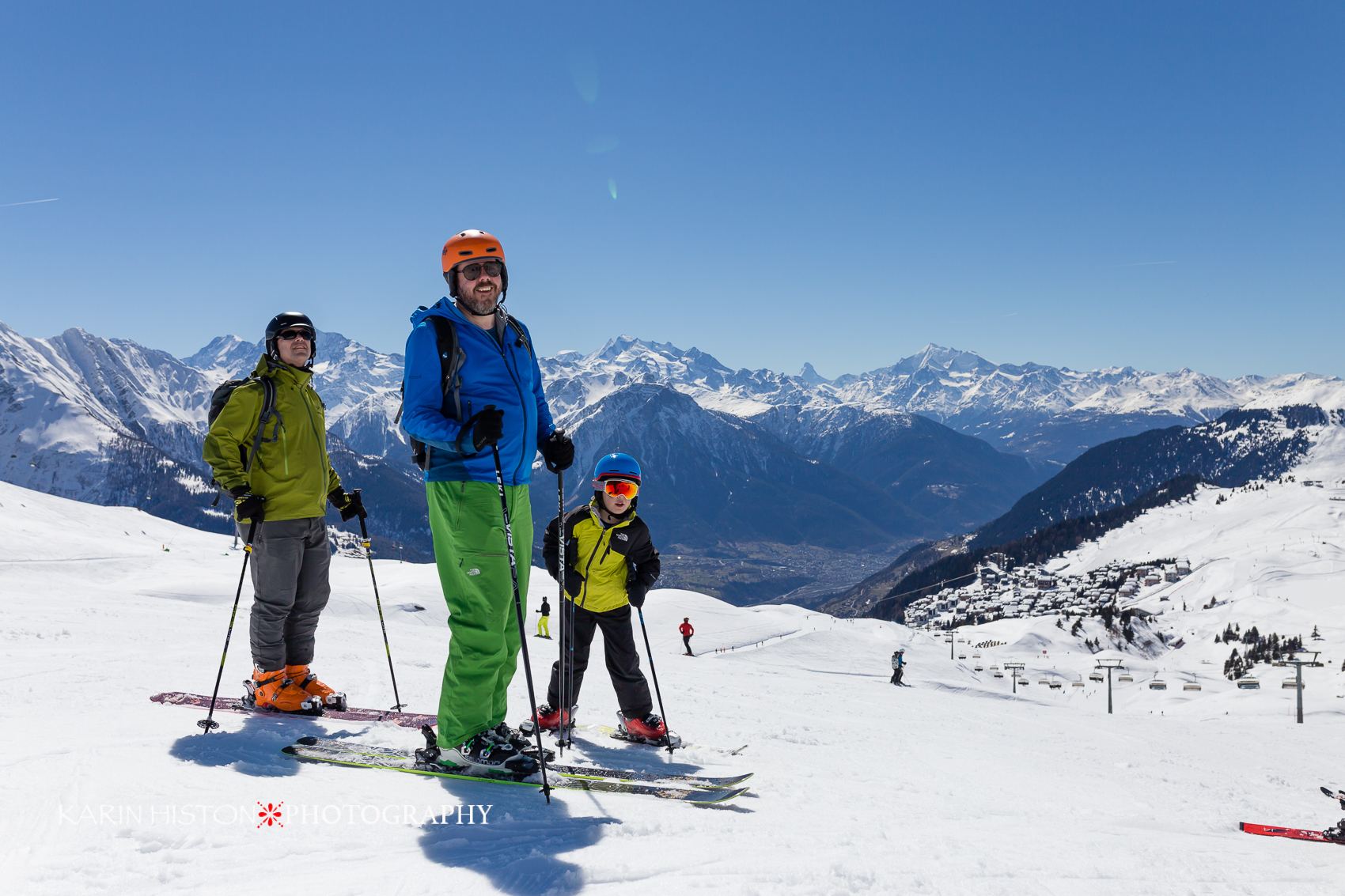 Like the lingering taste of the most incredible meal, Skiing in the Swiss Alps was a total dream come true - the after taste leaving us with the anticipation of more adventure yet to come and my recipe a complete and total fool proof success!
And you were right love…the wheely ski bag was a total success.