The Canadian von-Trap family goes apartment hunting | Travelling Storyteller Photographer
Lederhosen
You know the things. The knickers (not the underpants kind) that go down to your knees with a bib up the front and suspenders? The ones that have you instantly thinking yodel and beer in the same sentence….?
You know where this is going dear friend
We have now lived in Switzerland for the past year plus a bit and I would like to think that just like all Calgarians have the mandatory cowboy boots and hat stuffed and crammed into the closet somewhere, we too are ready for all Swiss eventualities meshed with appropriate clothing. Sadly - our swissness has us lacking and my deft ability at pulling the quintessential essentials together remains squarely in clothes that are at minimum clean and hopefully wrinkle free as I STILL DON'T OWN AN IRON.
Sidenote as this is worth mentioning - ironing here is akin to a pastime and topic of endless conversation such as the weather in Calgary. Where back in cowtown, I might wonder out loud about the clouds, the chinook arch or how cold the winter with be/stay/endure, here the ironing conversation is as vibrant as fall foliage (well…more than I am used to anyway), who does it, how it is done and what that makes me feel as though someone is watching and the algorithms of life have stationed a big arrow over my head in neon declaring I, as of yet, still don't own one. Wait. My wrinkled clothing self is advertisement enough. Should they ever tire of their ironing stories, I am next up in line filling the village gossip void.
(updated news flash…we now have joined the iron club. Bless my husband who managed to buy someone's spare iron off them we too are in short order to roam the streets wrinkle free as soon as I figure out that you can't use the thing with the cover on it. Was I supposed to know irons come with covers?)
Never the less, back in the month of May, we were on our way to go apartment hunting…again… and darned if I wasn't going to put our best Swiss foot forward and show up prepared for every and all eventualities. Tidy clothes, my chicest skirt and scarf and the motherload of bribes to the kids (macdonald's) was on the line for best behaviour as we prepared to audition our little hearts out aiming to get the next roof over our heads. Heaven help me if they asked anyone to yodel, we'd have to bob and weave around that one if it came up.
back on topic and bringing you up to speed
Having come here on not much more than a hope and a prayer, we have found that the last year has had a way of sorting itself out…mostly in our favour as long as you don't count the fork in the back, the punched out eyeball and the inability to estimate the size of our luggage to the car that we want to rent in the UK. It's like someone is watching out for what we need….
We had landed in Troistorrents, Switzerland in the jaw dropping alps and settled in Monthey in the canton of Valais for our first year here. With the help of the most incredible property management company and a best friend and bags full of courage and horrible yodelling (I was prepared to do whatever it took), we managed to secure our first apartment rather…easily. The run around for paperwork was beyond anything we were used to but we managed to scrape together a rudimentary profile that was deemed acceptable and with a reasonable vacancy rate that worked in our favour we moved into our first - and very empty - apartment.
Bless IKEA and Every-Single-Handout we received from the most giving individuals for what we then managed to turn the space into.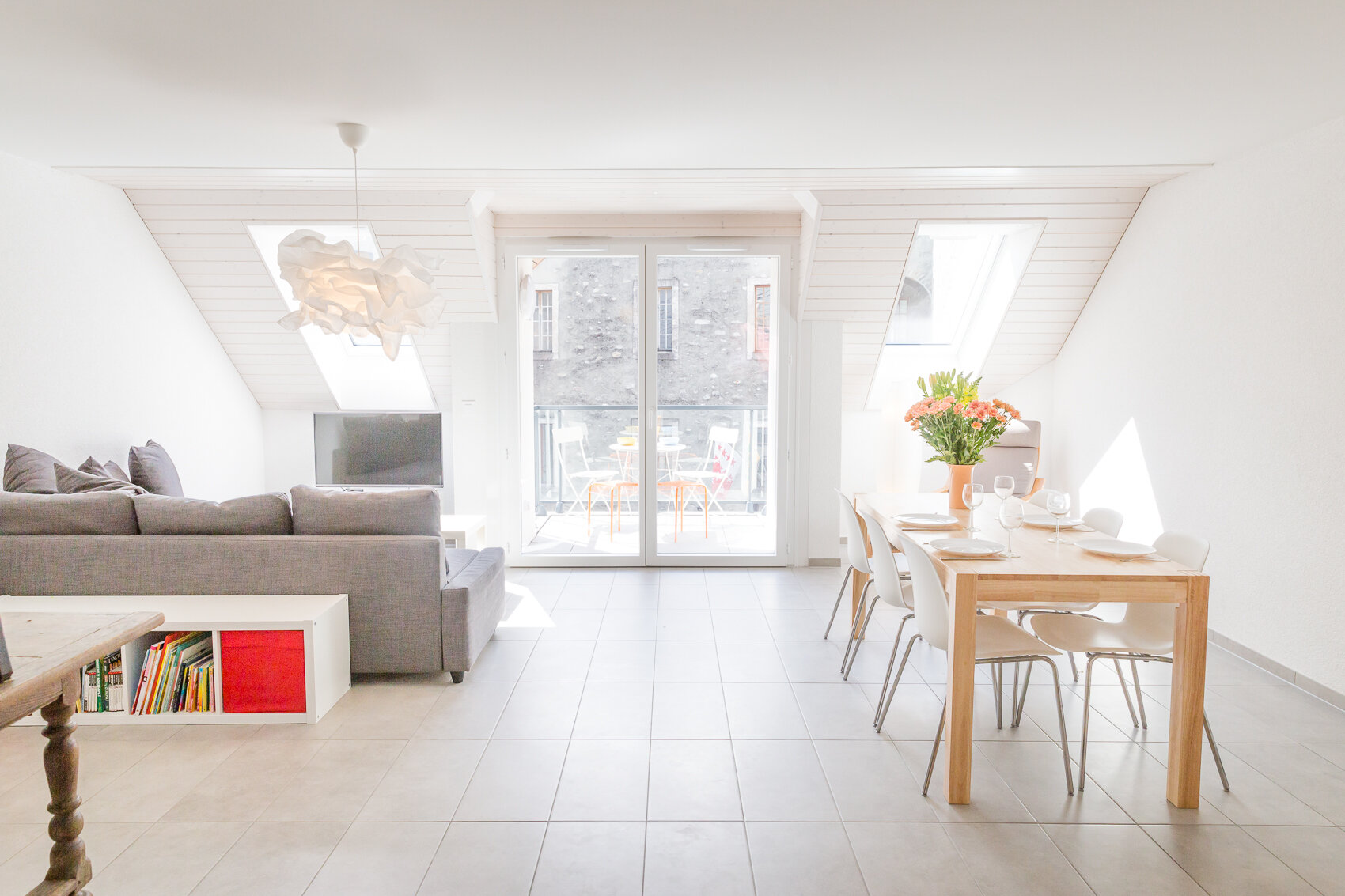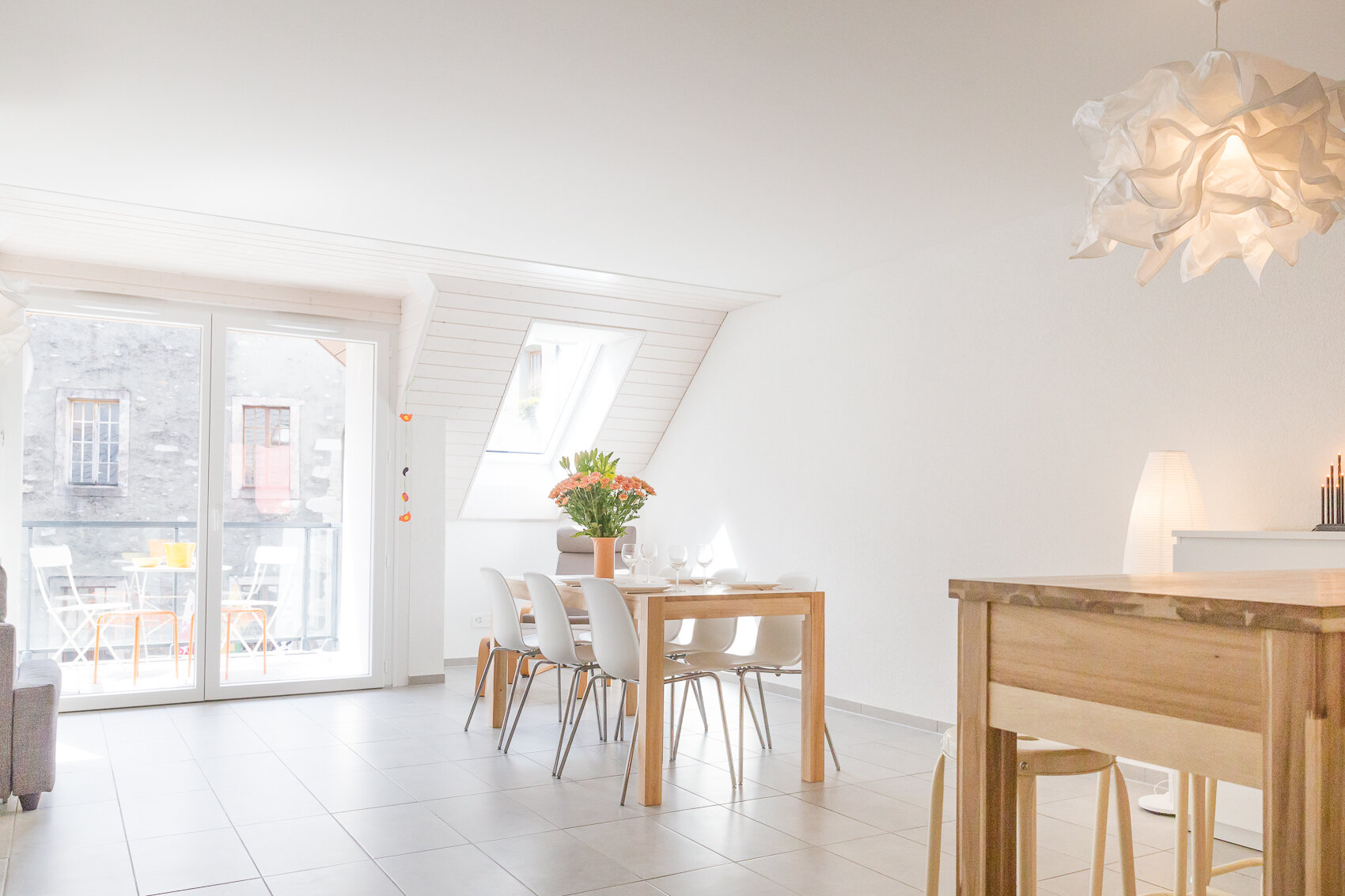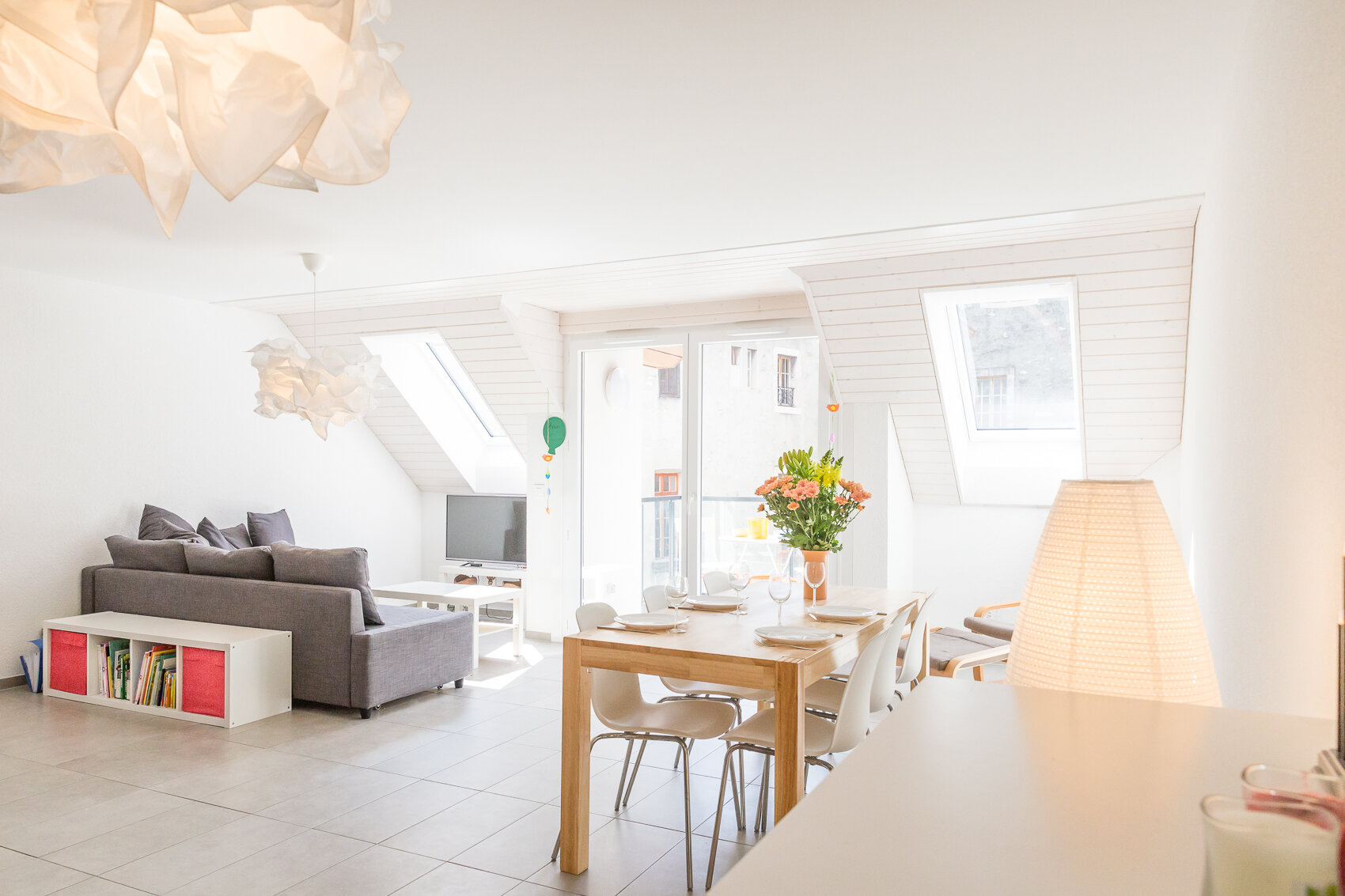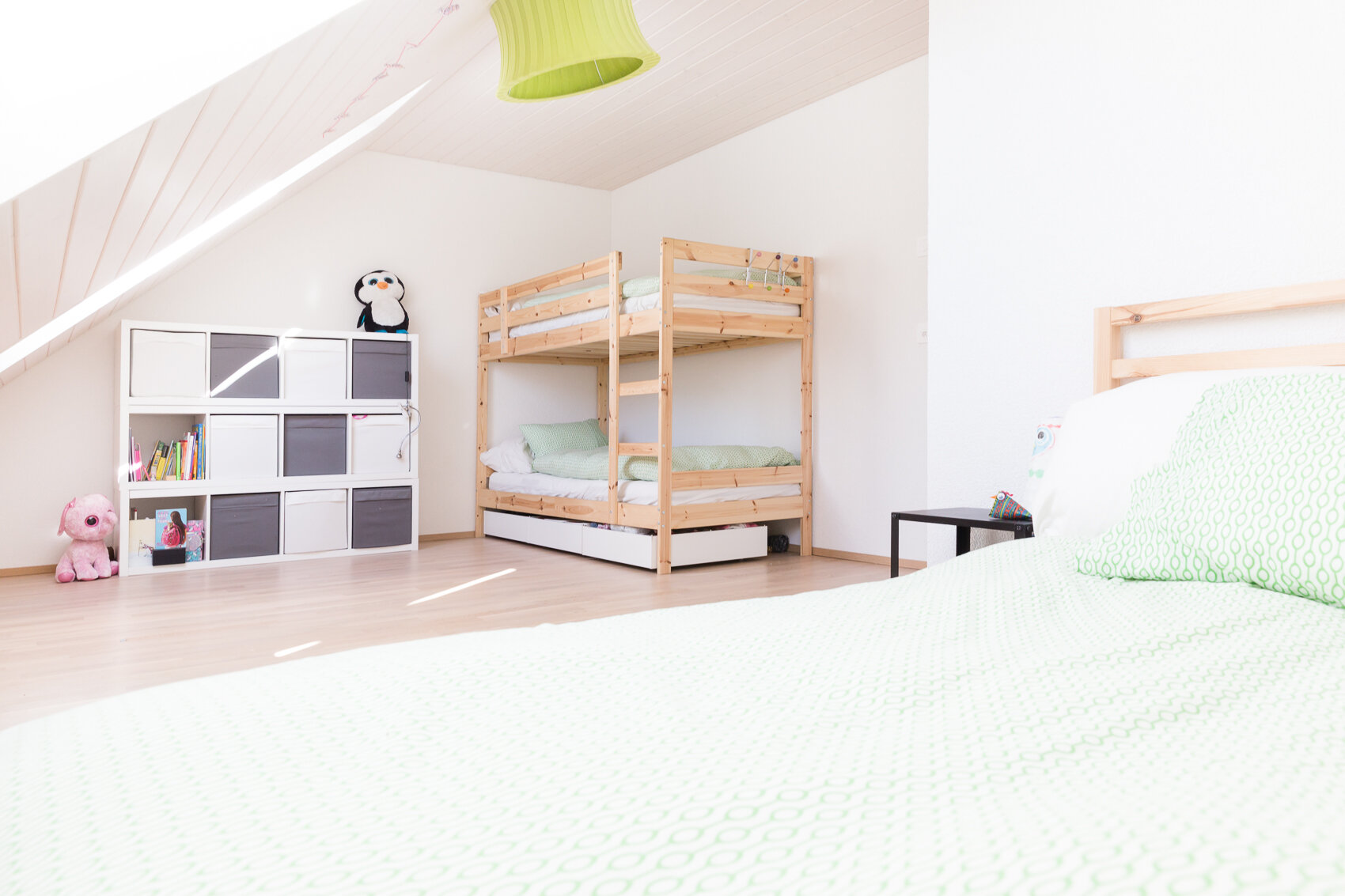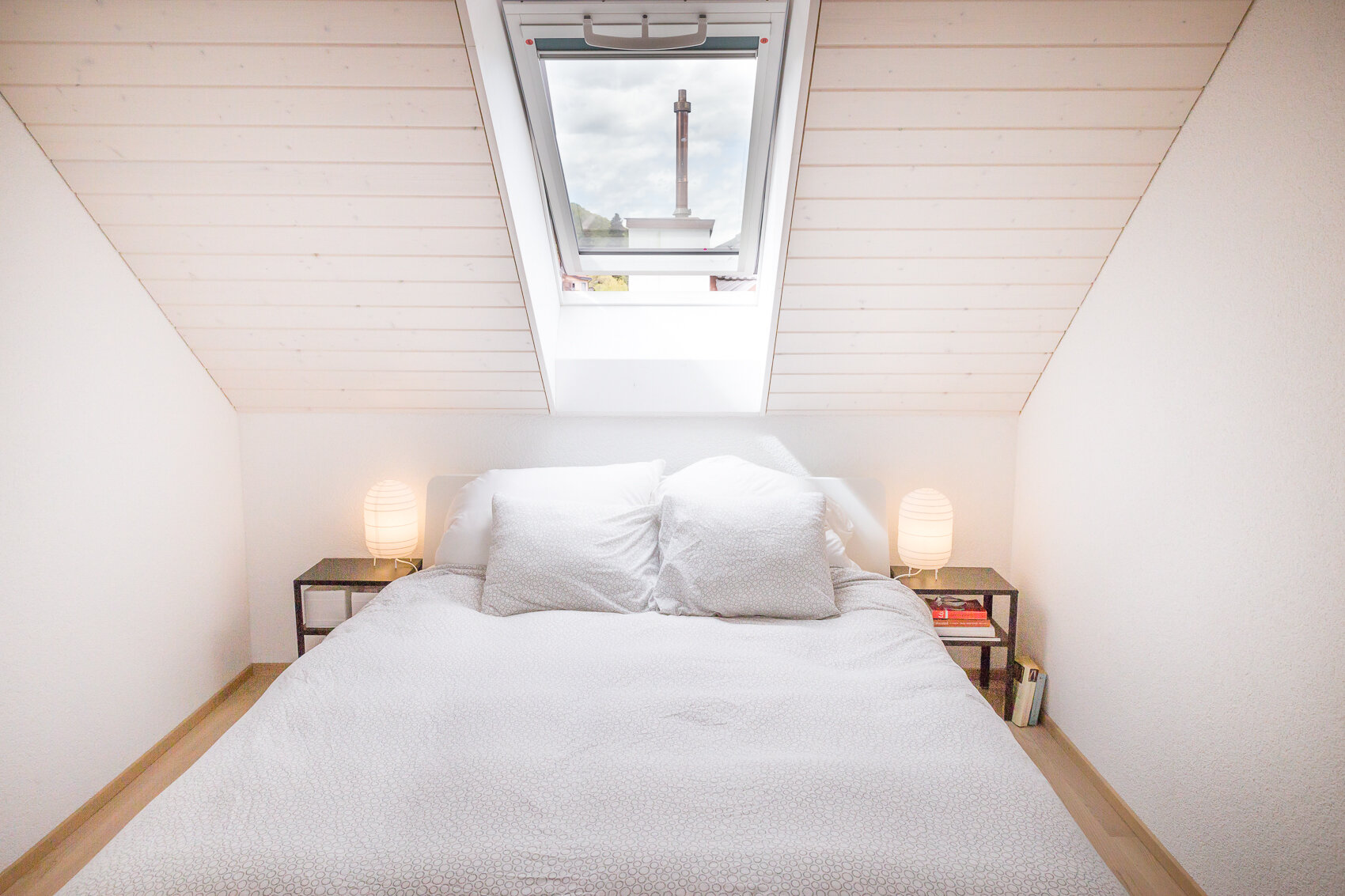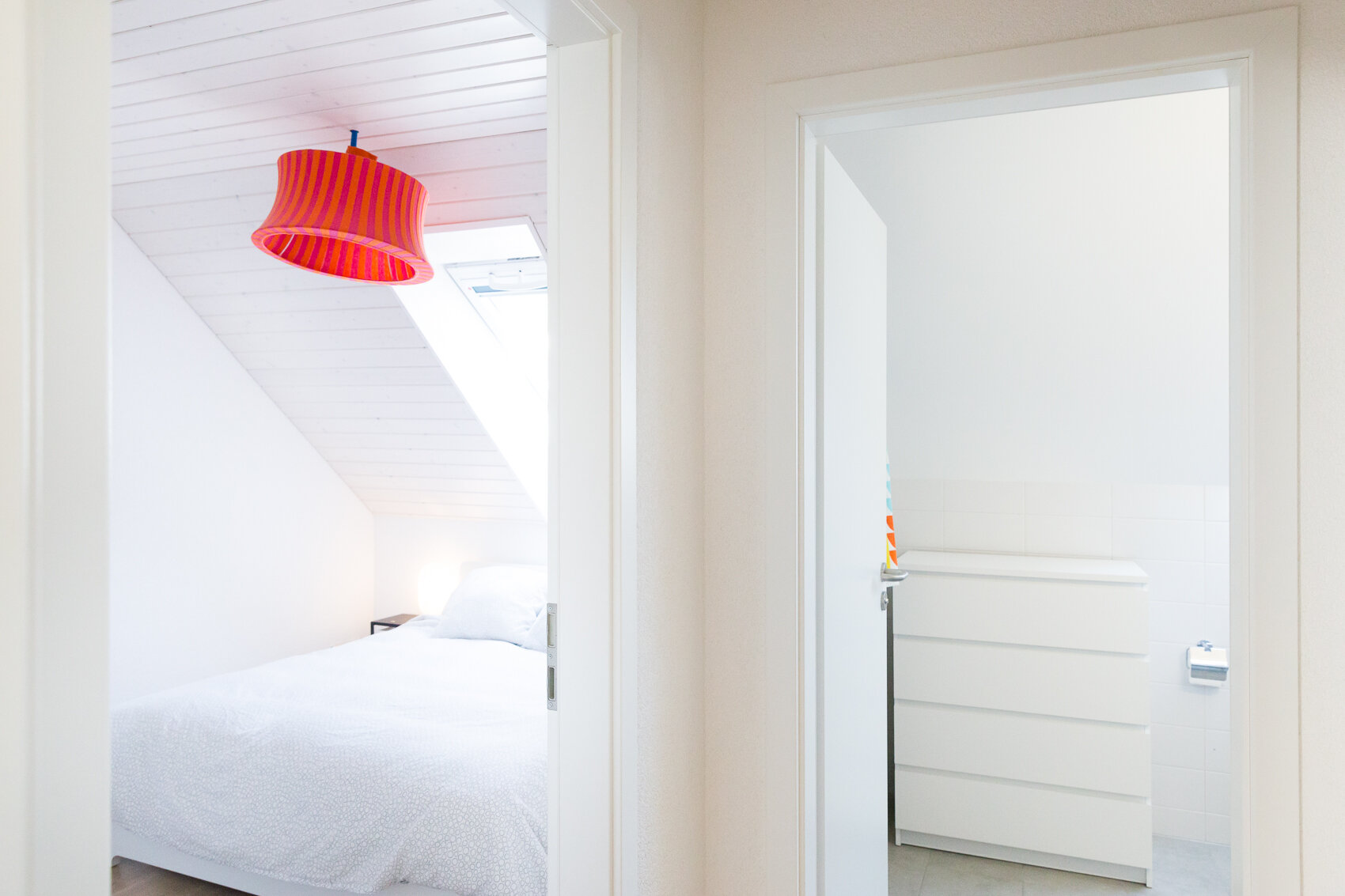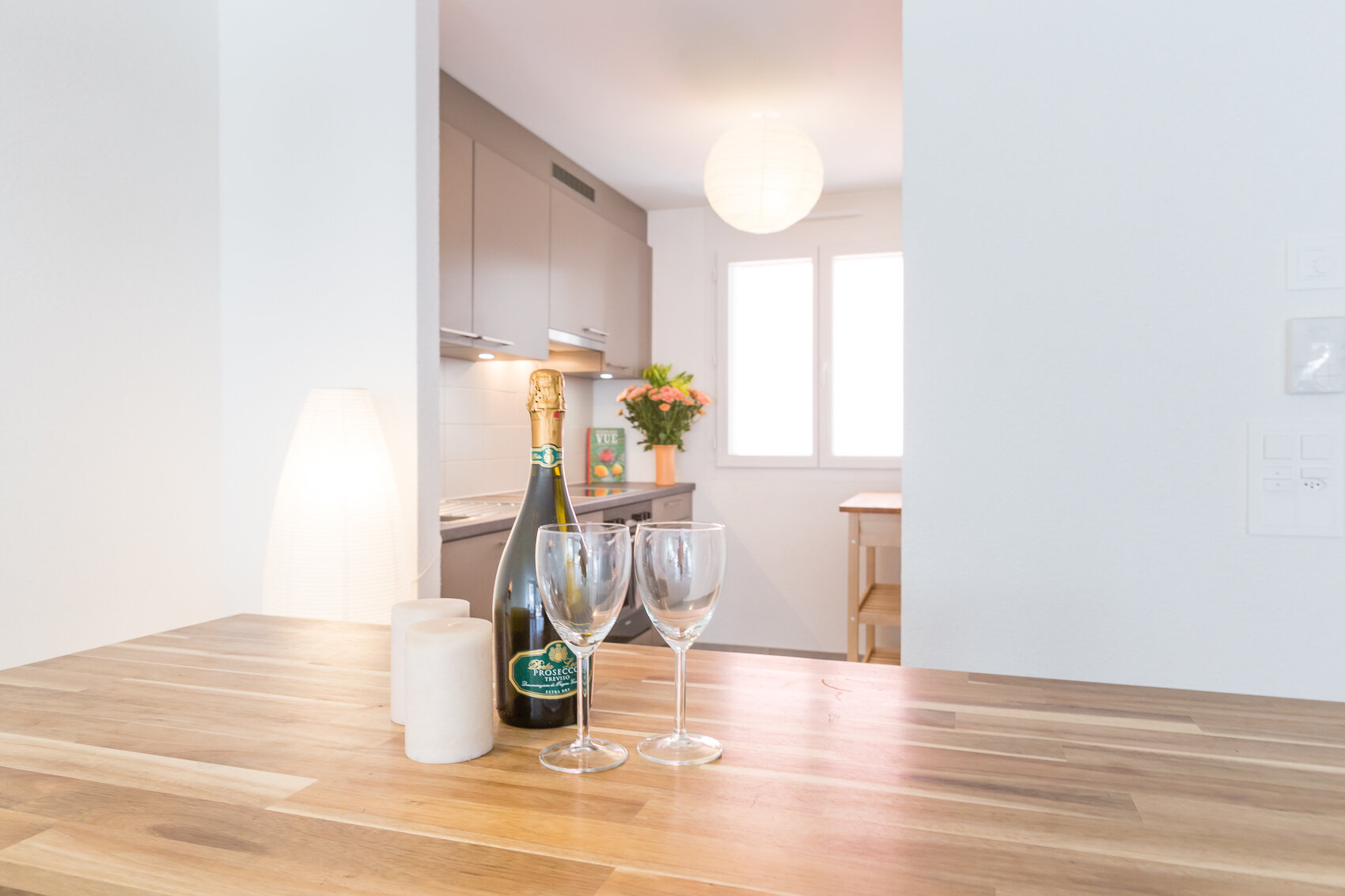 For anyone wondering, the 'after' of what real life was looking like. Less mess than you'd expect?…remember we have NO STUFF…. Note, Swiss children are the best as 'sparse apartment hide and seek'. They saw opportunities in just about everything. A skill I am sure my kids have now acquired as calls to help with dishes has a way of making even Houdini look meek.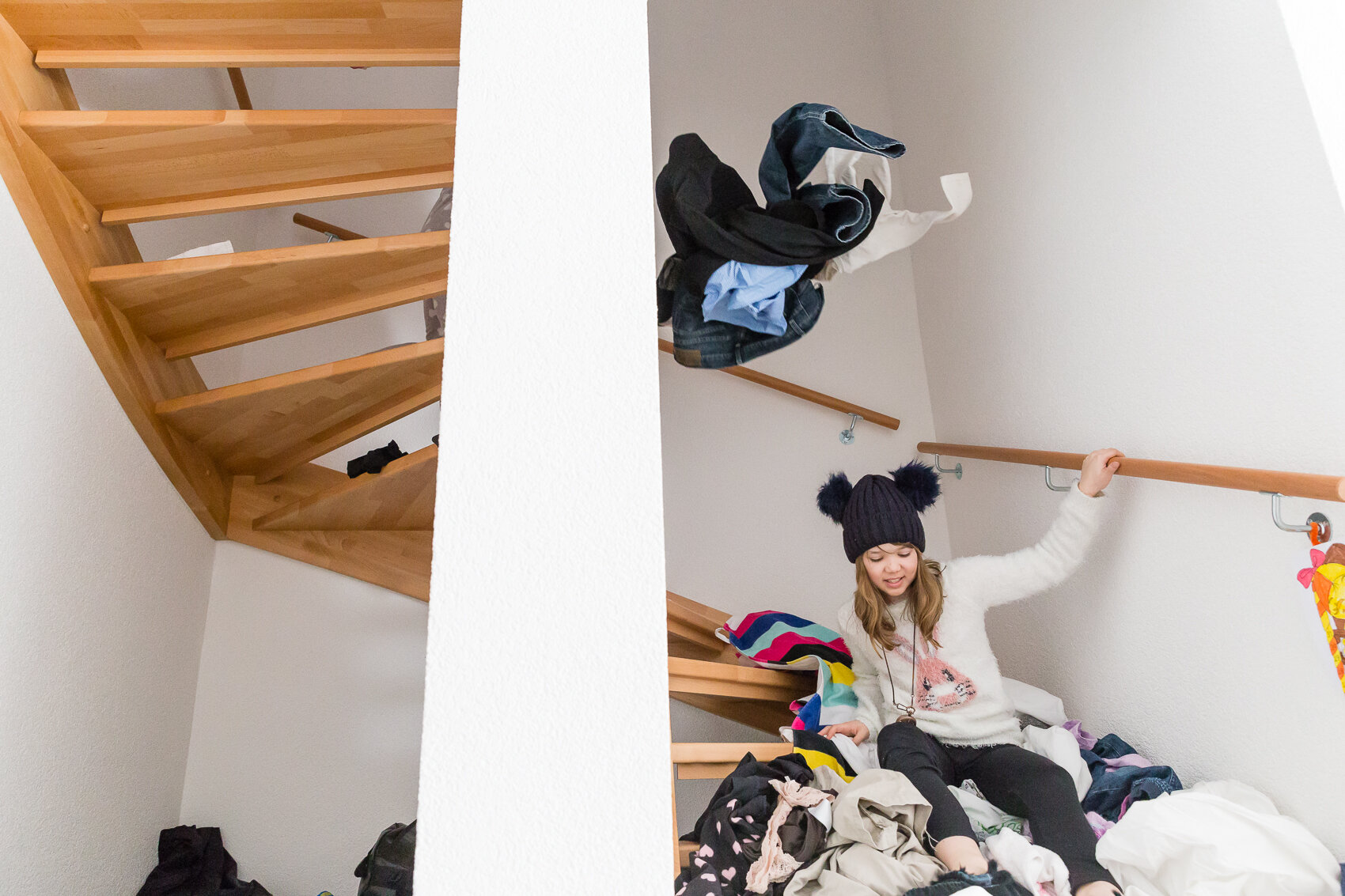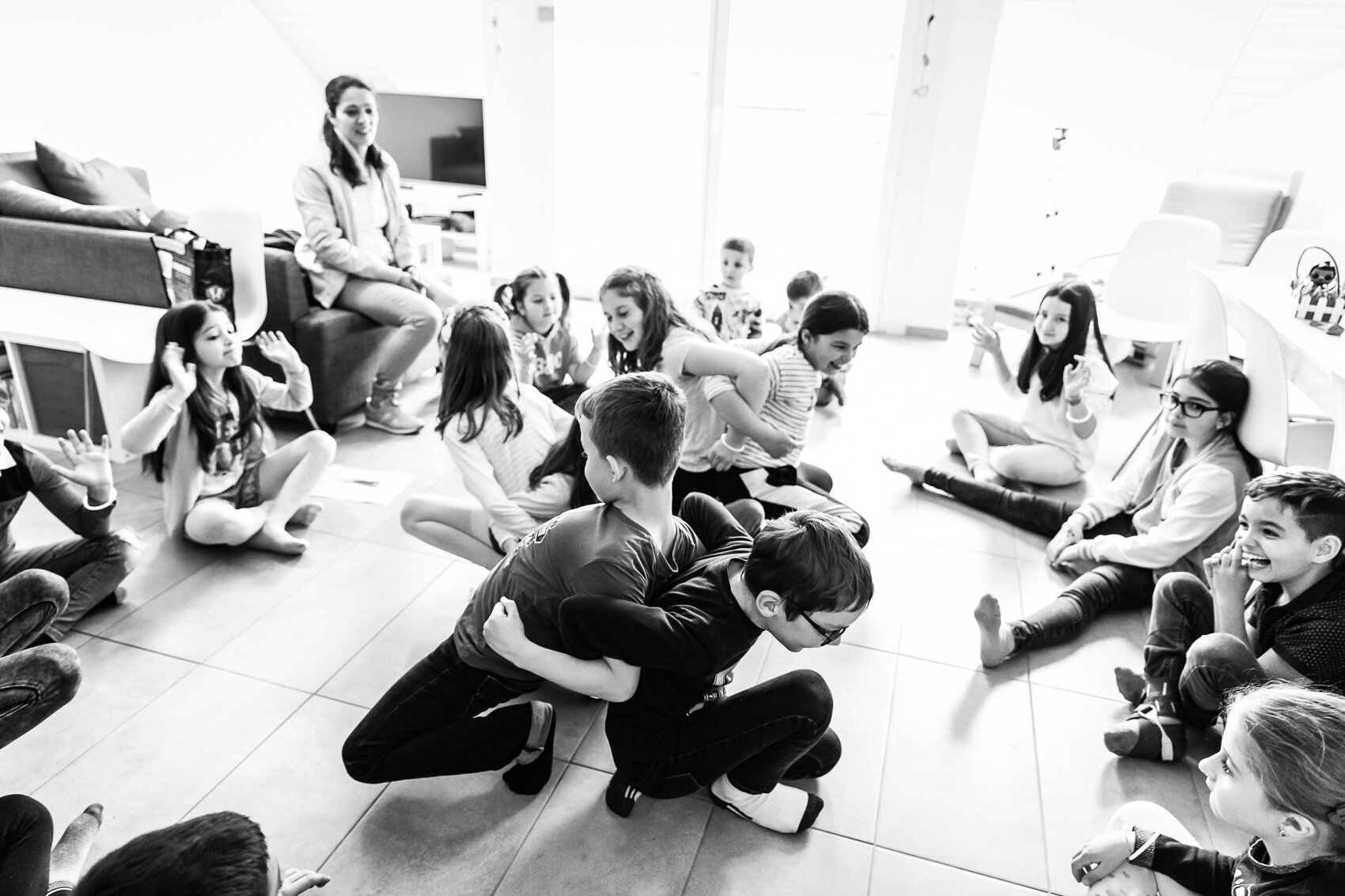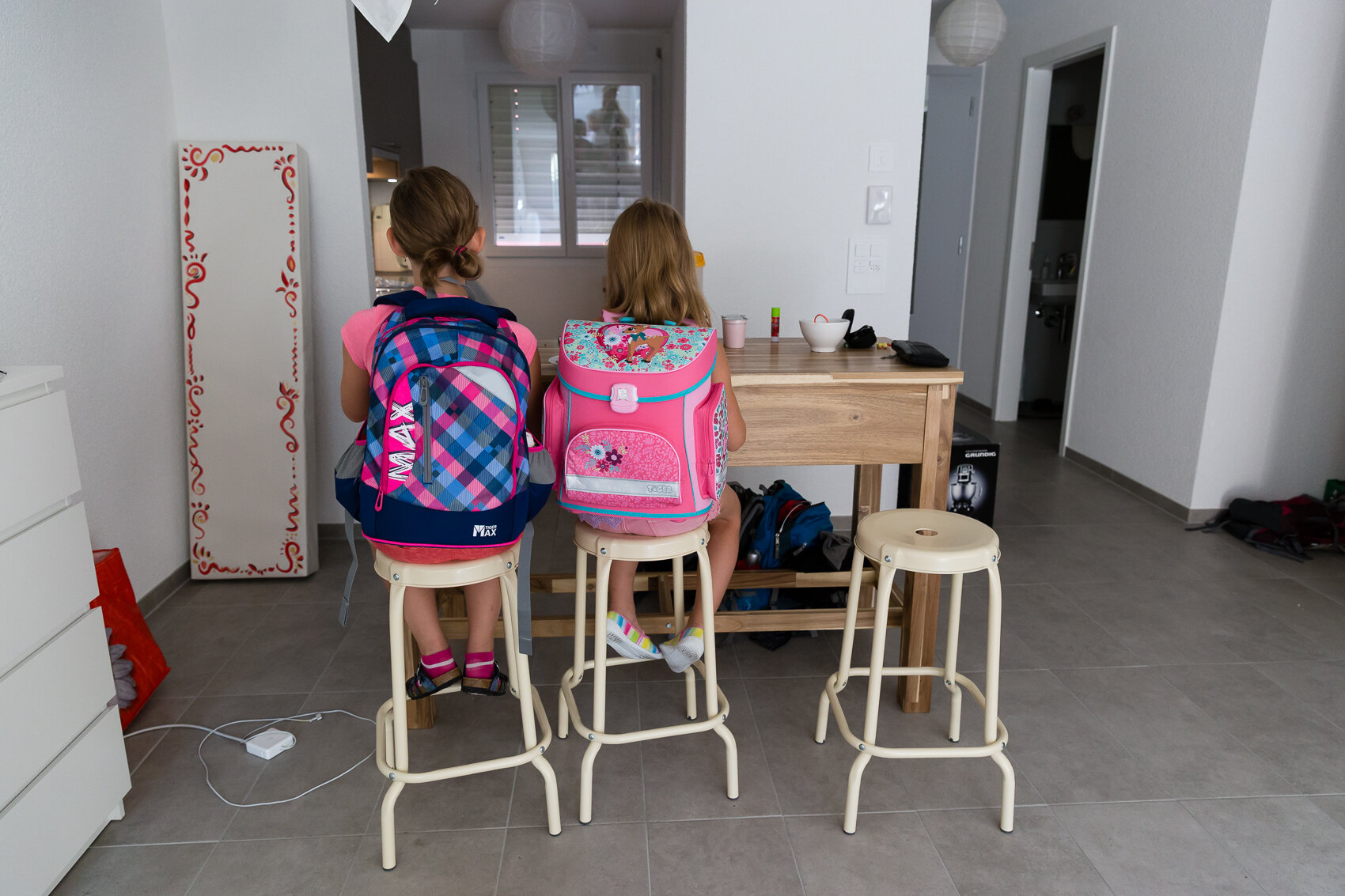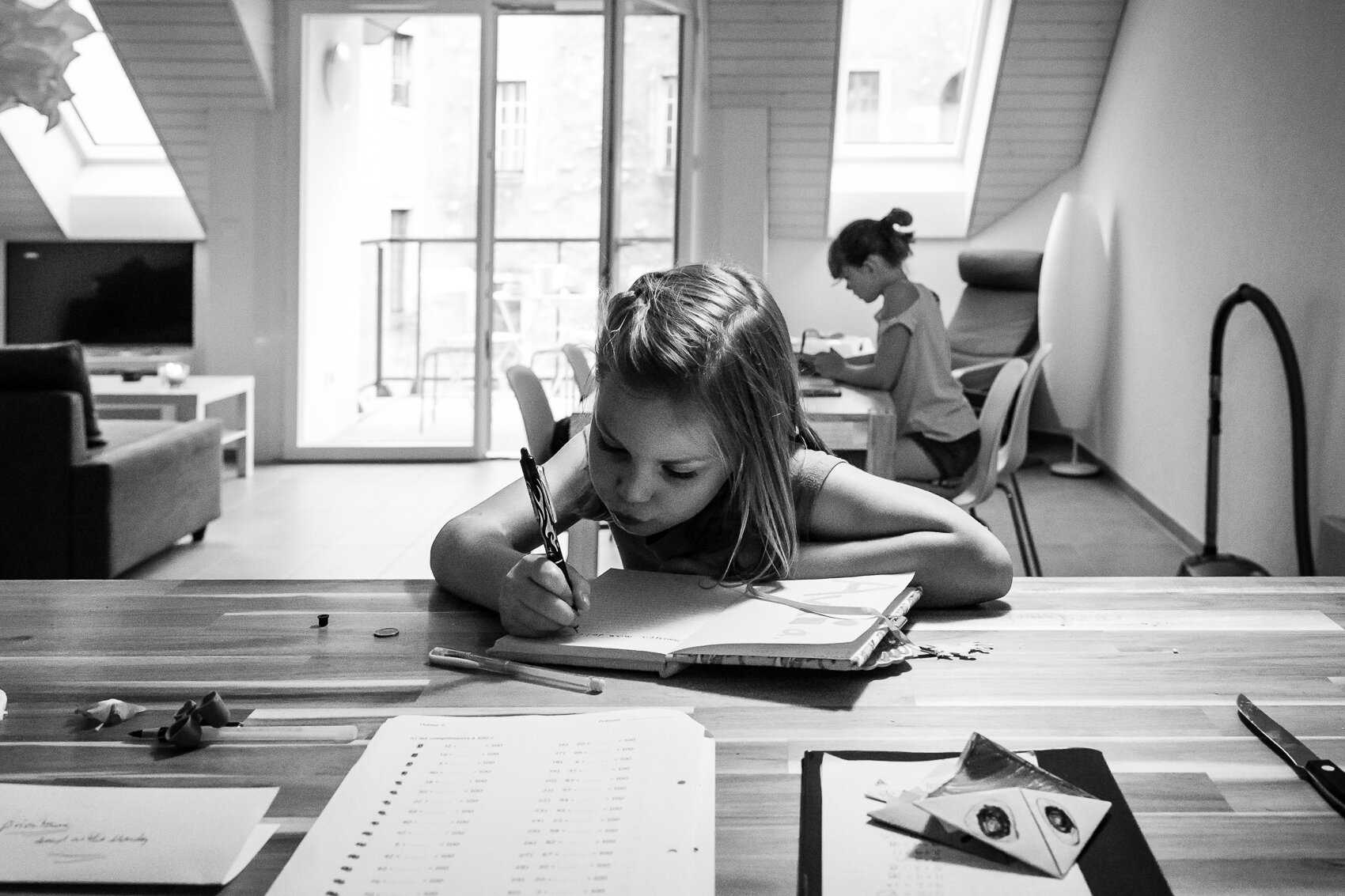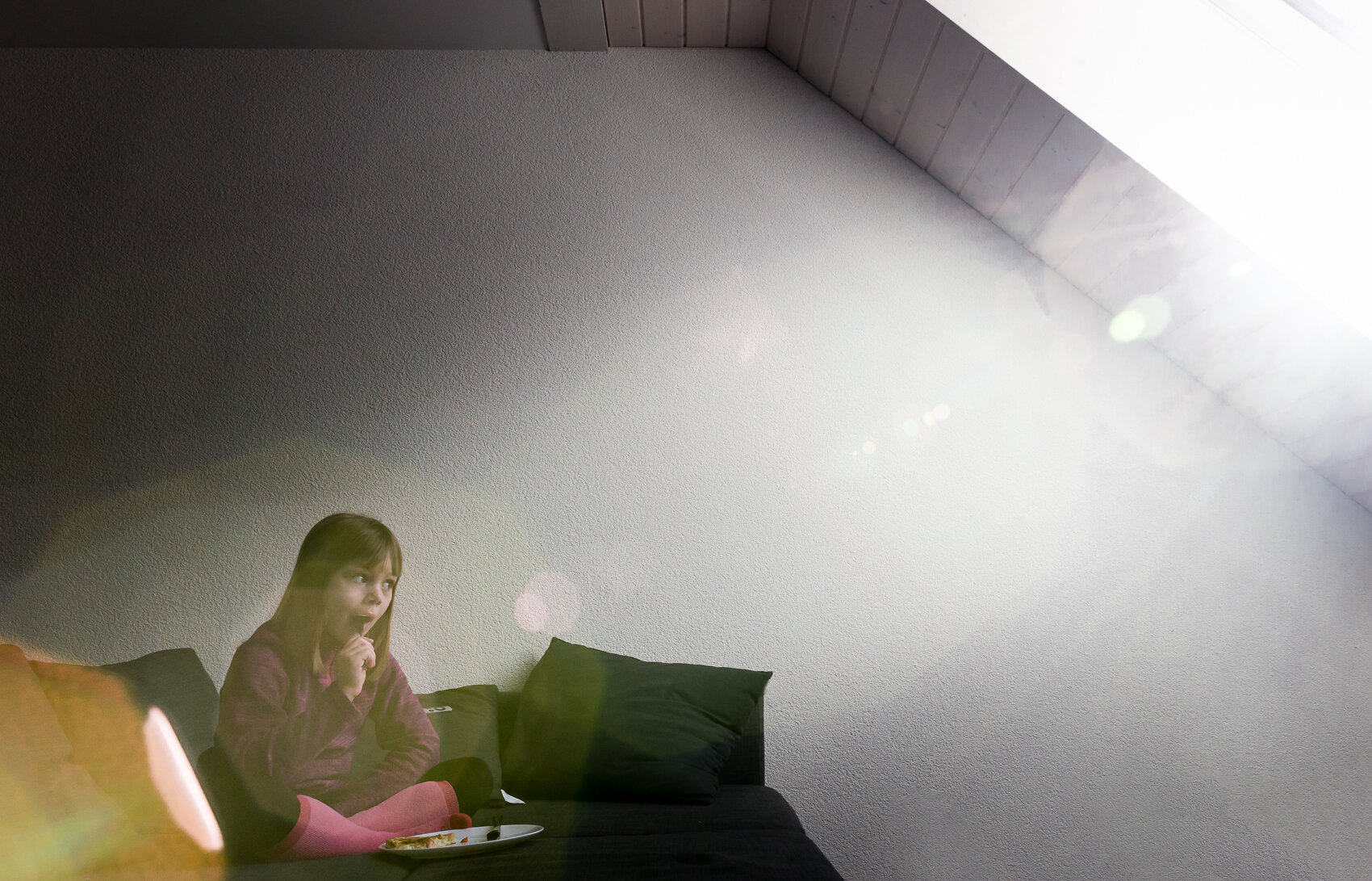 From there it would seem as though Lady Luck was on our side and through word of mouth in the most incredible way I had the incredible opportunity to work in a Physiotherapy clinic in the alps.
Let's not leave Tony out of the equation here. The miracle of networking functions here too and through this web of connection he managed to secure not one but two contracts for work. The collective weight lifted off our shoulders with this news made us feel rather weightless. Not to worry friends, if this all sounds too fluffy wuffy, I can assure you life has a way of restoring balance read here.
the real deal
Travelling across the ocean and starting over in a new country despite having the little red passport that says we belong here, no one gives you a play book by which things are done. The best analogy for getting what you want is that you will have to ready yourself to jump into a deep lake with all your alpine gear and crocheting needles because heaven help you when you are required to climb an underwater mountain while knitting a scarf for Aunty May all while navigating paperwork that does or does not need to be fully filled out depending on the day oh…and speak in mother tongue because Canada French is not Swiss French, even Swiss German dialect won't always work and for sure "Karin made up words" doesn't count either - even when I do it with gusto and a great accent…thank you very much! Nope. Gotta figure this out the hard way my friend.
Despite all this, it would seem that it hasn't deterred us too much as we keep getting up and dusting ourselves off and when we feel like we can take those extra breaths, our ability to dream is exquisite. I am a woman of many facets and though Tony may wonder who he's dealing with on any given day (bless the man - he is beyond amazing), I would like to think that I can find good in just about every situation. Mountains have my heart, the flatlands are gorgeously expansive and the lake…oh my the lake. It has my heart. As a child, I would come to central Switzerland to visit my grandparents and the lakes were what I remember so fondly. Summer times throughout my childhood were punctuated by bodies of water, so to this land locked Swiss/Canadian Albertan whenever I had a chance to be in Lausanne - a Swiss city bordering Lake Leman (remember what we told you now, wanna be part of the 'in' crowd, it's not Lake Geneva!) I was in my personal slice of heaven.
so did we tell you Tony works in Lausanne?
Did I mention that Tony's job was in Lausanne? Wait..WHAT…?!?!?! And here is where the bone is thrown and the fumble begins…. Tony's awesome position that seemingly fell from the proverbial sky was a 1.5 hour train ride away from Monthey in the city of Lausanne. Bless the man who did this route to and from work everyday for longer than I care to mention. Come the spring, we had to make a decision and with no coin toss involved, we knew that moving closer to work was the right thing to do. It would mean that our sweet little life was about to be upset in another way…yet again…with new new new.
Such is the fact of life when you catch the bone thrown your way. I have found that if you can see it coming, it is within grasp, but often at the edge of what is possible and boy does it make the platform you are standing on teeter until you can find the balance point again. We could do this.
And the apartment switcheroo begins
If you have ever travelled…anywhere, you know that underground world of word of mouth is totally where it is at. Having secured our first apartment on nothing short of my ability to smile and laugh profusely (mostly at myself) and secure paperwork with two kids in tow through the rain, I still worried that our next steps might prove challenging. Listen to the right people and they'll tell you what is what..listen to the wrongs ones and turn up the neurosis. The challenge is knowing which one is which.
step 1.
let go of apt #1
Getting an apartment was one thing. Getting out of one is entirely different. Ssshhh…don't tell anyone, but here are the rules to follow as you unshackle yourself from one place and move to another. Want out before your lease ends? Okidok. Give either 1,2,3 or 6 months notice depending on your contract. Understand that you 'may' move out on certain months of the year - likely nothing like what you need for your transition but rules are rules. Need something different? Find out it is now Your responsibility to find the next tenant who will take over the pride of renting the space. Tell yourself "we've got this", tidy up said apartment, take pictures and put up adds throughout the building, online and to anyone passing by, heck float them down on the wedding party below the balcony, you never know who is looking. And…wait. You are the ones holding the keys so you are the one to show the apartment.
Brrrrrrring! Lady Luck once again made things happen and we got a phone call for a showing. Having had the pleasure (stress) of selling previous family homes back in Calgary, we pulled out all the stops. Candles, freshly baked cookies and an apartment that on its own could serve wine and make anyone fall in love with. In what seemed like record time we not only secured another tenant but made a new friend at the same time while selling her furniture we no longer needed! I'd call that a solid win win.
step 2.
talk to everyone and no-one about your plans
If I can share a bit of advice and then learn to take it myself, would be to maybe not talk too excitedly about how you are navigating your plans without having consulted the invisible Swiss guidelines as it has a way of turning relief into instant panic.
"What? You've given up your apartment and don't have another?"
"Huh? You are moving towards Lausanne? Have you found a place yet? It is next to impossible there. The competition is fierce."
Oh man. Tummy troubles here we go again, I could feel the nausea rising alreadyI had a feeling that no amount of good bacteria was gonna cure this gut rot.
As we have been known to do while we are here, feelings and friends are what guide us into our next decisions. Morges is a beautiful town just outside of Lausanne and without looking much further we decided that would be where we'd concentrate our search. That..and we only have one evening plus one day to look so that pretty much wiped any other choices off the board. Nothing like real life helping to guide the way! fumble fumble….
Scouring the apartment ads, I compiled a list of places to view, made phone calls and then crossed every limb possible in hopes that it would somehow help.
step 3.
make a wish list and then crumple it up
In making my list and calling for showings, it was quickly apparent that those that had incited an increased level of urgency were…right.
—-Man…ok let's get the wish list sorted stat.
There wasn't a ton available despite the city we were moving to being 4 times the size of current village.
—-And there goes the wish list top 2 points, kids - you're back to sharing a room again.
Price points were considerably higher and we had no idea where anything was relative to the apartments we were looking at.
—-Oh boy…at this rate, we'd all be in a studio apartment. We're close..we can do this. Can we..? Who needs counter space in a kitchen anyway. Overrated.
Thank goodness for google map satellite view because this is how we navigated our proposed new town. To the person who drove around the google car, we thank you. We managed to view all photographed street cuteness without breaking a sweat! …for the record. The effort still warranted a glass of wine and congratulatory pat on the back. Finding schools was akin to where's Waldo - but hey..did it even matter? Remember…we don't have a choice in that matter.
step 4.
get ready…audition time
Despite my having my wish list in hand - which after step #3 had boiled down to "find a place to house my family" - I managed to set up a few appointments for the evening on which I was free to visit Morges.
Let me give some insight into this 'free time' and provide some background - because dear friend…it is NEVER as easy as it sounds. The month of May provides a glorious long weekend - which in our case was another excuse to travel - had Avaia gotten her first wish it would have been Mt. Everest, but we talked her down to Pisa, Italy. We had been faaaar to lax in our decision making and too late to book a train so in order to get anywhere across the border to Italy we needed a car. We needed it for Thursday, picked it up the night before after Tony was finished working. Or rather…I trained it to Lausanne for 1 hour and picked it up before him, took me and the kids to Morges to see living accommodations along with a gazilinon other people on 'group visits' and Tony joined us an hour later by train.
See? Simple.
GAH.
By the grace of some higher power or another seagull taking pity on us - you pick, just as we were about to call it quits for the day dejected that the competition was as horrible as it had been made out to be, I made one last call to an apartment that I had short listed. The very kind gentleman called me back and within minutes we were on our way to our last visit. And…omg…were we EVER. GLAD. WE. WERE.
As we stepped out of the vehicle, I again reminded (threatened) everyone that this was an audition.
Everyone do your part and no one is going to have to wear the itchy lederhosen anymore…capich? Wrapping my scarf around my neck to look more 'chic' and less' I have a cold" (honestly I still haven't figured out the scarf language) we did our best impersonation of "family who has it all together" walk to the front door. Greeted by a wonderful woman who ushered us 2 feet into the foyer of the apartment we took it all in. All 2 bedrooms, 2 baths, kitchen and living room and balcony of it all. Bright airy and awesome we swooned, they noticed and I prayed for a connection. These were tenants who were leaving their lease early and they were our ticket in. They would be the ones who would take my sweaty handed 'dossier'/file complete with family picture (because photographer and we clean up on ok in the right light with a fast shutter speed) and all the requisite paperwork that we had taken a year to learn about and acquire and decide whether ours would go to the property manager or someone else's. No group visits here, instead they made us fall in love with a dream. We melted at the description of the vines..everywhere..the cute grocery store and coffee shop nearby, the fact that the lake was a 10 minute walk away and that yes, the buses and schools were close by. Honestly, once we relaxed and all got to laughing, even being offered to share in a 'verre' it felt like this was home. They could have told me the apartment was made of paper and we would still have been chomping at the bit.
Going home giddy while munching on macdonald's thinking that we just maybe…just MAYBE found an apartment and were now on our way to Italy for the weekend was almost too much to bear. (don't worry, life has a way of keeping score, Italy had two speeding tickets with our name on it precisely for this occasion…On one hand my brain says = Karma = keeping the balance of all that is good in the world. On the other I think it is the Italians, whom I love more than all the pasta in the world, playing 'can't catch me' games with their variable or non existent speed signs on the autostrade. Goody-two-shoes be darned, we did everything as right as we could and still got dinged - Italian speeding tickets are now currently in the mail. Sigh).
step 5.
more Swiss paperwork and then…wait.
As with any major step here, nothing is an easy transition. Despite my having all the requisite paperwork ready, the one thing we needed directly from the appropriate property manager was an application form. 'Their' proprietary application form. The form that was black and white. On A4 size paper (pretty regular stuff here) and nothing else fancy about it. That could most certainly not be sent. Or emailed. Or scanned. Or anything short of be handed to me in person. ?? And then needs to be signed by both Tony and I AND handed back…in person.
Did I mention that I live 1.5 hours away by train? And have kids home at lunch for 2 hours? And don't trust them with sharp knives or a stove…or the secret chocolate stash that I don't think is so secret anymore?
Conundrum.
By some miracle that I have now erased from my brain, we figured it out. Paper somehow got to us and back to them with the appropriate signatures and then…
…we waited.
And waited.
And lost sleep, overate, felt horrible, developed ulcers, worried, tossed and turned, called the kind people at the property management company with our sweetest phone smile and they never remembered my name.. and generally turned into a miserable sod until a decision that should have taken 3 days arrived to us in 3 weeks.
On A's last day of school at her school party, we got the news. YOURS.
OMG I just about died and went to heaven.
"WINE FOR EVERYONE!"
…awkward…
I was still at the primary school party.
step 6.
Move and let the love affair begin
A house is a home no matter where you are as long as your family is there. There is truth to this. Even more so, however, is when the apartment is just right, the light brightens this photographer's heart and the kitchen has a way of eveloping the living space making me want to cook again. For reals! Sloped ceilings vanish making way for upright posture and two larger rooms make way for some reason really really works. But before we could settle we had to finagle a move.
Before you do anything here, getting the lingo right is important.
We needed to rent a moving vehicle. As you can imagine, the windy cobble stone streets of it all makes things interesting and we have somehow managed to acquire more than we came with when we arrived here.
From what we "Thought" we'd have to do to finding out a "CAR" is actually a tourist bus to learning that a "BUS" is a minivan we finally figured it out.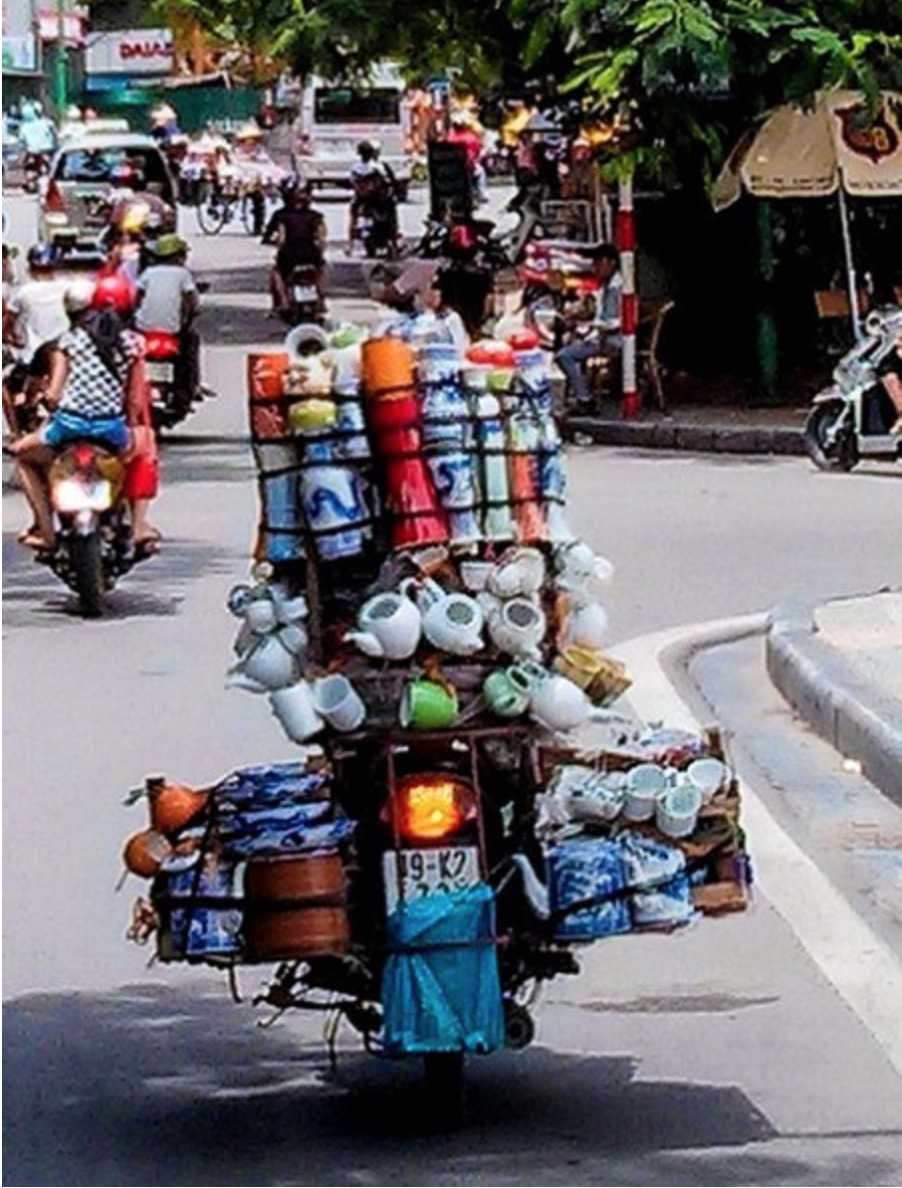 What we 'thought' we'd have to do.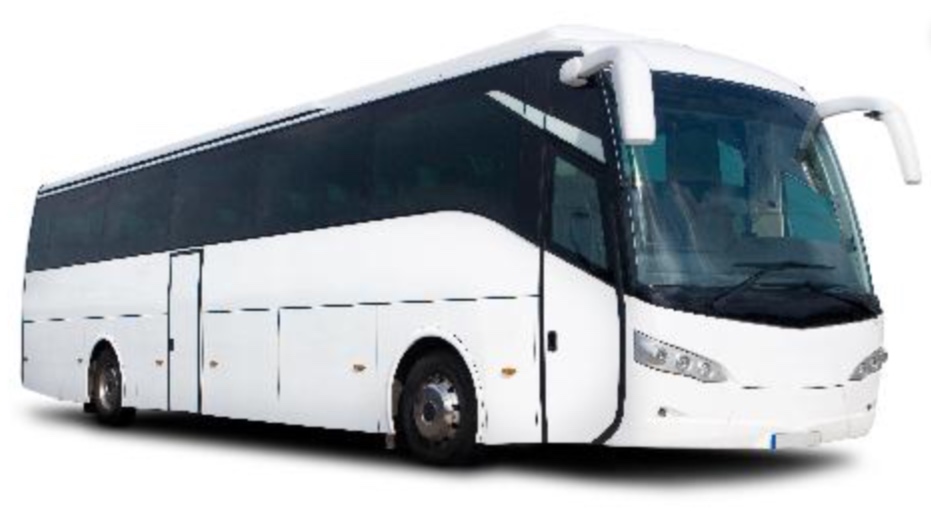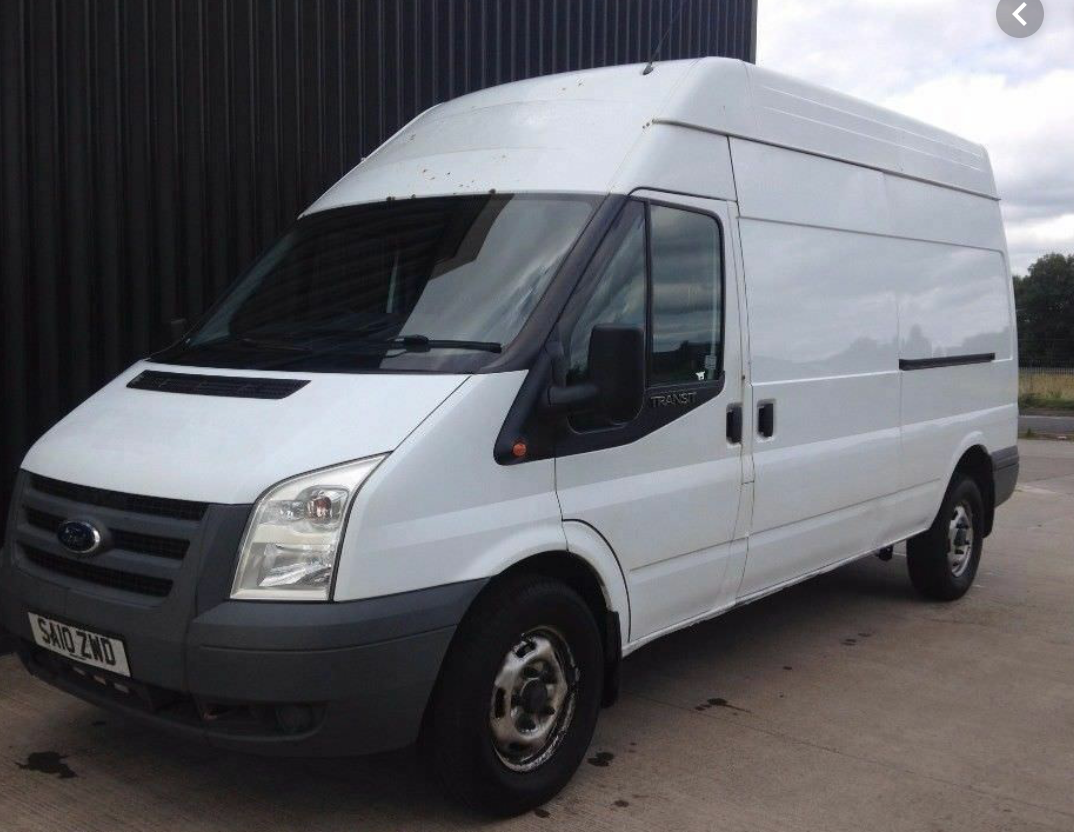 What we learned is a "BUS"
As I am sure you can imagine, the finagling of all our accumulation that happened in the past year was still something that caused us to pause/panic, but somehow through the grace of lack of sleep, adequate organization, the friendship card helping us with the kids and a husband who wins at the Tetris game of life, we got everything moved into our new apartment.
today is a new day
If you would have told me 5 months ago that it would all turn out ok, that the move would be not only a good one, but a great one, that we'd make friends quickly, that the schools really ARE very close by and that we'd all settle in … happily, I would have slept much better.
The space that we hold is smaller than our last apartment and having come from a house in Calgary with what now feels like copious amounts of space, we realize that what we have is perfectly enough. And exhale…..
We have hosted a family of 4 mixed in with our crazy, I have a kitchen that has space for two cutting boards worth of cooking space which feels like miles more than the last apartment and is integrated into the living space.
All this makes me feel like me again as I can cook and bake to my hearts content while knowing that my fam is right there - the integration of it all making it a gorgeous space to enjoy.
And so there you have it, our little, silly, sometimes up and sometimes down family of 4 making it through what would seem like at times like insurmountable changes, landing incredibly on our feet and with smiles all around.
We did it.
We moved.
(Note: no lederhosen were hurt (or bought) in the making of this blog).