You'll never believe what we got our friends to do! | Traveling Storyteller Photographer
I love a good surprise
Equally so when it involves others. I have a love affair with anything kiddo surprise - give me something I can hide and paper - you have created my personal treasure hunt heaven. Bring 70 people to our house to host a Swiss Party beyond anything (which then I realize takes the whole village to help run…because what was I thinking) and by dusk I am walking 35 kids holding paper lanterns down the street playing traditional accordion music becoming their very own Pied Piper. I have been known to squish long time married couples together by 'almost' recreating their wedding day in our backyard. My friendship party 'this is gonna be So good resume' could be summed up by the word 'dreaming' and filed under 'hair brained' for good measure. Somehow the best people in my friendship circle are there to help me from teetering off the 'this is a GREAT idea' podium and it comes off without a hitch. It may need to be noted that I wear rose tinted glasses.
Imagine then what happened when
friends said they would come visit!!!
Just thinking about friends coming to visit us was enough to put us into a state of 'too giddy for words'.
Enter in the fact that we knew this information back in January and the count down was like one long Summer advent calendar punctuated by chocolate disguised as excited WhatsApp phone calls discussing things like the chocolate train, wine and exploring. I could easily see how the 5 glorious days with buddies would fill our buckets and beyond.
If only we knew were we would host said people.
wait..what?
Right…. so back in January my family had a life plan. Then in April and May we saw the seeds of a new plan start to emerge - or on some days it felt like bones tossed our way and our fumbling to not mess up the catch. June came crashing in far too quickly and from there we saw what grains we had sown and what that might look like and July had us scrambling to get said plan in place because nothing screams "sucky host" than one who doesn't know where the heck they will host said amazing friends.
One WhatsApp call sounded like
"We are SO excited to see you. So…we'll meet you Either in Lausanne of Geneva. From there, we have no idea where we will bring you!
…bless our friends who are akin to the coolest people we know who were all
"Totally awesome Karin! WE love that plan!"
..because behind the scenes we were somewhat frantic..and as mentioned…said friends are awesome. This then is the story of what they blindly agreed to!
we made them stay with us!
With what felt like , our 'move forward with life' plan sorted itself out and we moved into our new digs 10 days before our visitors arrived.
Once the house was sorted, we all breathed a collective sigh of relief. So happy were we that even the multiple bike/suzette grocery shops later managed to elevate our mood! oooohhhh….SO EXCITING.
Together is always better than singular in my mind - so the huge wow that we felt when they showed up was nothing short of gift and out came the giddiness that oozes out when your peeps are by your side.
we made them be silly
To note - our besties also timed their visit with a massive European heat wave. There wasn't a single fountain that we didn't frequent for a drink.
we made them take a gorgeous train ride
shocking…I got bossy - thank goodness I did
Over the past year, we have become nothing short of train sleuths. We can sniff out an empty train car at 5 paces. We know exactly where to stand to catch the train to get the best seats and our ability to sit together has become nothing short of an olympic sport on a busy train ride. We've got this. It took very little to convince our friends to head to the famous Cailler Chocolate factory and the Medieval town of Gruyere - home of the cheese. We jumped at the chance to bring them to one of our favourite haunts. This also meant one of the most exquisite train rides into the Swiss Countryside. This particular line passes through Montreux, the Swiss Riviera, up through quintessential Heidi land and then promptly lands you at the site of the exquisite Cailler Chocolate Factory.
The train that we were gunning for can be full of tourists and the glass cars devoid of any seats. In an attempt to get a spot, our eagle eyes noted right away on entering the train that there was no group reservation and that we could sit where we wanted. With heaps of guests already on board, it was the Tetris of people moving that got us spots with our loved ones for the fantastical scenery that was about the occur. Not a second went by before I had managed to whisk everyone into a spot and then within the mandatory 40 second wait…enough people realized the size of group we were and the shuffling began allowing all of us to find a seats together to enjoy this spectacular ride. THIS is when a little bossy is a huge win - even Tony agrees.
Finally we made it - all 8 of us having arrived to our first destination - Cailler!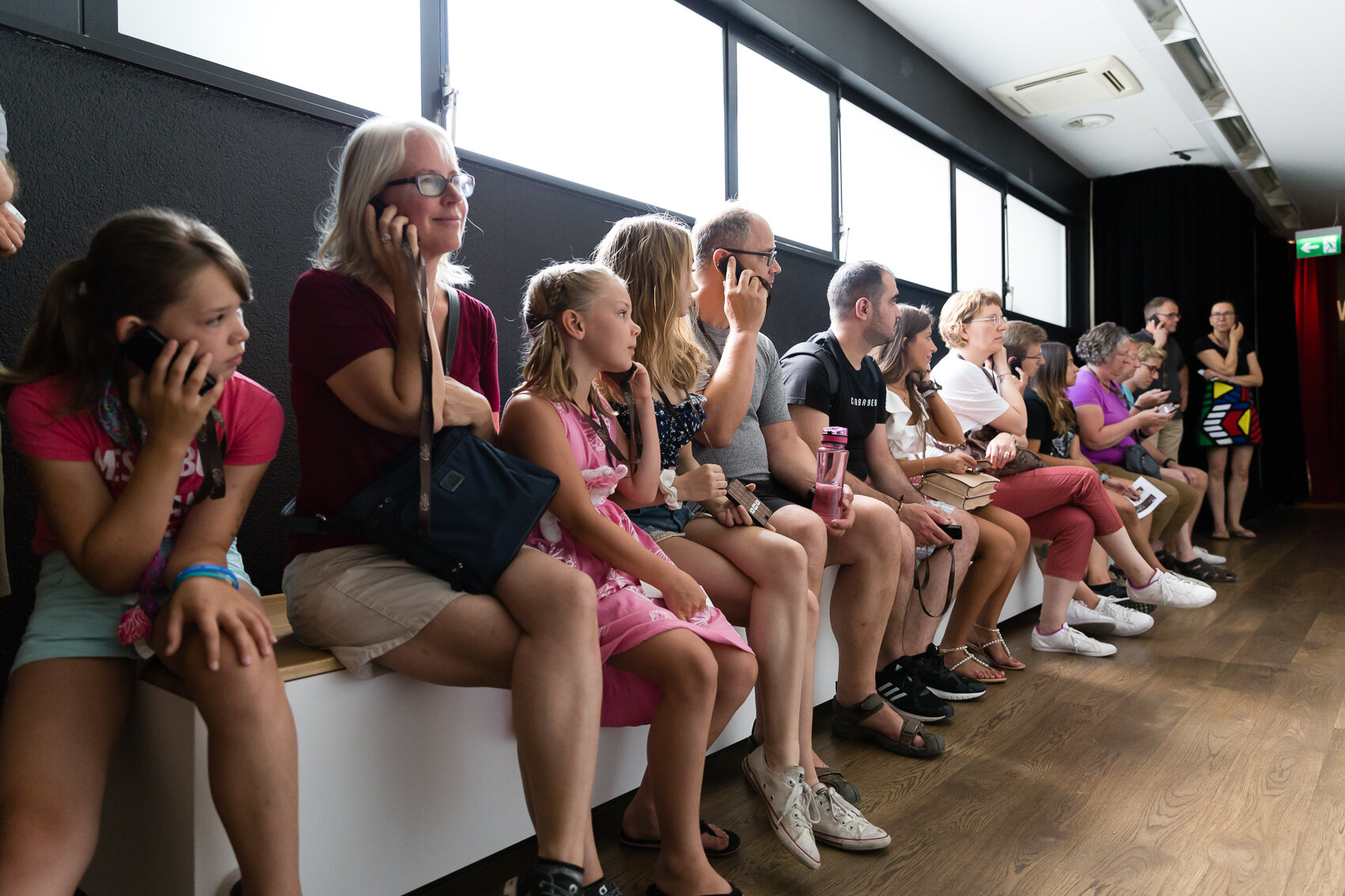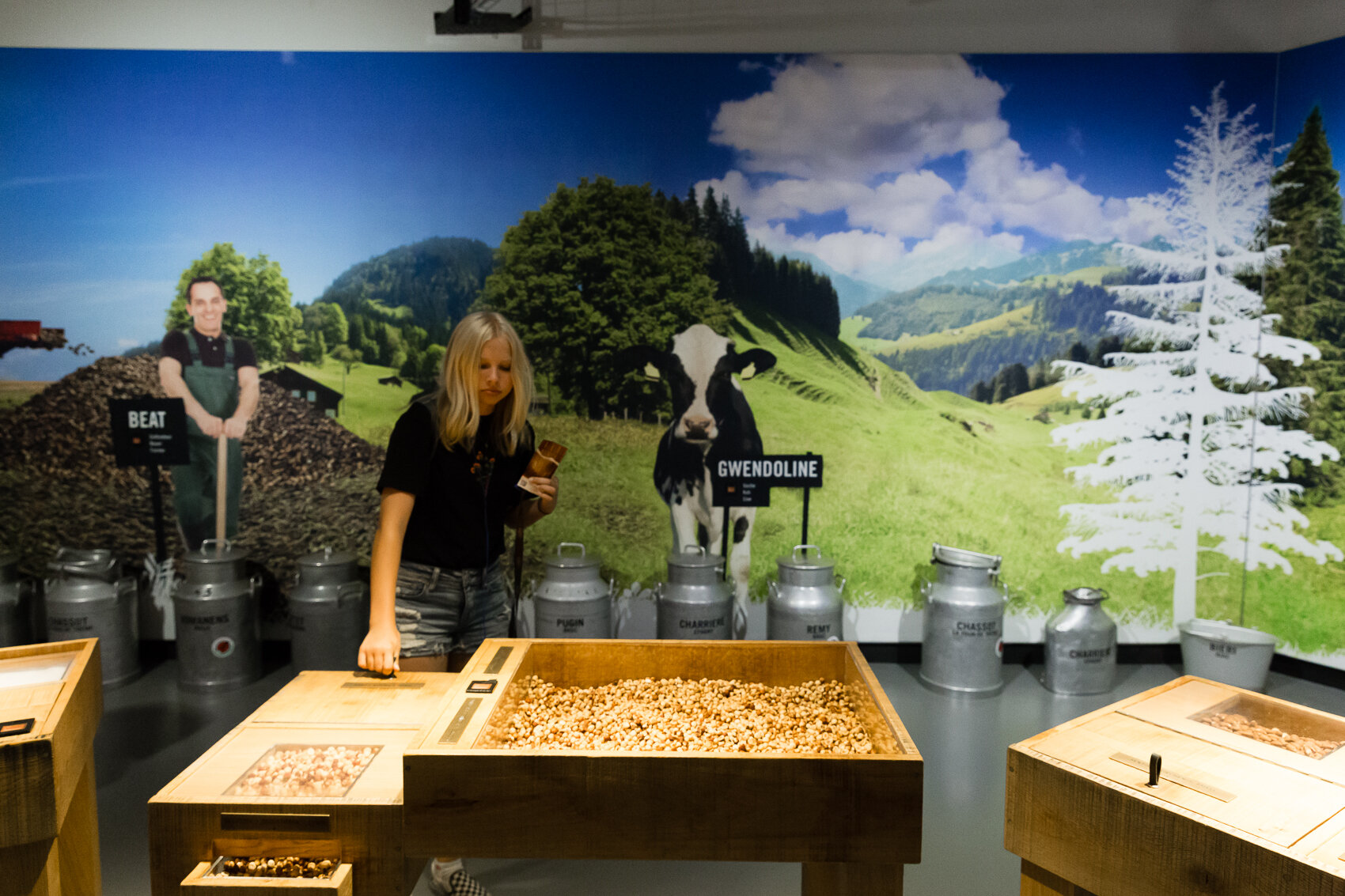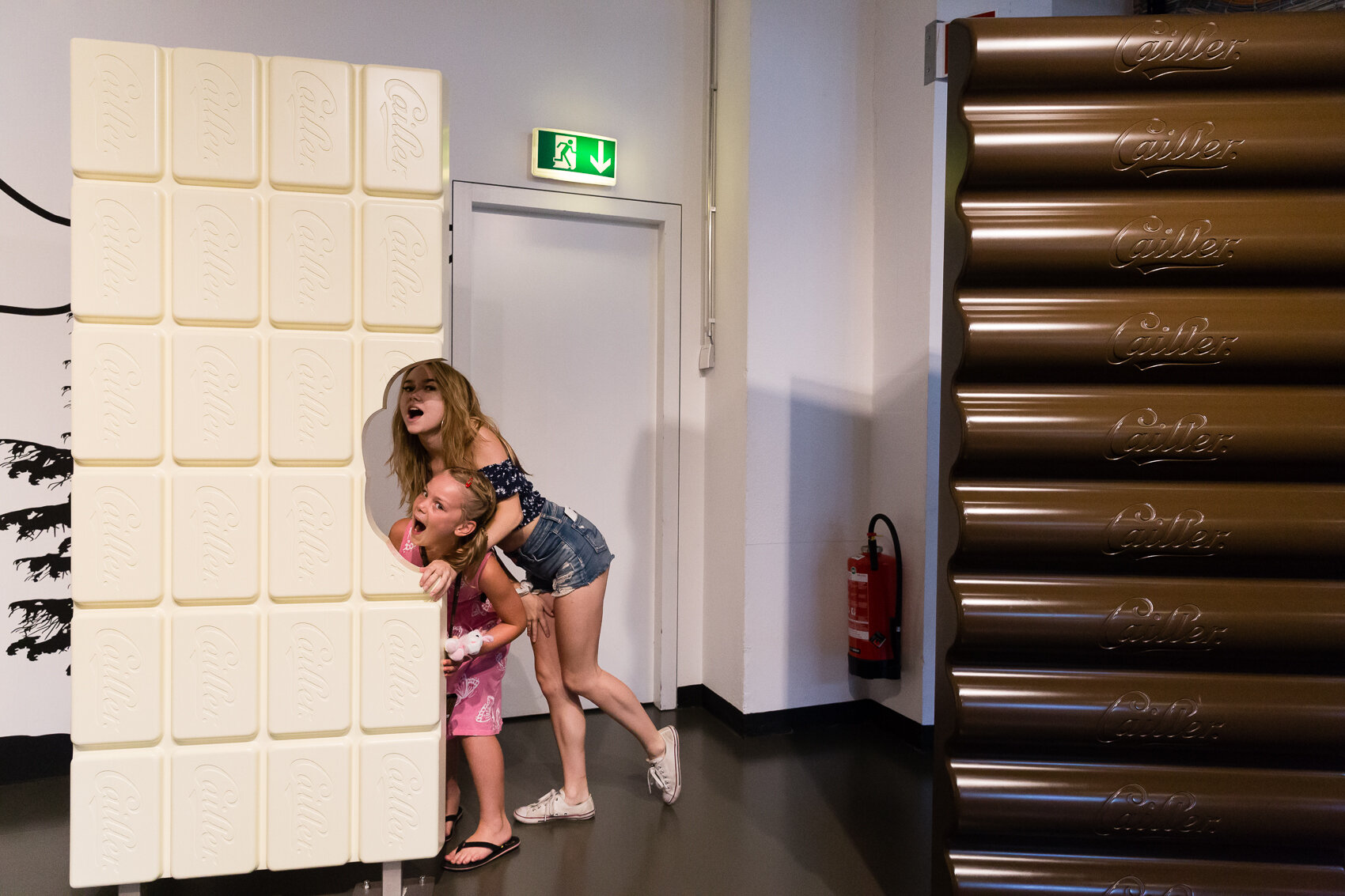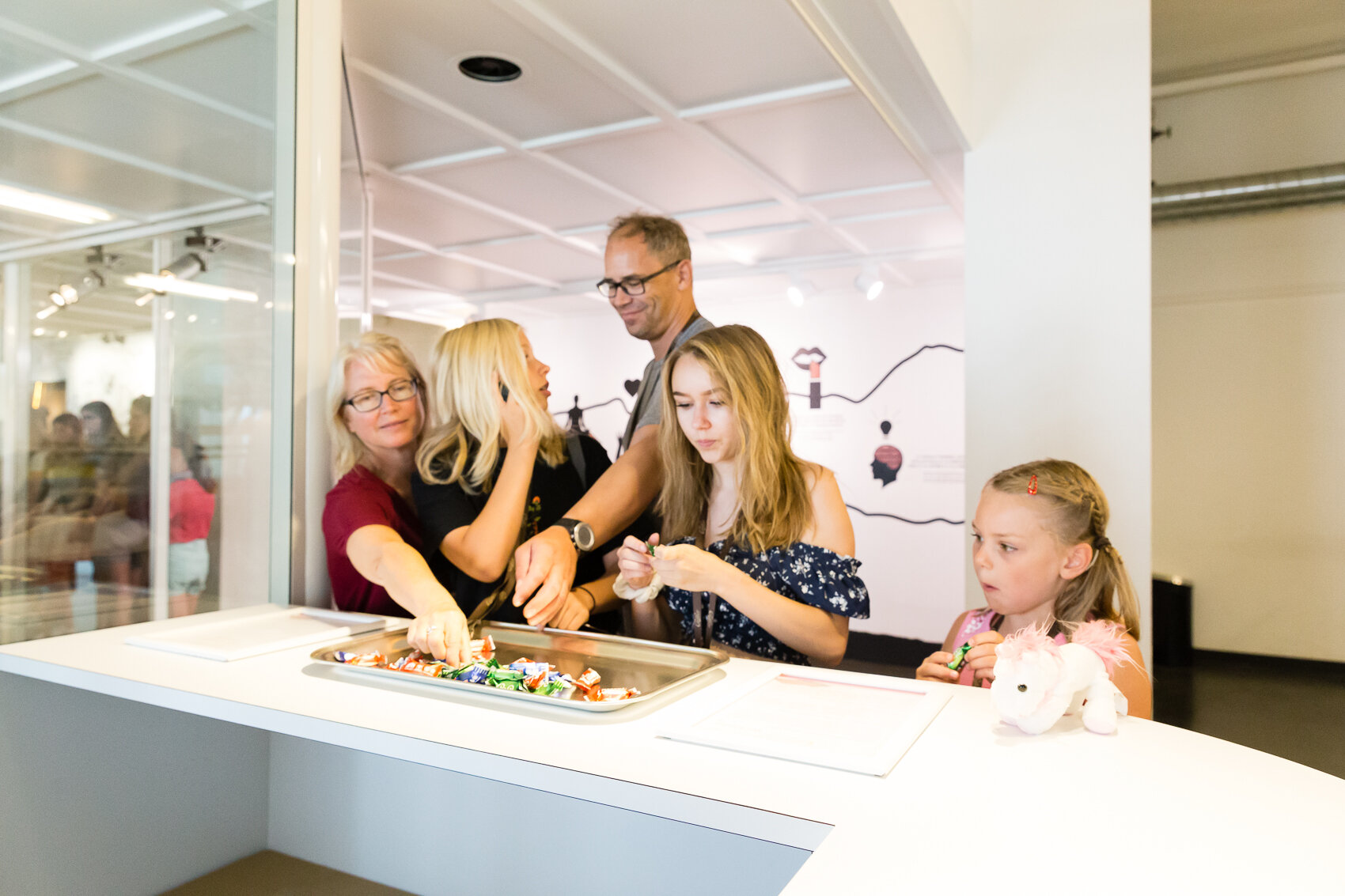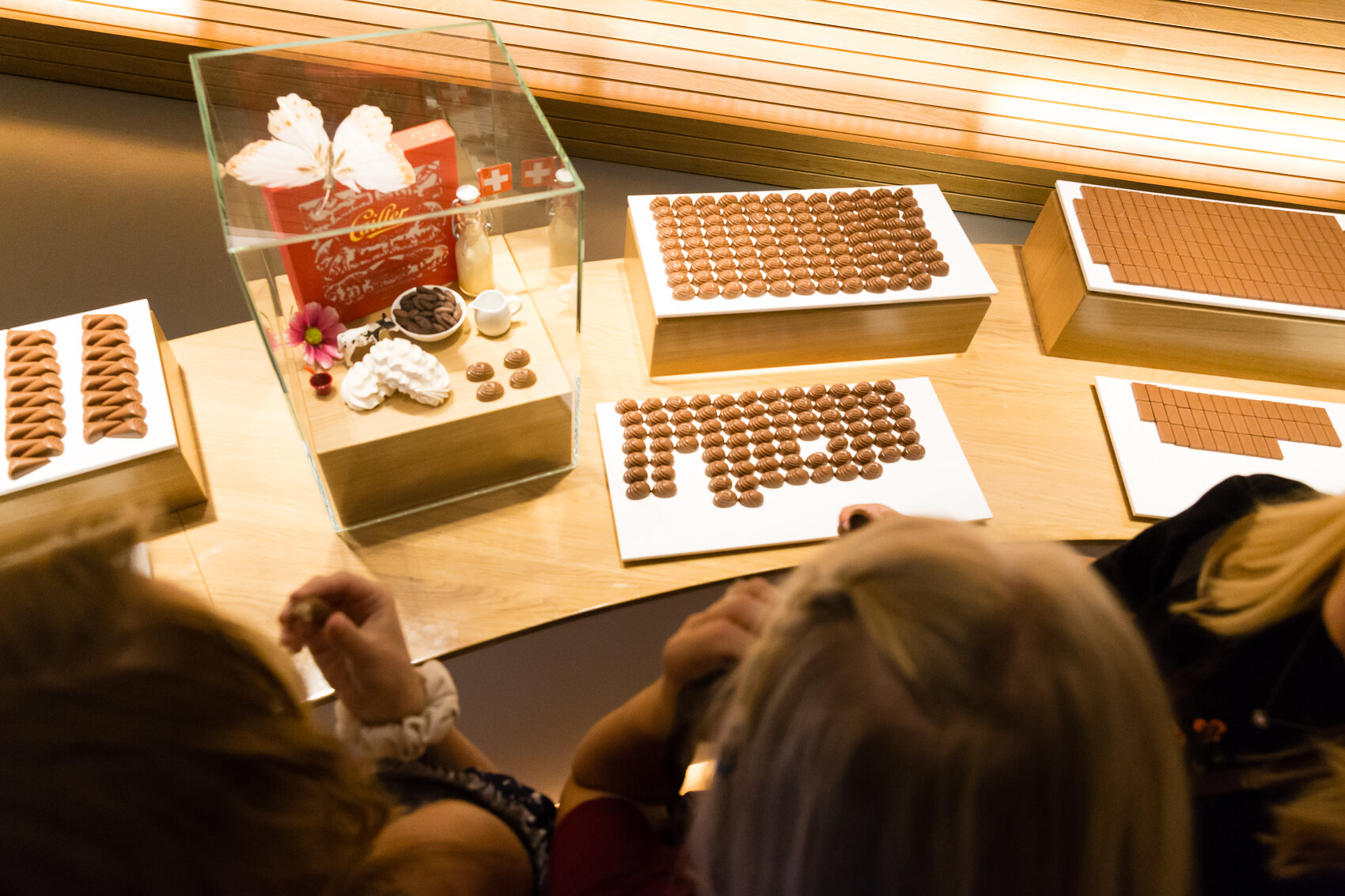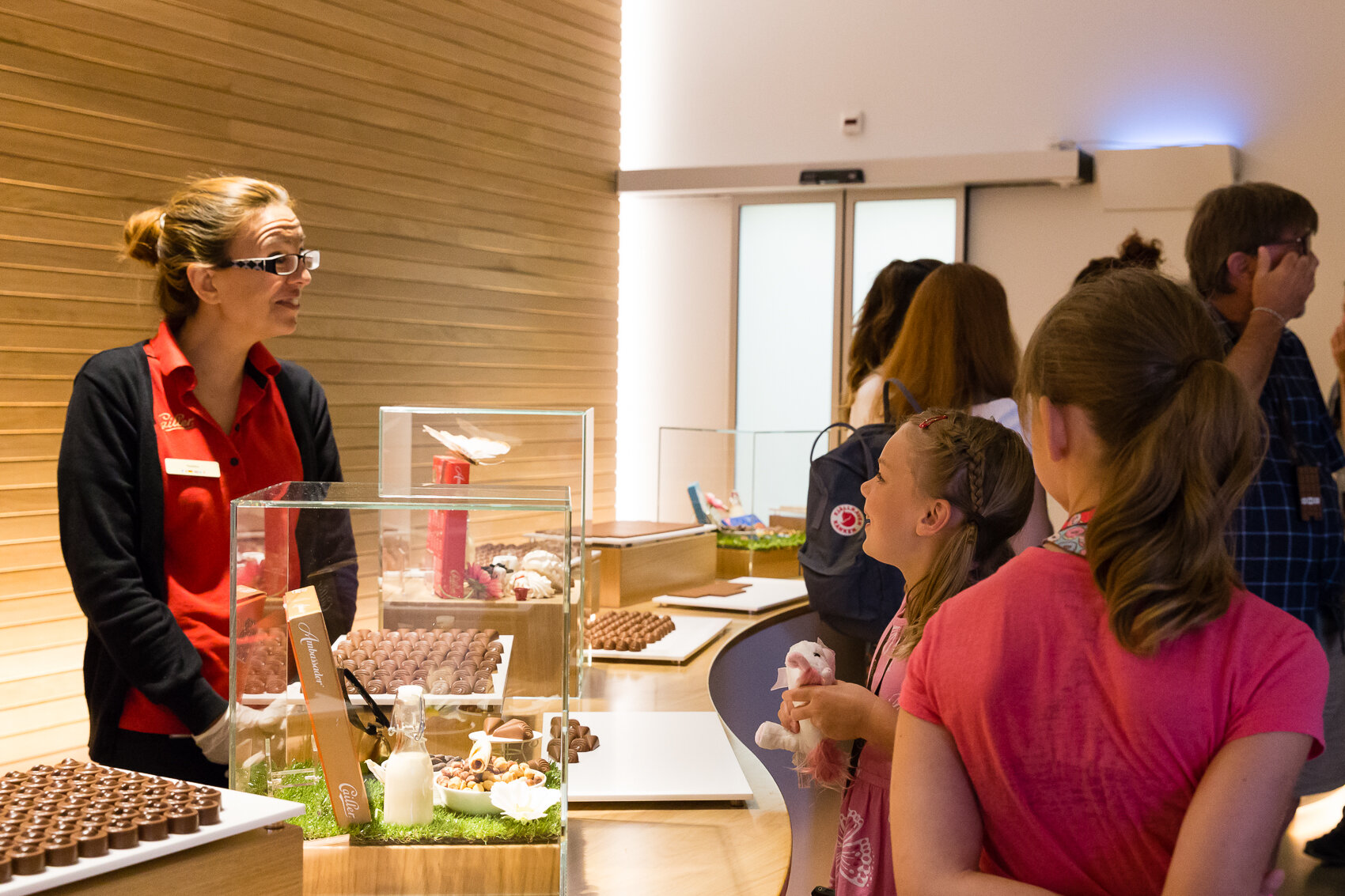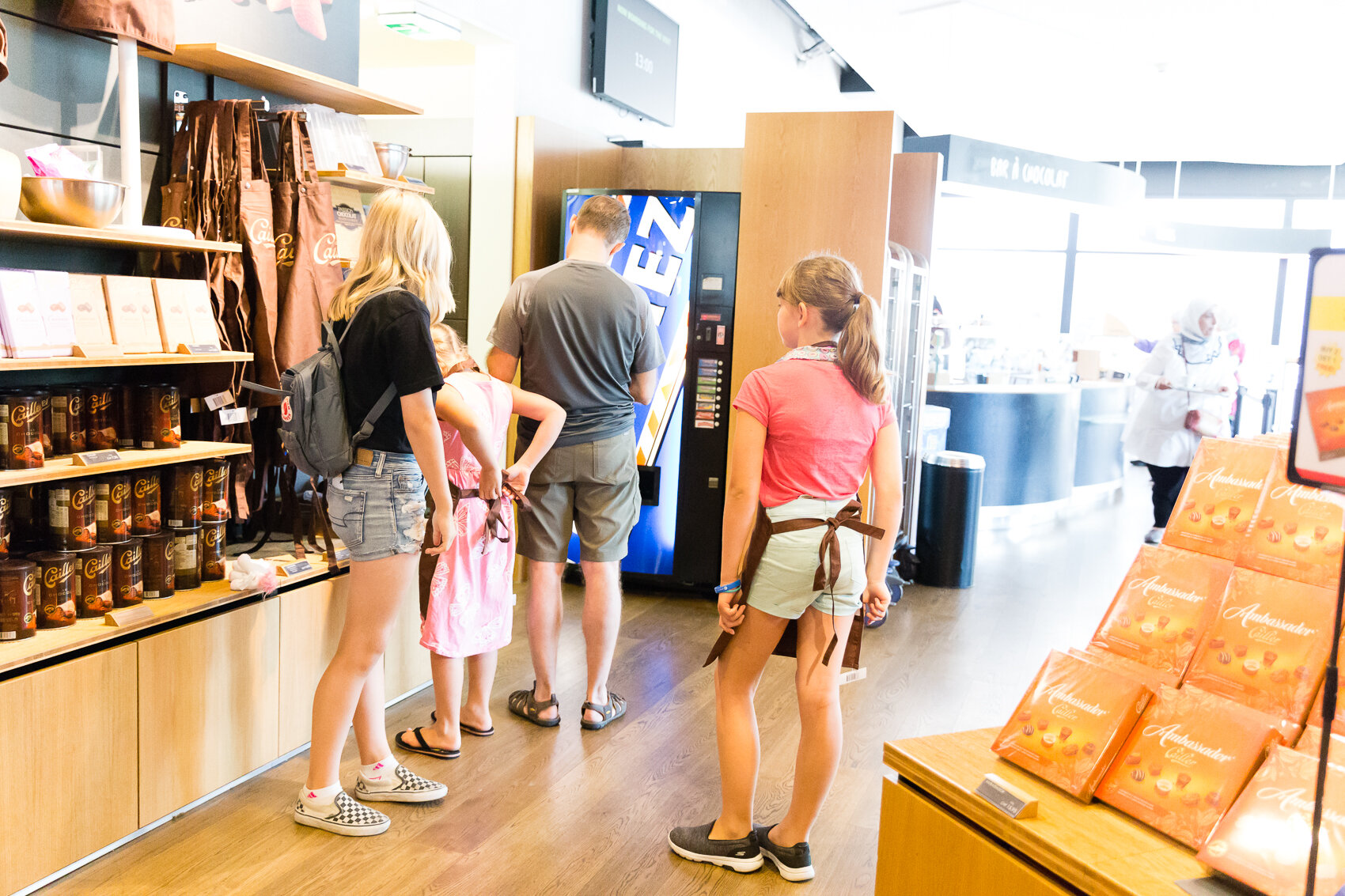 Our brave friends weren't done with the experience that day and we managed to squeeze in a visit to the famous medieval town of Gruyere - photo ops galore.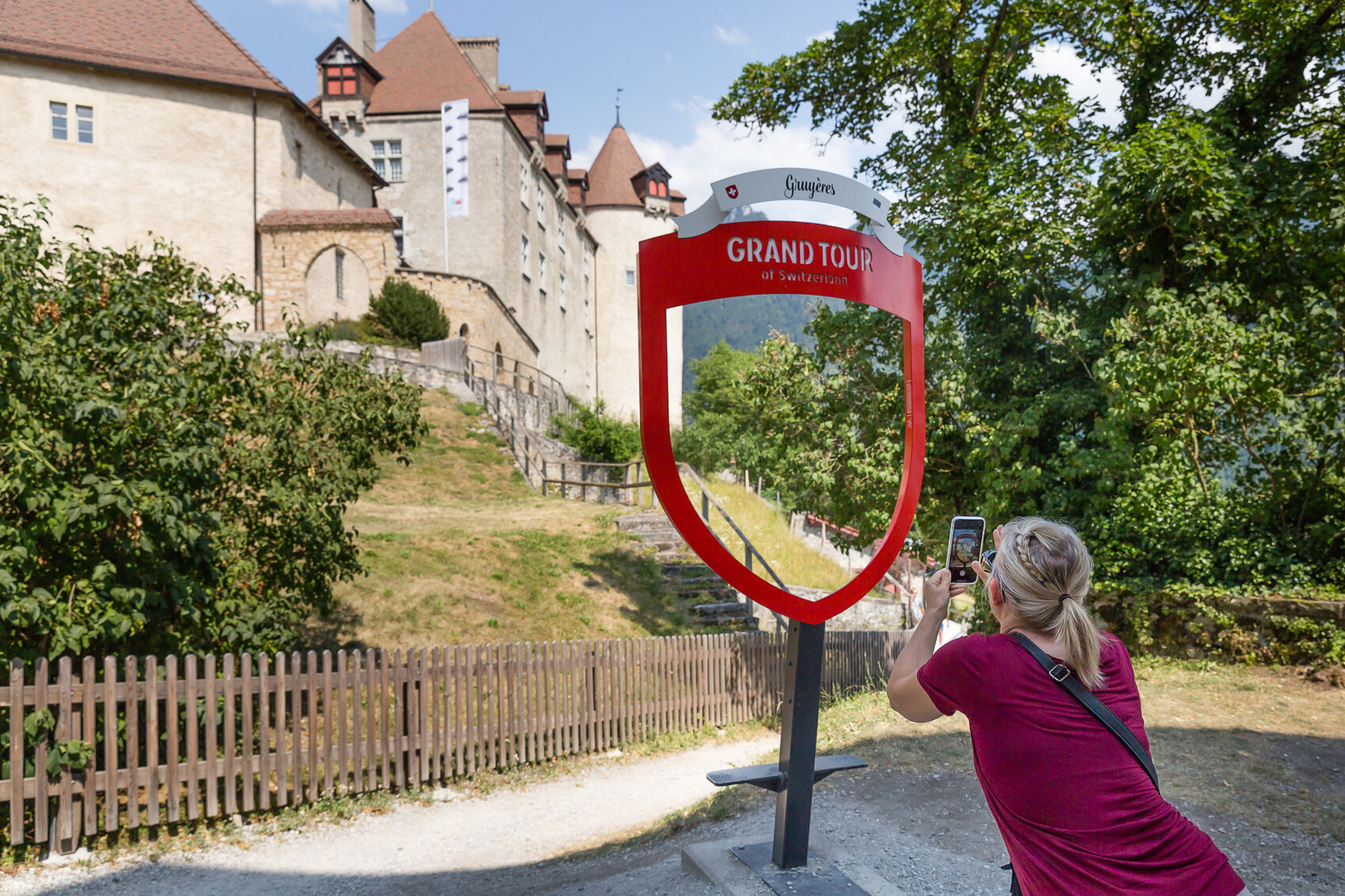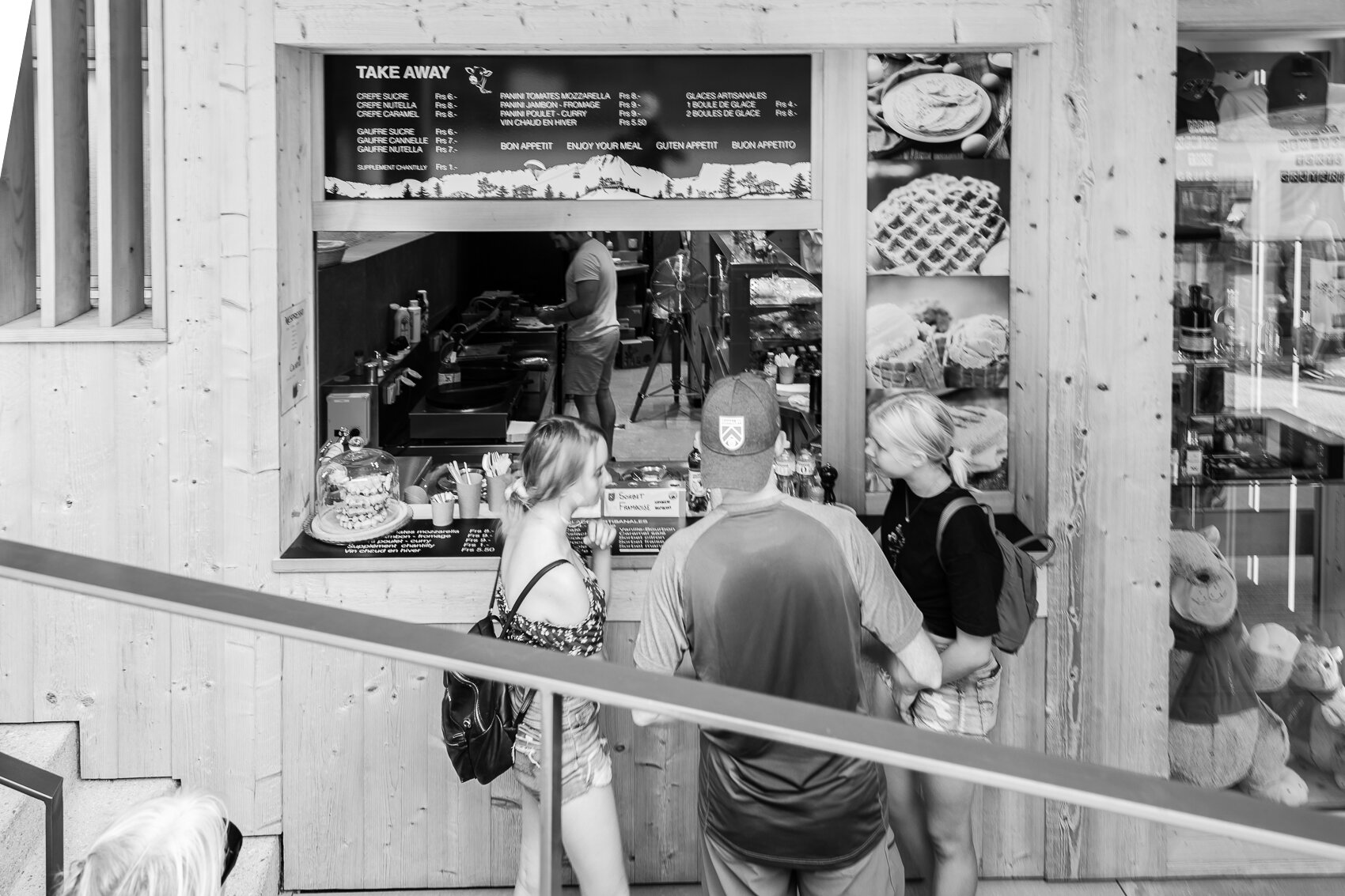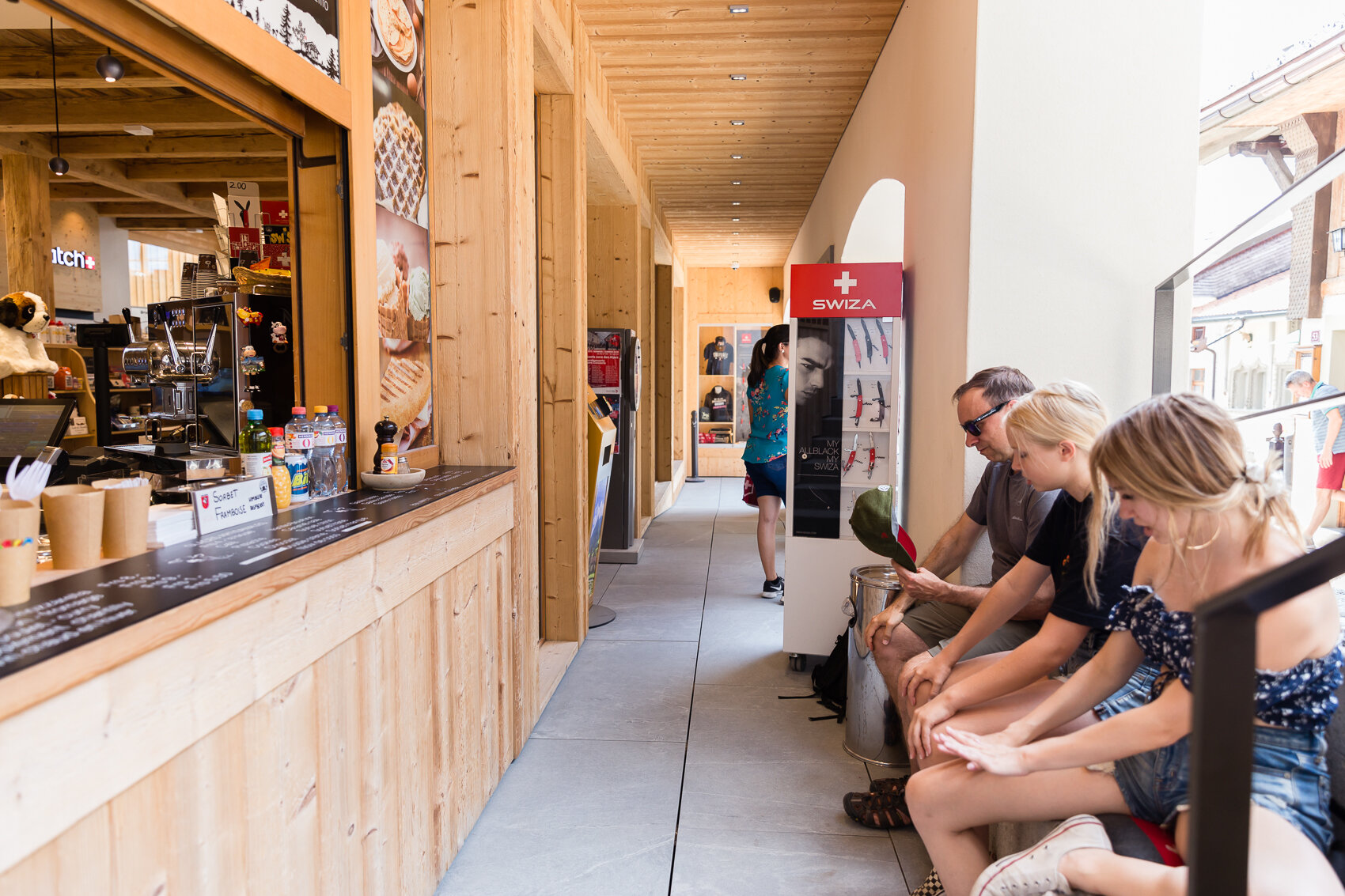 we made them see this cuteness..
One fine day saw us head to Vevey, the site of the famous Fête de Vigneron. This festival happens only once every 20-25 years. 3-4 times a generation! Despite us opting out of the 300CHF/person ticket for the evening show we headed to the side of the lake to take in the sites and sounds of this great festival.
And wouldn't you know it - the scenes of the famous Swiss St. Bernard.
we made them enjoy the lake
By enjoy, I might be stretching the truth as at this point it was a matter of comfort or all out fainting. We had become pros at cooling off in any fountain that we came upon, but the idea of not dipping out toes, legs, feet…"oh what the he** let's just get in this lake" we did what had to be done and cooled the heck off.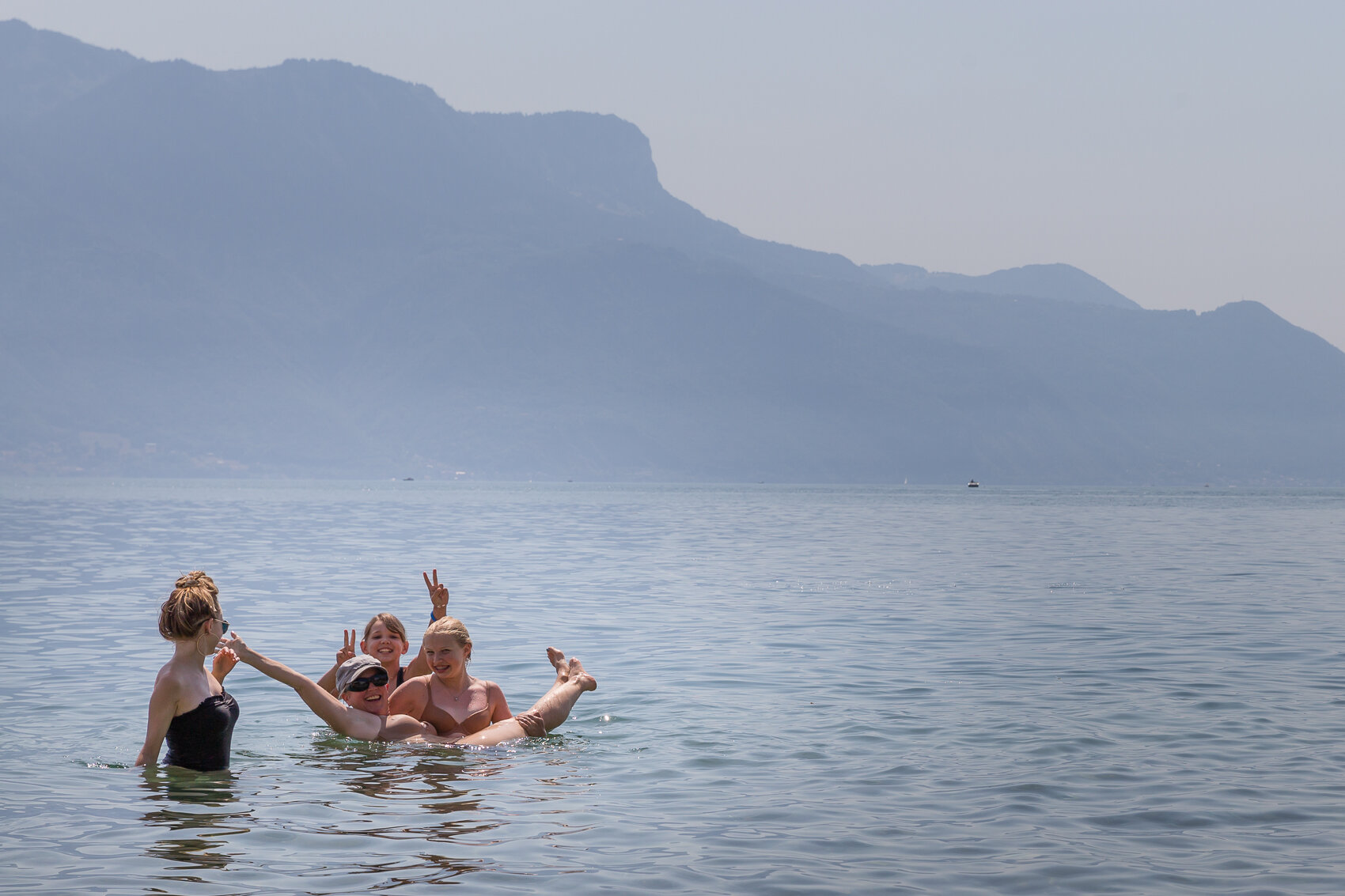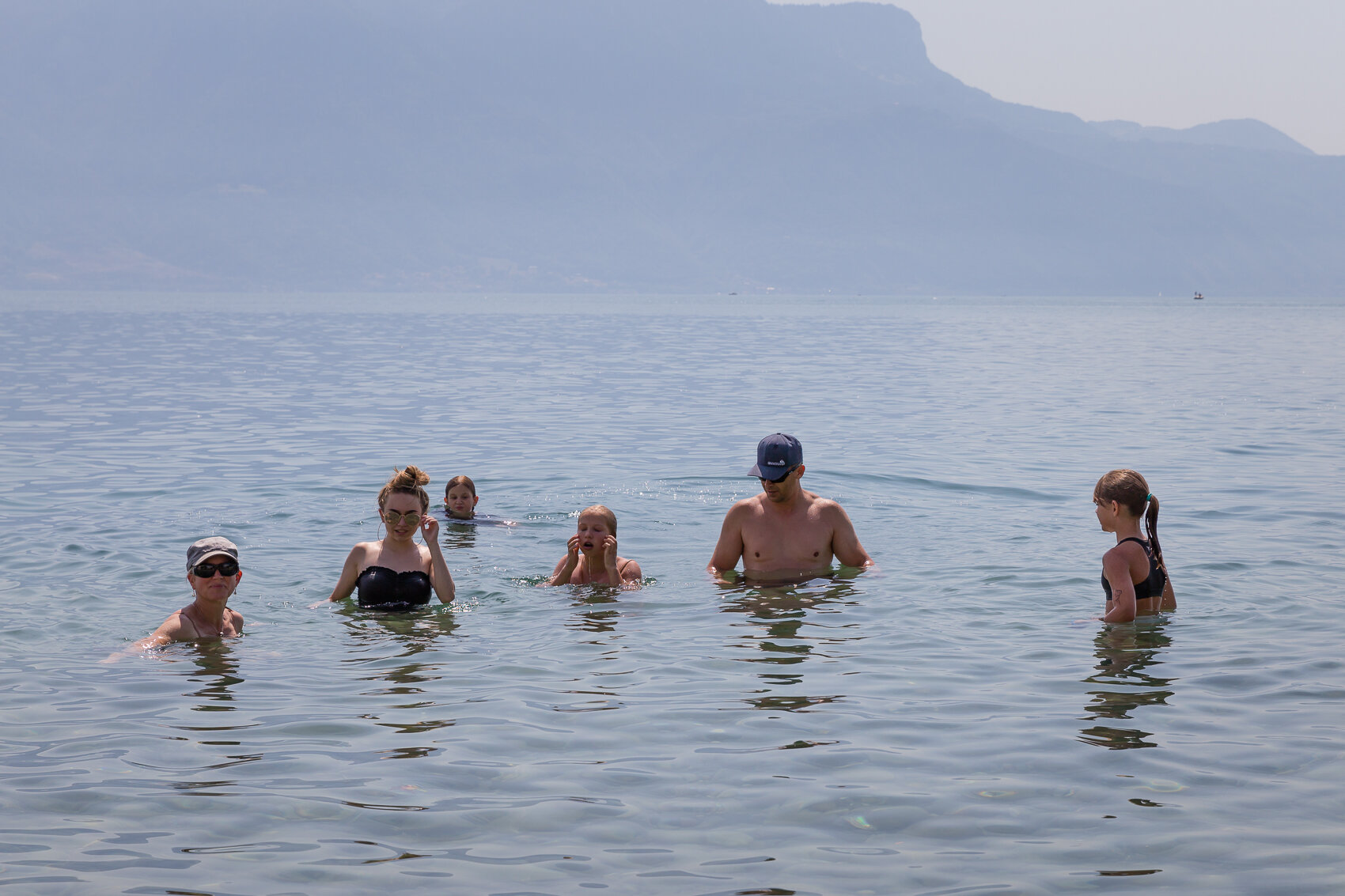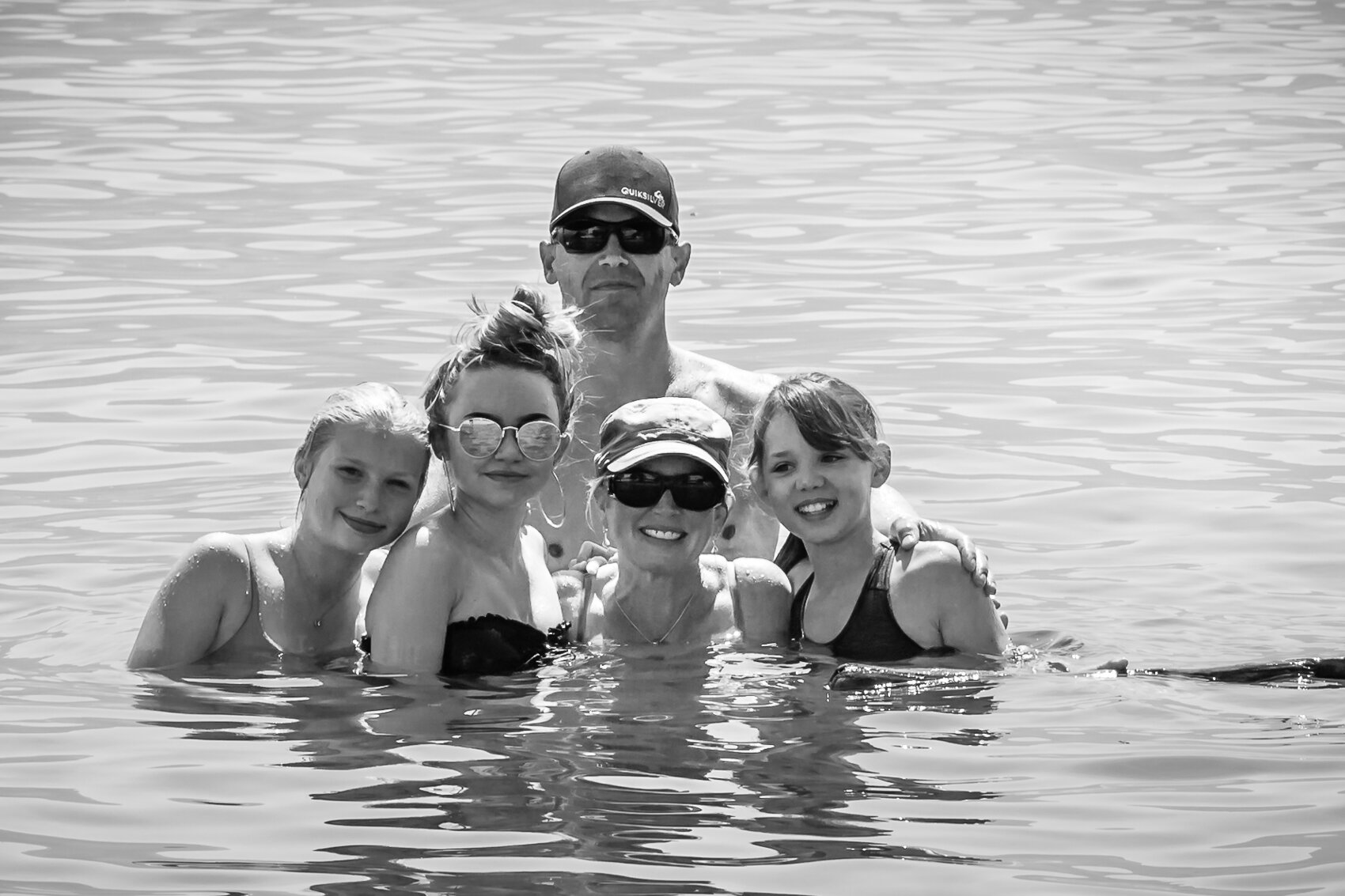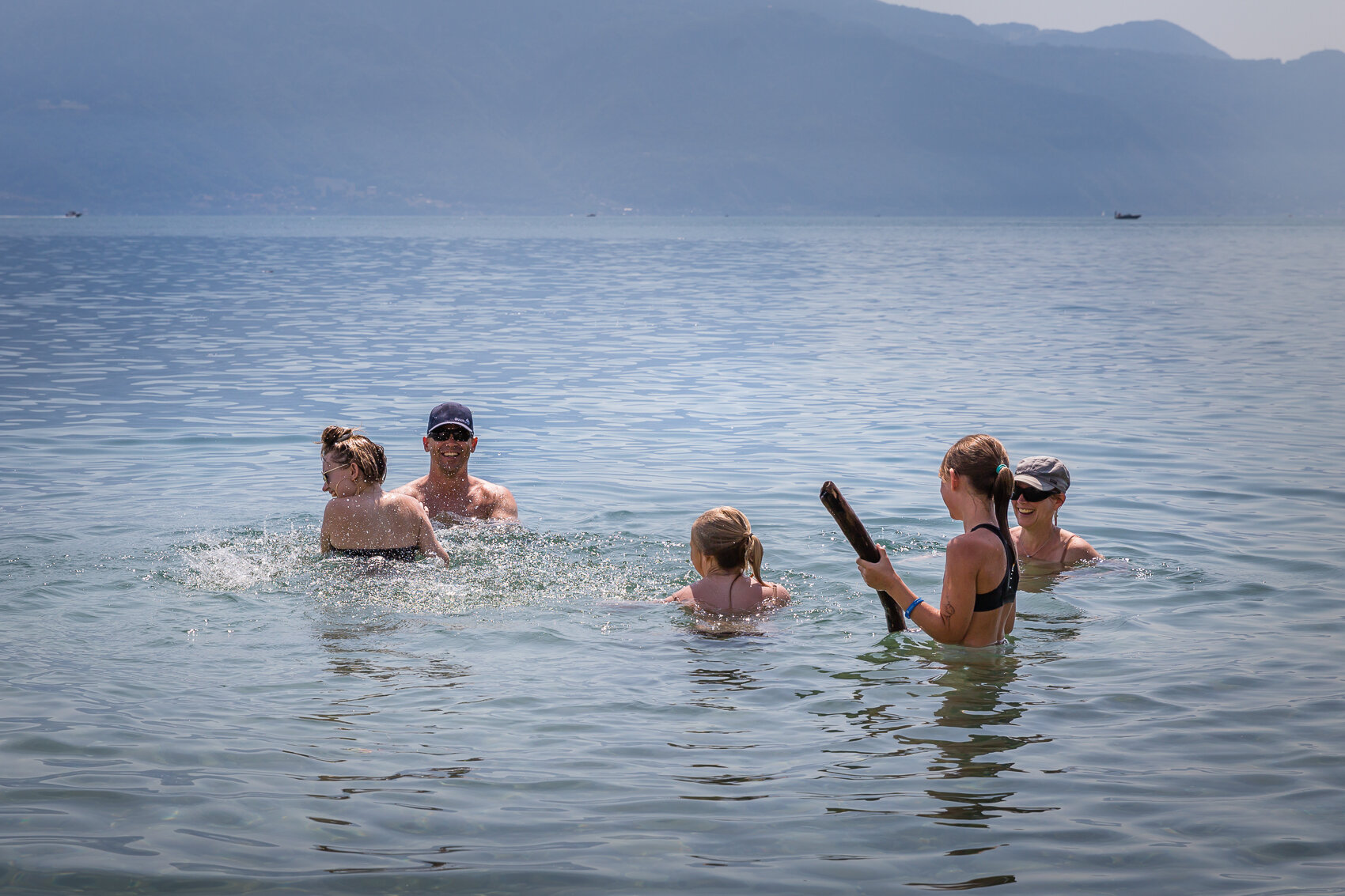 But where are the other three? ah such astute readers you are. Well yours truly was there capturing the ever important memories on film while the dutiful child minder decided to stay ashore with the mini who figured that a lollipop was a better way to cool off.
Just when you think we couldn't pack any more into the already great schedule of a day, we opted for a direct stop off back home to the touristic train ride to the vineyard for a wine tasting. Hope no one noticed we had only just arrived back from a soggy wet t-shirt contest in a lake.
Our little touristic train took us up 15 minutes away from the lake to the Vigneron Jean-Daniel Coyetaux. Nestled into 6 hectares, the location is part in the Morges region and holds impenetrable views of Lake Leman and the alps. Having won several awards, this vineyard is not only exceptional, but the welcome is nothing short of spectacular…and the wine tasting cellar with it's huge wine barrels turned into tables had both a wonderful ambiance and a cool comfortable spot to rejuvenate.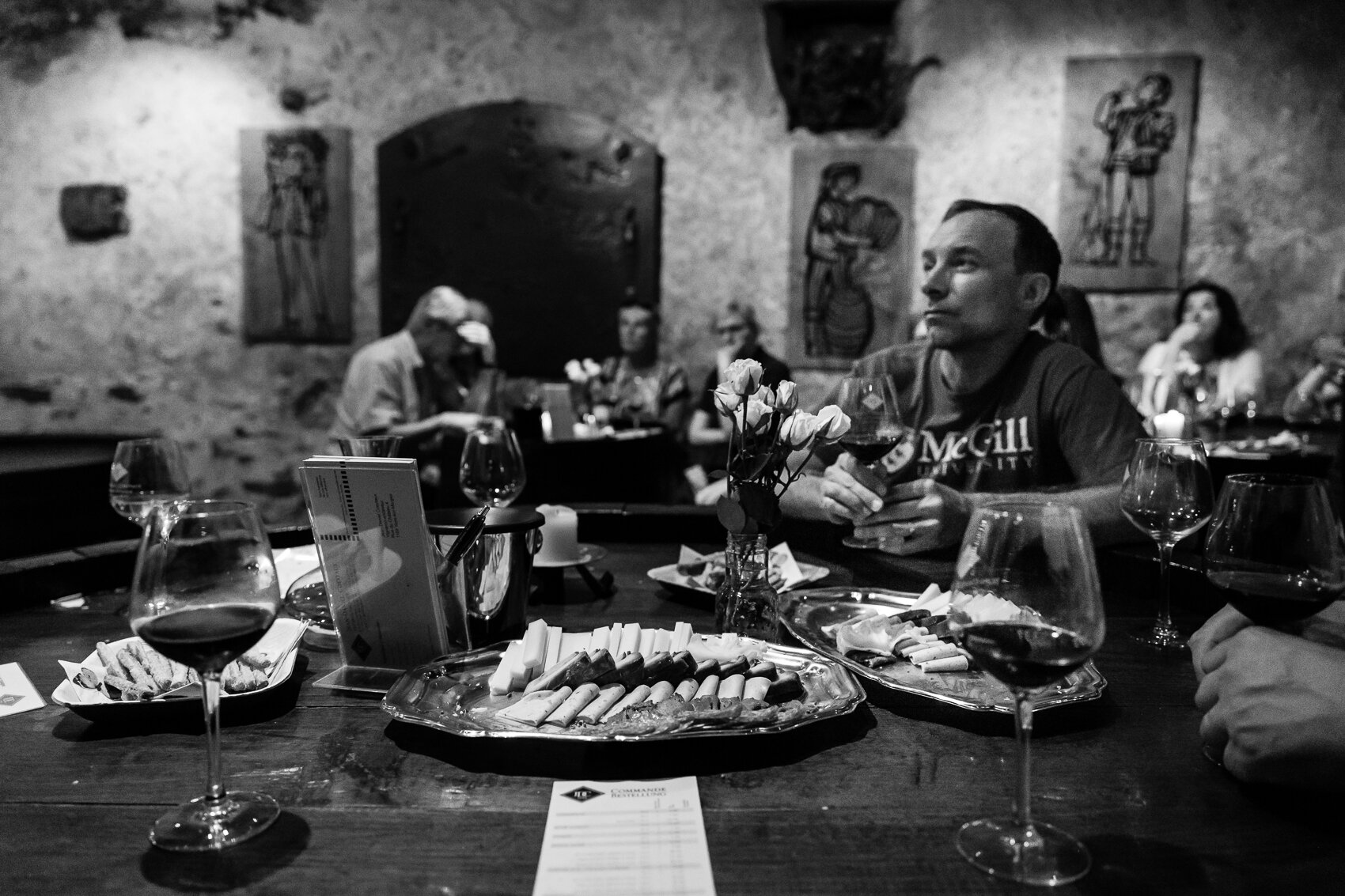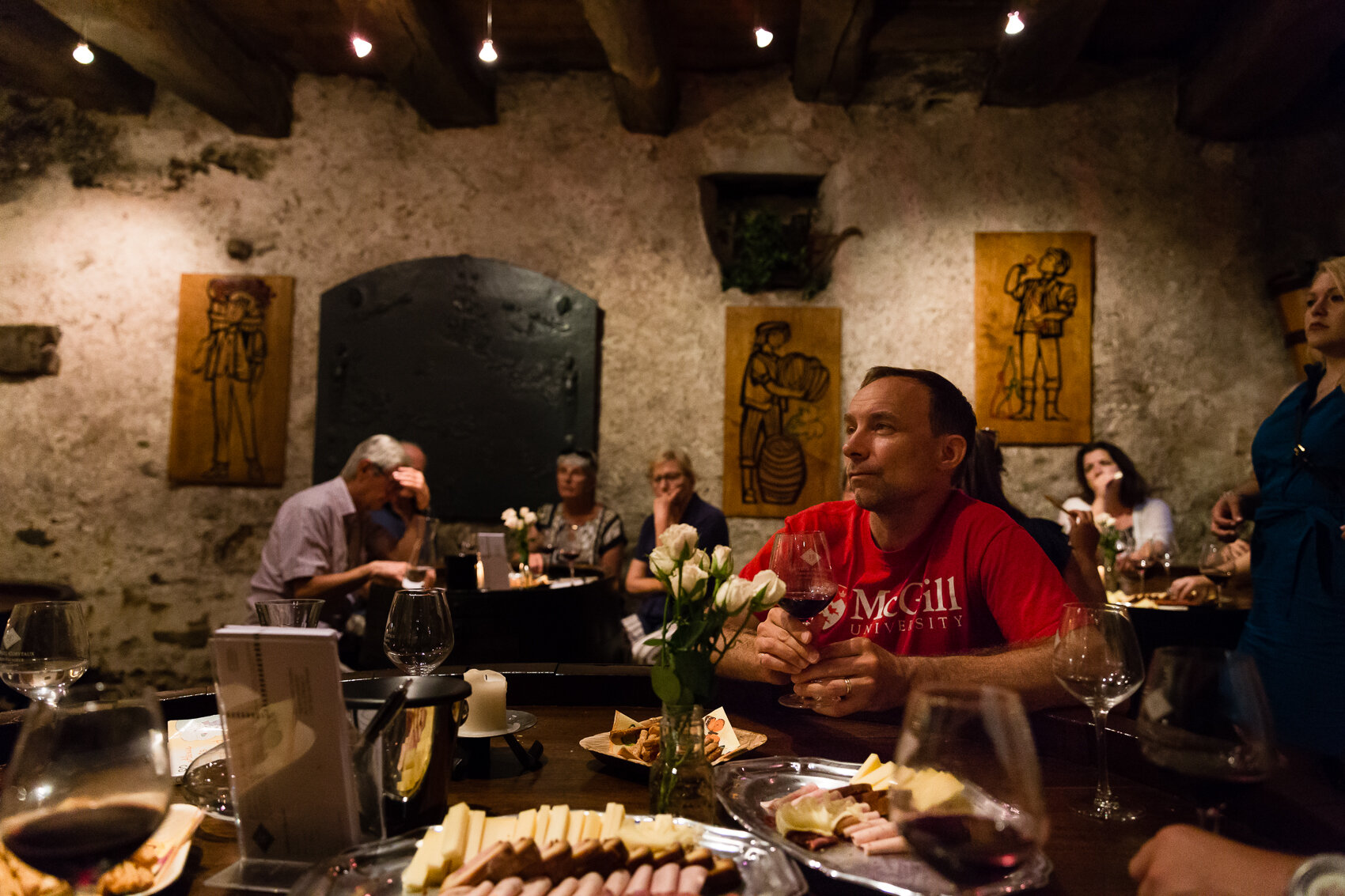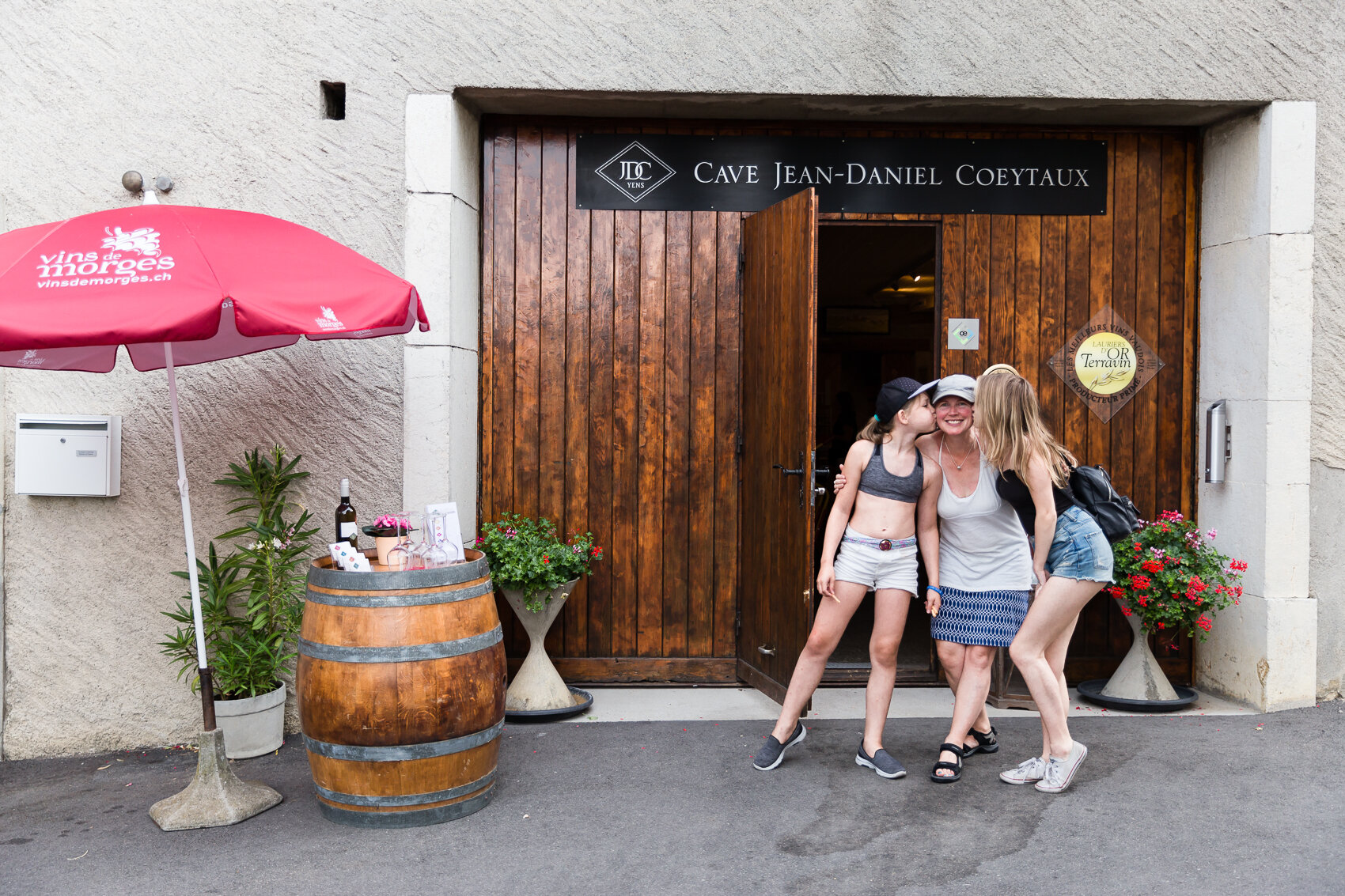 Despite some minor heat overload meltdowns, the day was nothing short of a success - several purchased wine bottles later and we landed back at the castle that we started on to then head home.
To know me is to understand that I observe. Seeing what was happening in front of me with the friends that we hold so dear we saw that despite being away for over a year it warmed my heart to see that nothing had changed. Surrounded by lake, vineyards, friends, laughter and love I got to see each and every person as they presented themselves in front of my lens. The moments of connection and adoration between our kids were what made my heart melt
And so our holiday of 8 rounded itself out where it started, at the table with a meal shared, connections forged and more stories to bind us together for a lifetime. Mike and Katrina B and S we are so glad you made it and sweated it out with us in our neck of the woods!
And in case you were wondering what the pool looked it…here you go.
…I would hate me too..
Note…we have beds for 8, 10 when we get creative. We guarantee fabulous views, eats and the best stories friends can vouch for. La vita e bella here in Morges.
What I know for sure is that connection, friendship and shared experiences make our lives incredibly rich. By having chosen us as part of your life's adventure, our bucket of gold has grown exponentially and we are the billionaires because of it. Merci mes Amis. Je vous embrasse très très fort.